Tuesday 1st February
Good morning Seahorses.
Please remember to email pictures of your home learning into school. Two pieces each day.
Please login to Active Learn (Bugclub) and read one of the online books. Make sure that you answer the comprehension questions. Your login details are in the front of your school reading diary.
Remember if you want to get in contact with us you can email us at: seahorses@maybury.surrey.sch.uk
Phonics
Please complete todays year 1 phonic lesson on the Letters and Sounds Website. (Lesson 19 ph like in phone)
https://www.youtube.com/watch?v=JNaUCoWd9e8
English
Today in English we will be continuing to look at the story Don't let the pigeon stay up late. Listen to the story again using the link below.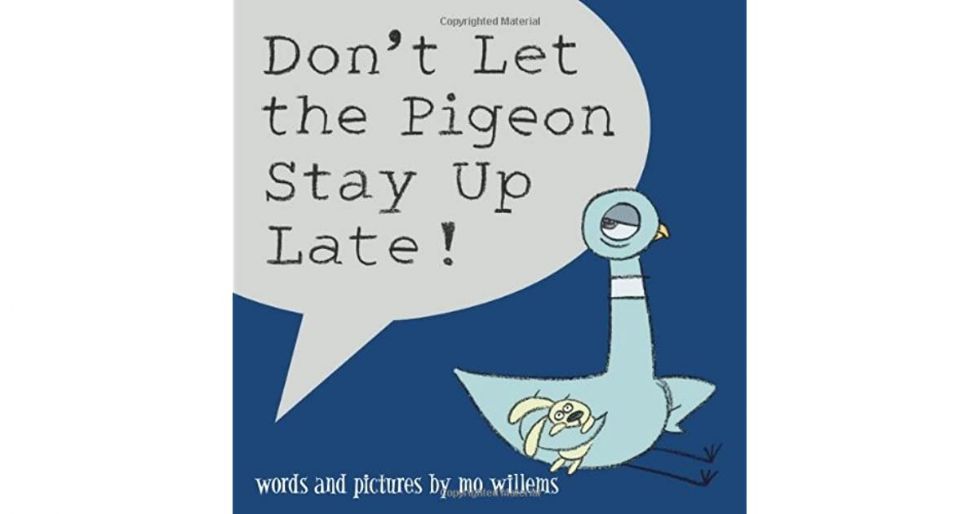 https://www.youtube.com/watch?v=KaE3eg20Ng8
What happens in this story? How does the pigeon try to persuade the grown up to let him stay up late? Does the pigeon get to stay up late?
Now look at the video book of Charlie and Lola I am not sleepy and I don't want to go to bed.
https://www.bing.com/videos/search?q=Charlie+and+Lola+I+will+not+go+to+bed&docid=608046217240839729&mid=85E7440EB167B6B2671C85E7440EB167B6B2671C&view=detail&FORM=VIRE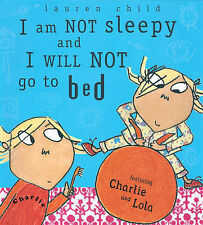 Why does Lola not want to go to bed? What does she do instead?
Write some sentences to try and persuade your grown up to let you stay up later. For example: Please let me stay up longer because I want to finish drawing my picture.
Remember your capital letters, full stops and finger spaces. Can you also use the conjunction because to give a reason?
Maths:
Mental maths: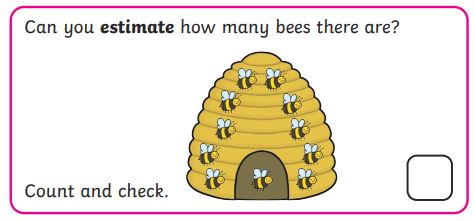 In school, we follow white rose maths and there are videos each day that you will be able to access at home.
Watch the video on the website and then complete the activities. Make sure you watch the correct video each day. Today you need to click on the numbers to 50 video. The questions and answers are saved at the bottom of this page. If you can't print out the sheet draw the things you need into your home learning book.
If the activities are too difficult just do the questions that you can and I will provide an easier activity below.
https://whiterosemaths.com/homelearning/year-1/spring-week-5-number-place-value-within-50/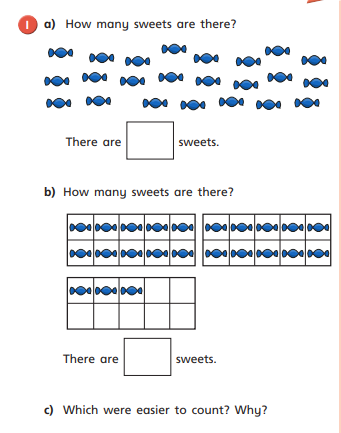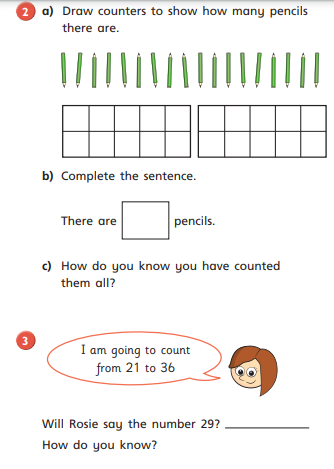 Easier Activity: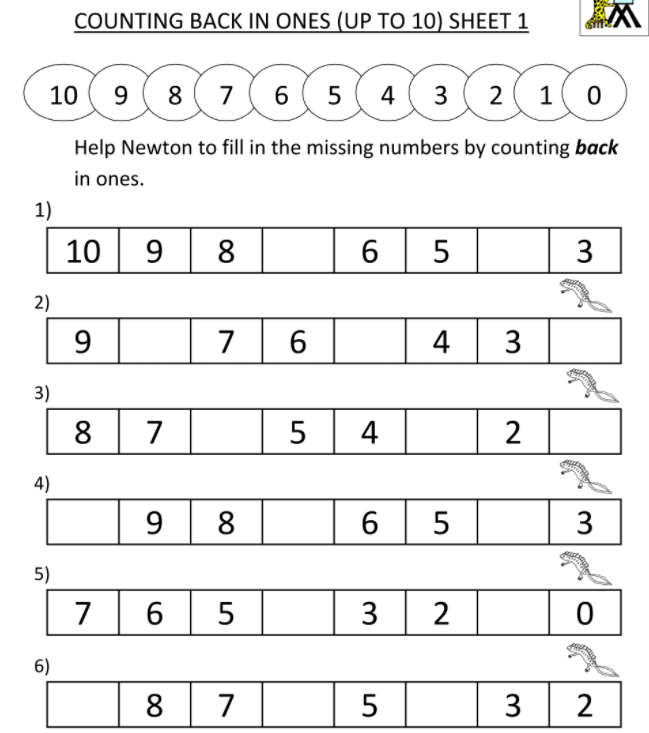 Learning for Life
This afternoon in Learning for life we are going to be thinking about money and where it comes from and what we spend money on.
What is money?
Where does money come from?
How do we use money?
How does money benefit us?
What would the world be like if people didn't have money?
Look at the images of different people; ask whether they receive money and if so where the children think they get their money from.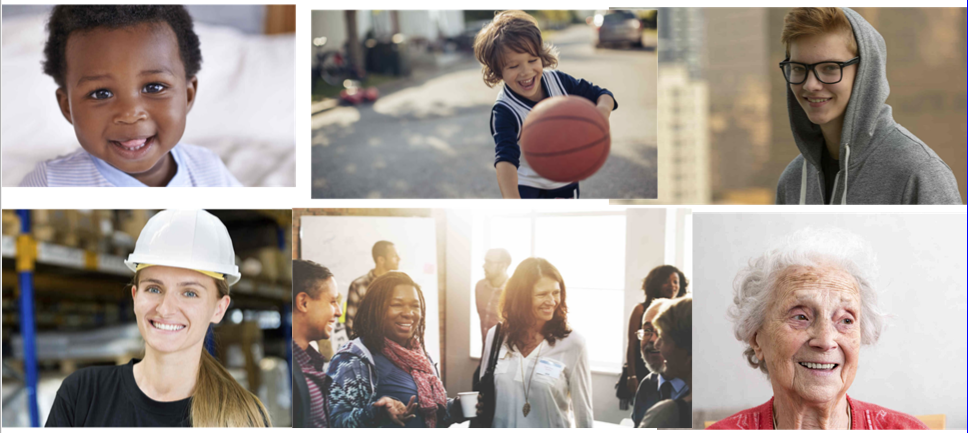 Money can come from a range of sources – e.g. gifts, pocket money, jobs and pensions.
Ask an adult to read the story 'Harold's Money' below. The story is also saved at the bottom of this page.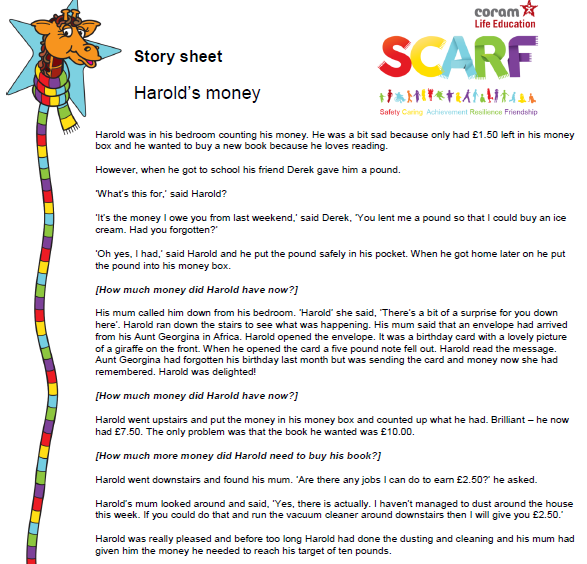 Try and answer the questions below. The answers are in brackets.
How much money did Harold have in his money box to start with? [£1.50]
How much did the book cost that he wanted? [£10.00]
Where did Harold get the rest of the money from? [Derek owed him a pound, birthday money and from doing jobs for his mum]
Why do you think Harold decided to get the book from the library instead?
Why do you think Harold decided to buy his mum some flowers?
How do you think Harold felt when he bought his mum some flowers?
Why did Harold's mum say she couldn't afford to buy anything until the end of the month?
Where will she get her money from at the end of the month?
What are bills?
What sort of things do you think the bills were for?
What do we spend money on?
On a piece of paper draw yourself and the family that you live with at home. Then around the family draw or write all the things that you can think of that your family spend money on. Ask a grown up to help you. There are so many things that adults have to spend money on that you may not have even thought about!