Wednesday 3rd March
Assembly
Use the below link to watch today's assembly:
https://www.loom.com/share/0ef390aa5179461594feb9a4d3f54967
Today's masked reader clips:
Mental Maths
Complete pages 44-45 of your Arithmetic CGP book.
Maths
Watch the video for today's lesson:
Complete the sheet in the resources below and then mark your work using the answers.
You might also like to go from a 3D shape hunt around your house. Can you find an examples of below shapes?
PE
Complete a PE with Joe Wicks:
https://www.youtube.com/playlist?list=PLyCLoPd4VxBsXs1WmPcektsQyFbXTf9FO
Or do a Jump Start Jonny dance:
https://www.jumpstartjonny.co.uk/home
Reading
Watch the clip about interactive picture books with Tom Fletcher:
https://www.worldbookday.com/online-masterclasses/interactive-picture-books/
Can you create your very own 'What's In Your Book?'
There is an example in the clip below:
https://www.youtube.com/watch?v=qF9JKzxUDwg
Literacy
Today we are going to be writing some interesting sentences! We are going to be thinking about different words and use colours to help us to identify them:
subject - a person or animal
verb - what they are doing
object - something you can see or touch
Look at the grid below, you can see a subject, verb and object in each column. The words have then be made into an interesting sentence using adjectives and conjunctions.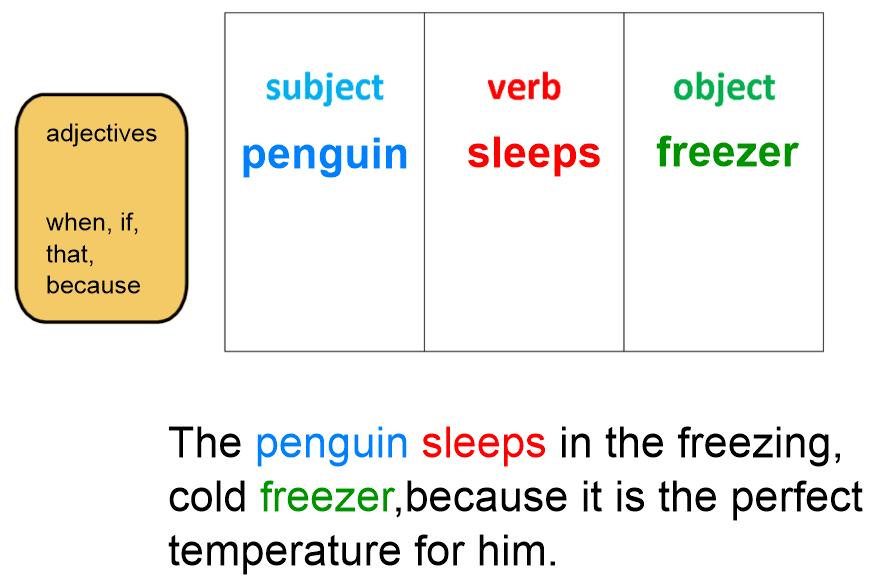 Open up the attachment below. Sort the words into the correct columns in the grid (the colours may help you!). Then use the words to write some of your own interesting sentences about the story.
Challenge - can you add your own subject, verb and object to the grid and write a super sentence?
Handwriting
Choose a handwriting sheet from your pack that you would like to complete.
Wellbeing Wednesday
It is the final Wellbeing Wednesday before you return to school next week! These afternoons are are all designed to help you to relax, calm down and take some time out, away from a computer or TV screen.
So TURN OFF your tv, TURN OFF your computer, TURN OFF your ipad and enjoy some fun and creative activities this afternoon.
Click on the attachment below, there are some mindfulness challenge cards that you may like to try this afternoon. There are also some mindfulness colouring pictures. Put on some relaxing music and enjoy colouring a picture. If the weather is nice, maybe you could go outside and colour. Listen out for birds singing, look at signs of Spring.