Angelfish
April 2022Welcome to Angelfish (Year 4)
Miss Frew

Class Teacher

Mrs Sanderson

Teaching Assisstant

Miss Wickendon

LSA

Miss Pettengell

HLTA
(Thursday afternoons)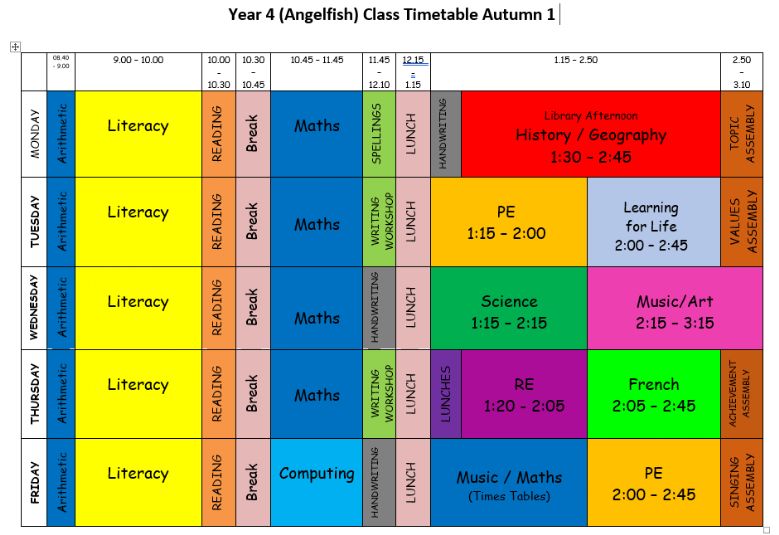 May 2022
This month, we were very excited in Angelfish class to have a visit from the ducklings that hatched in Reception last week. The children enjoyed seeing the ducklings playing with each other and even got the chance to hold one! We had to show some self-restraint as even though we were excited we didn't want to be too noisy to scare the ducklings.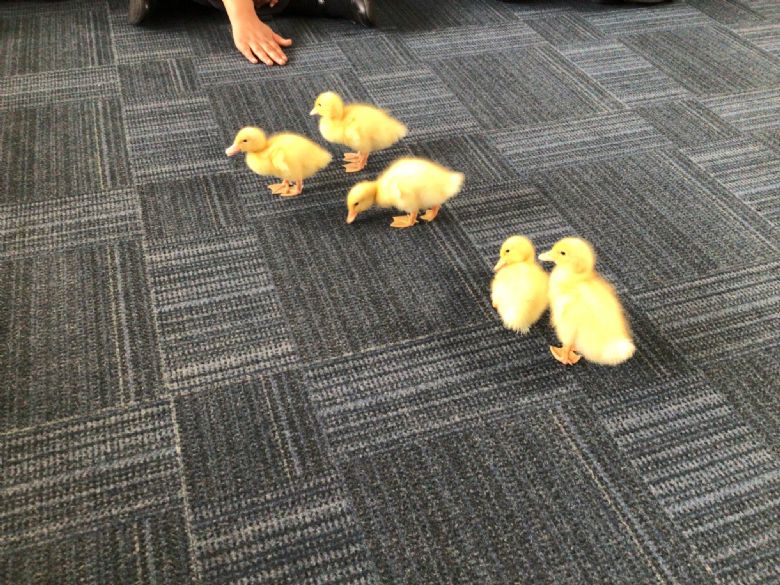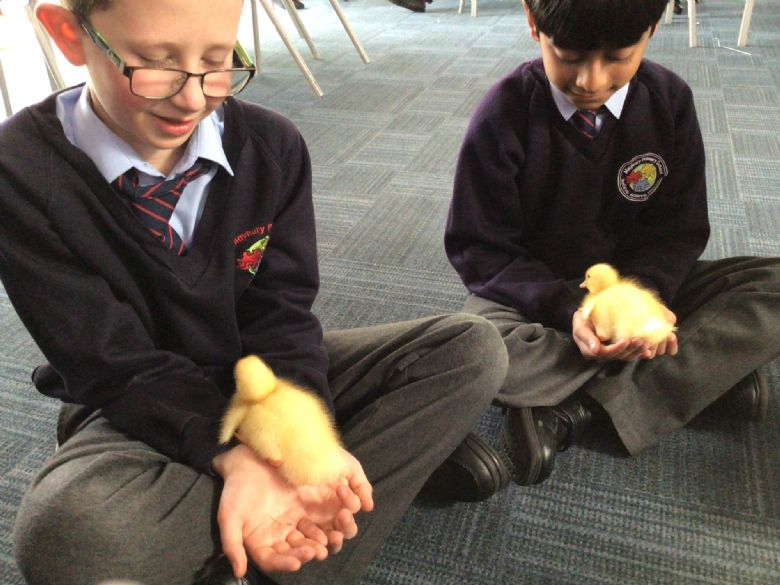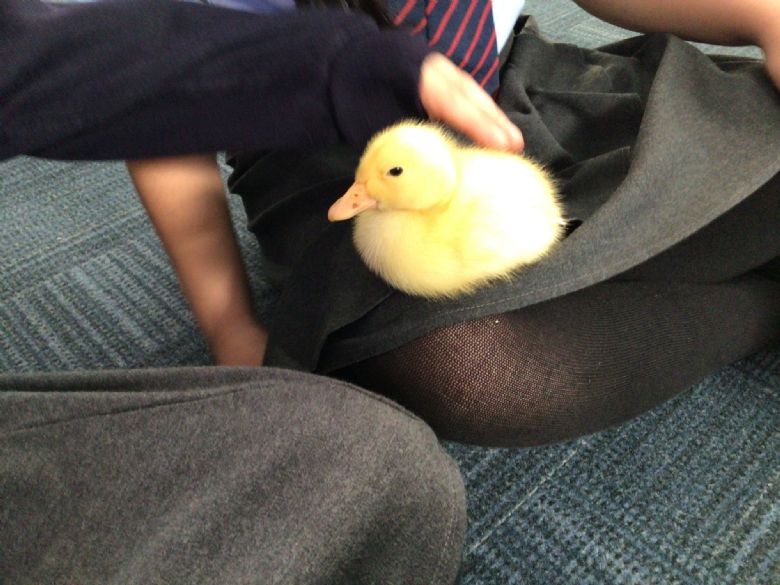 April 2022
In Angelfish class, we have continued our Science unit 'Living things and Their Habitats' this month where the children have thought about how humans have an impact on the environment around them and how this can impact habitats. We took a walk to Boundary park to look closely at this particular habitat to see how humans had impacted the area and what we could do to help.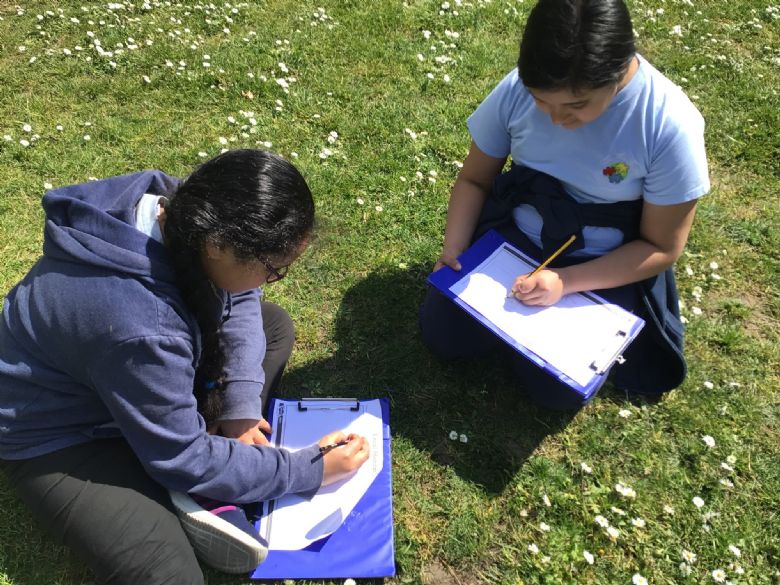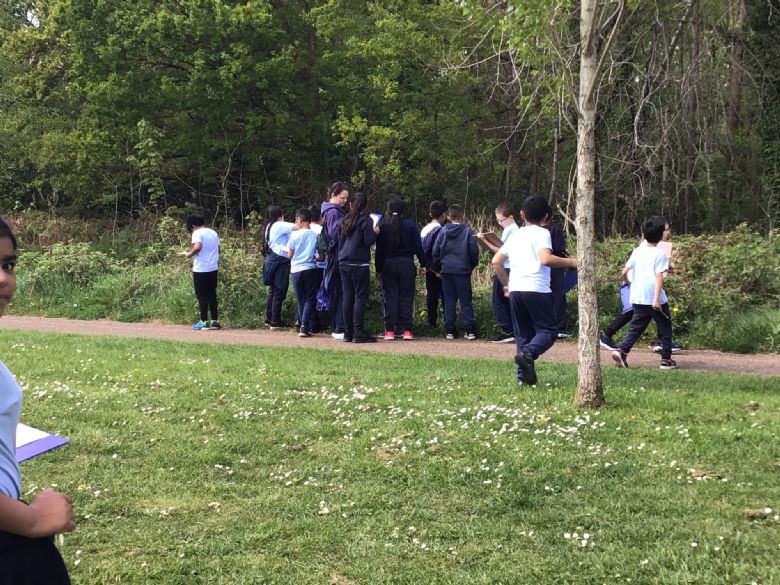 At the end of this month, Angelfish class visited Butser Ancient Farm, in Hampshire. The children enjoyed a range of learning experiences, such as: becoming archaeologists looking at different artefacts and thinking about what they were and their uses; making their own jewellery using wire; building a wall out of a stone called flint; taking a tour around a Roman villa and designing a Roman inspired mosaic.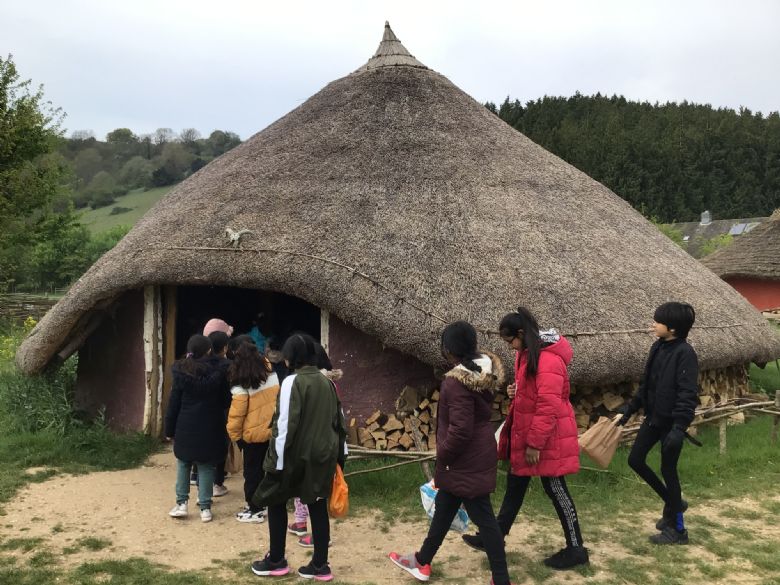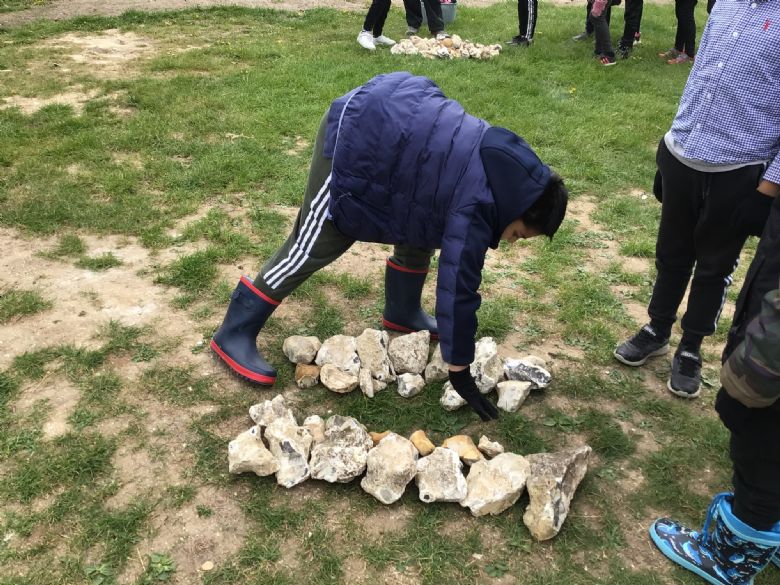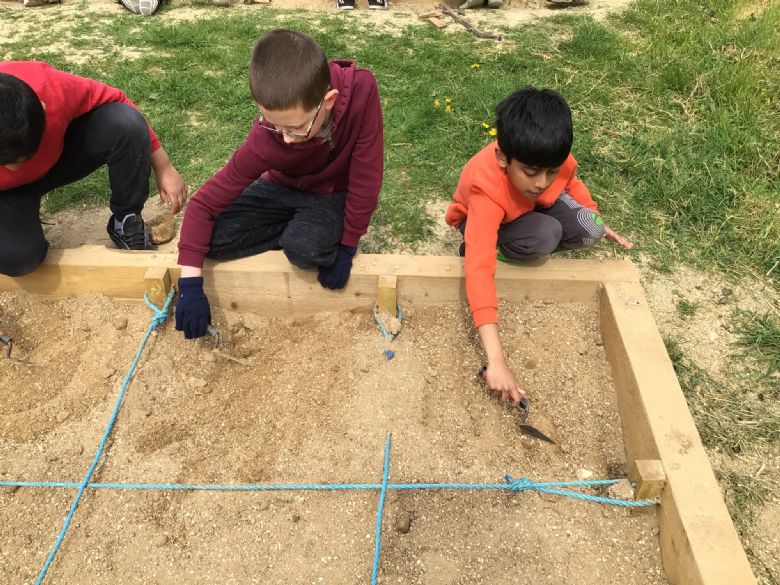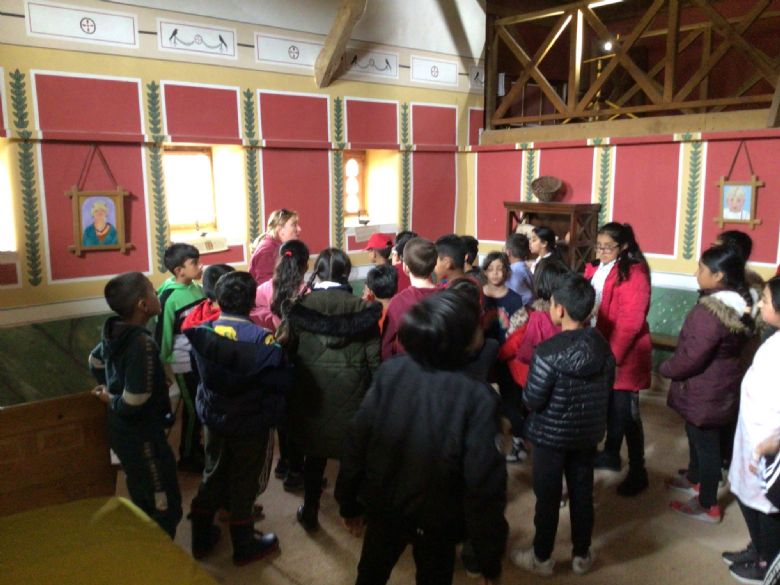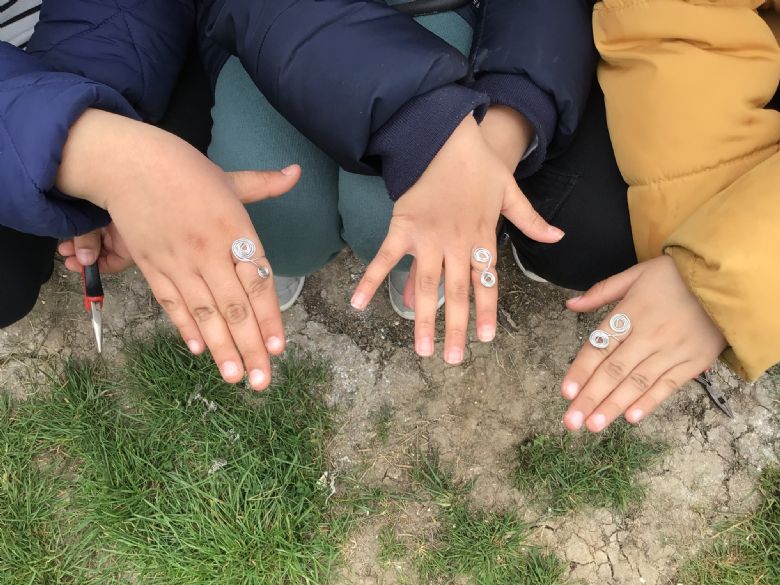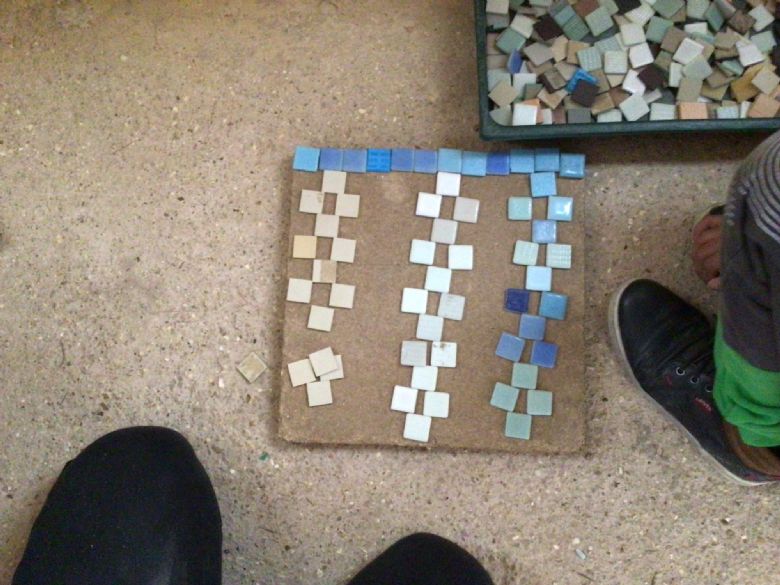 Well Being Week 2022
On the last week of the Spring Term we had Well Being Week at school. We took part in lots of fun activities including using VR headsets, art activities, Lego WeDo 2.0, drama, Commando Joes, cooking, a visit from some owls and Year 4 also had their sleepover.
VR headsets - we used the headsets to see how earthquakes are formed. We also got to see some tours of Ancient Greece (our previous topic):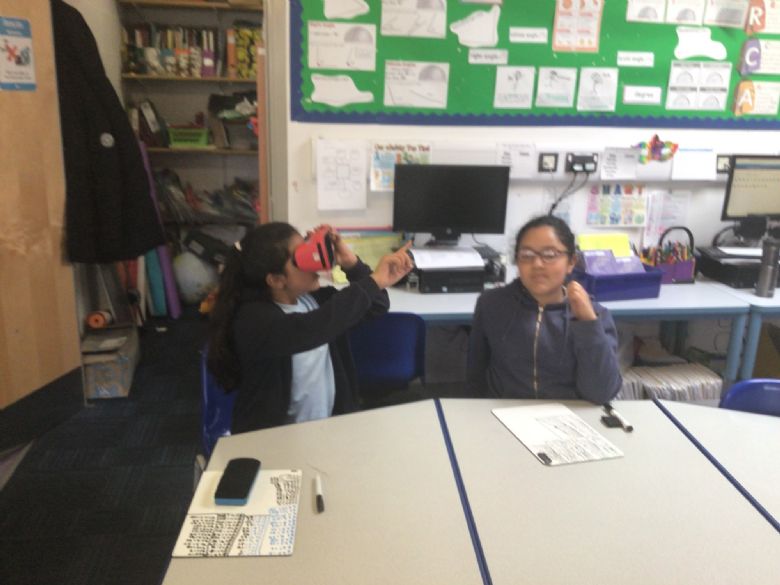 Lego Wedo - we used the lego to build a volcano detection device.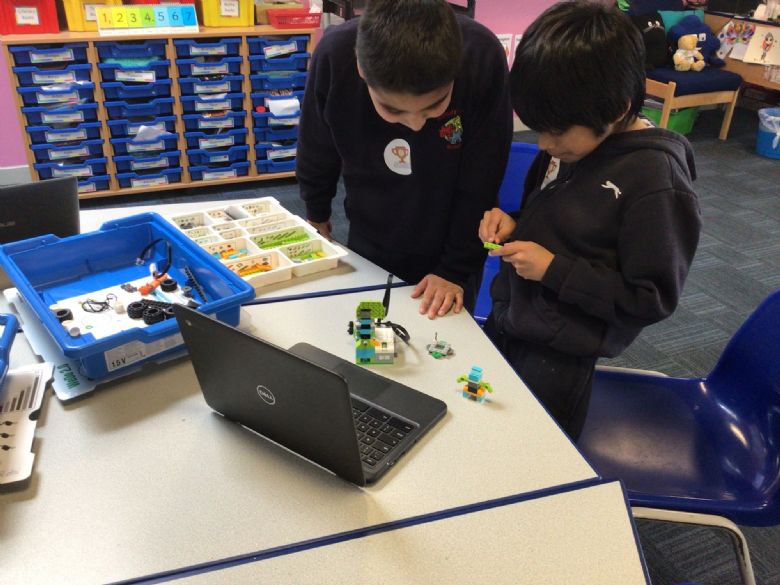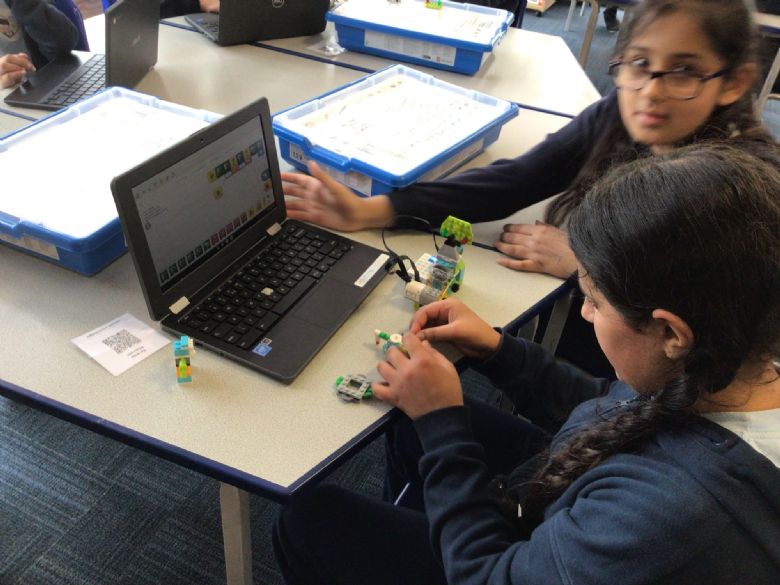 Commando Joes - we had a visit from James at Commando Joes who taught us about being resilient and working together.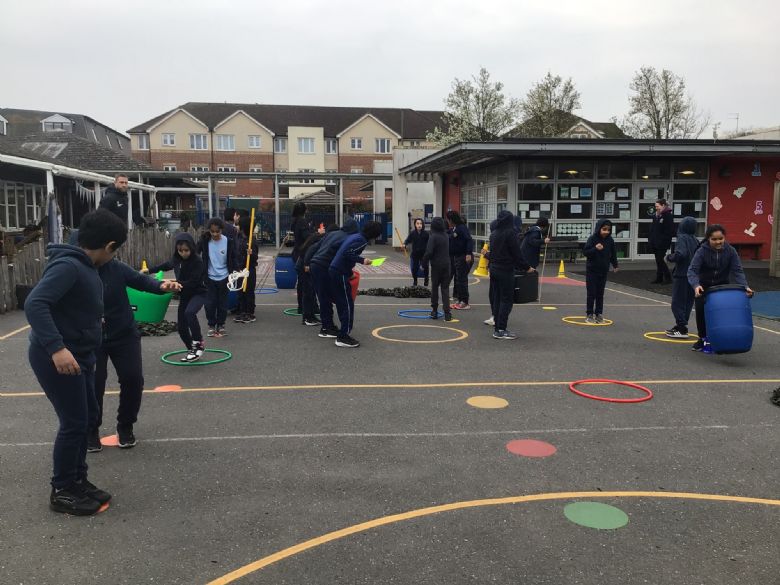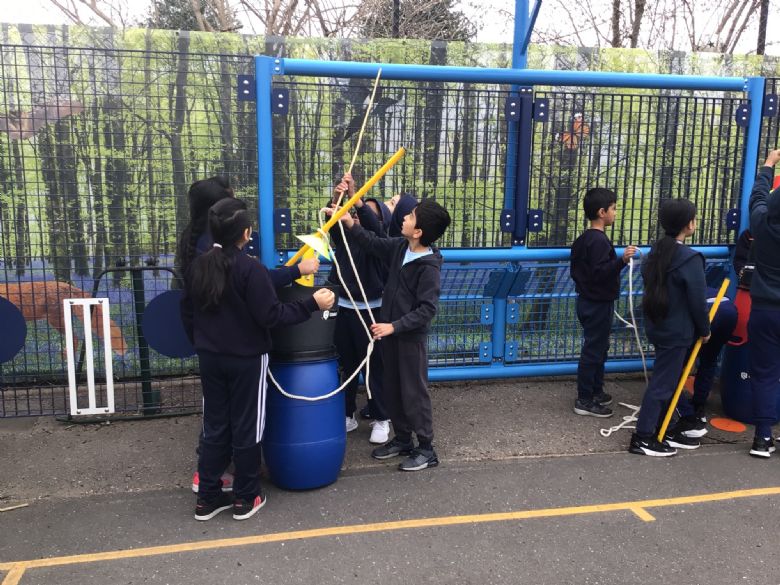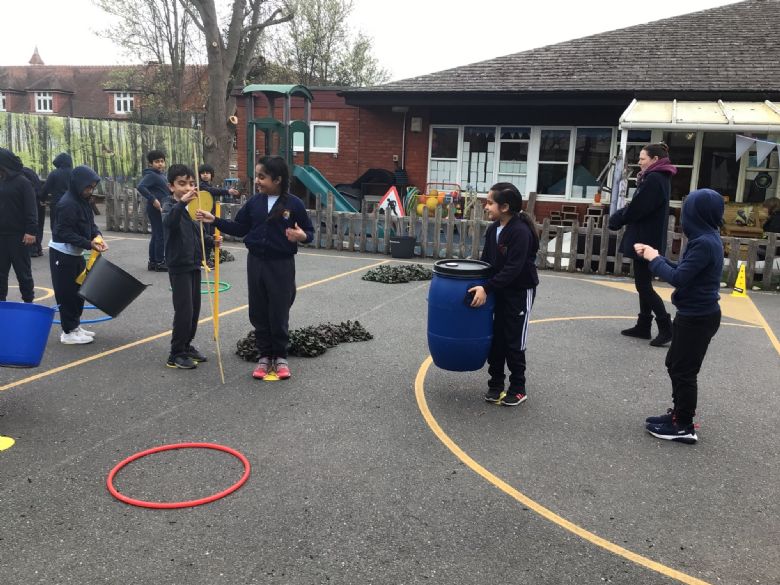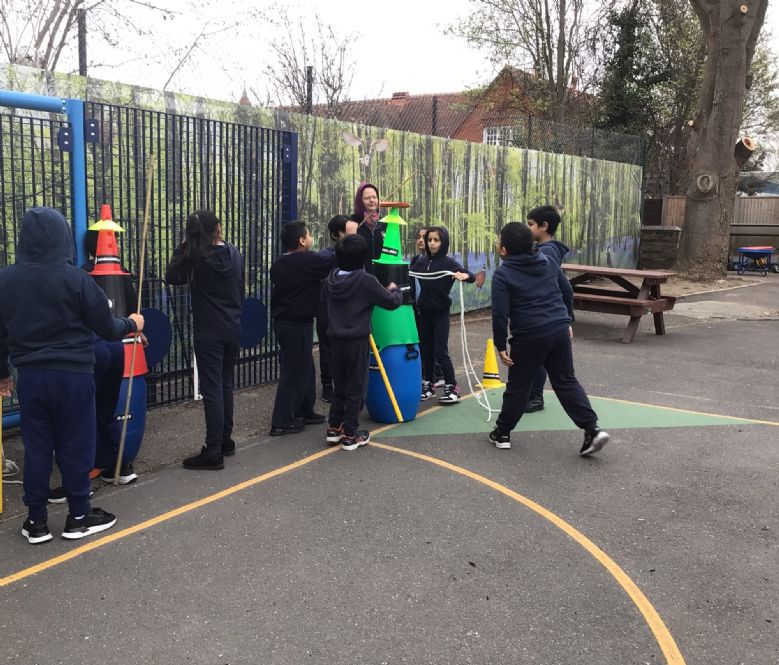 Owl visit - We had a great visit from some beautiful owls and learnt lots of facts about them.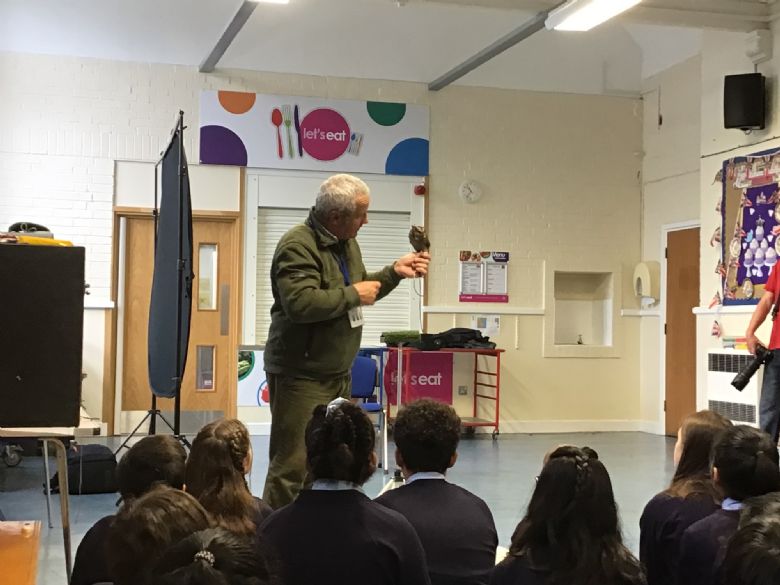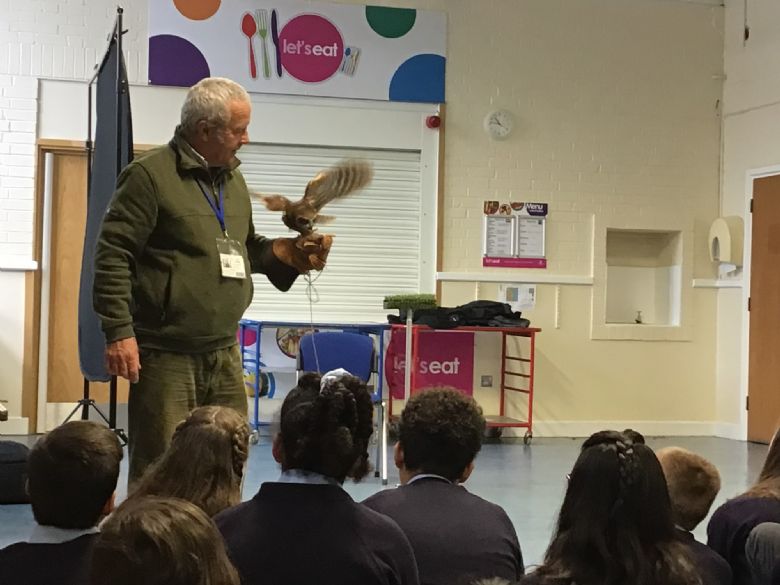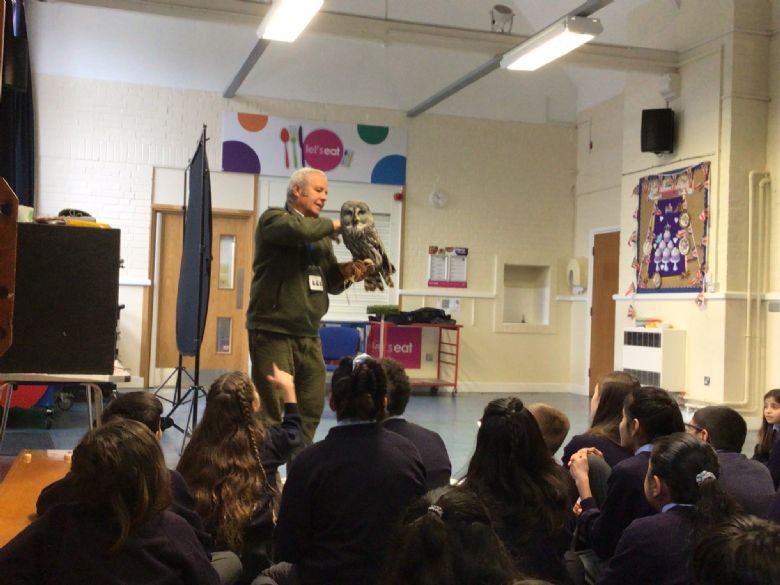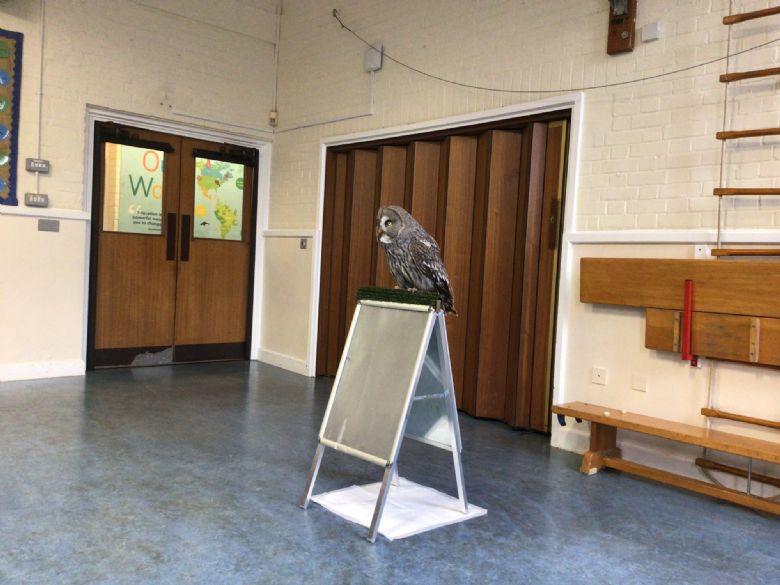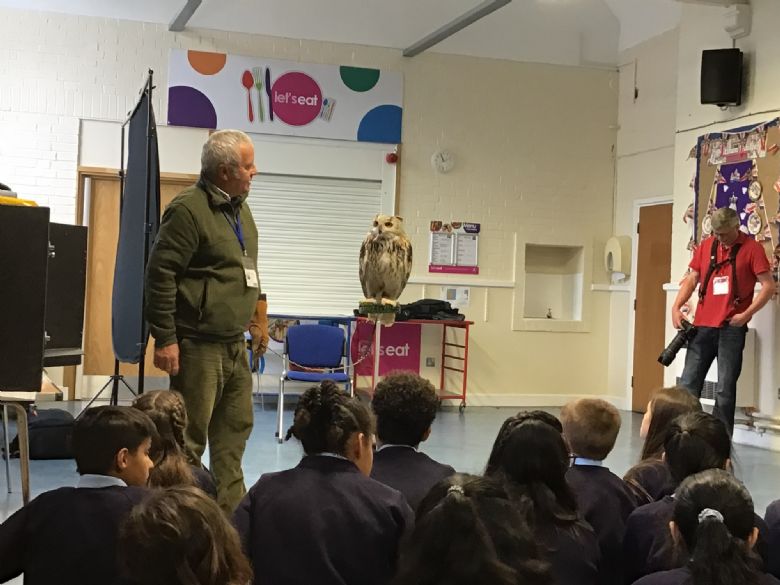 Year 4 sleepover - The Year 4 children had a great time at the Year 4 Sleepover. Please click here to see the photos of the Year 4 Sleepover.
March 2022
This month we celebrated World Book Day. The children were very lucky and had author and illustrator Emily Fellah in to show them her books and how to draw different characters. The children had great fun.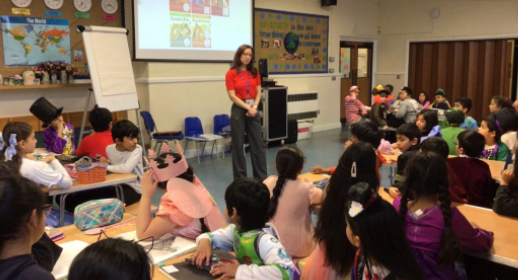 In our music lessons, we have been learning to play the recorder. We have learnt how to play an A note and B note and have been using this to play short songs and tunes.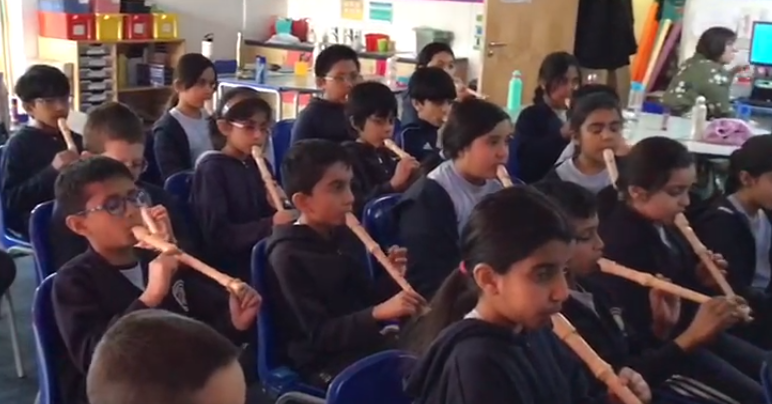 In Art, we have been learning about Andy Warhol. He was a famous screen printer who enjoyed creating artwork using bright colours and repeated images. We were inspired by Andy Warhol's work and created our own tiles out of polystyrene and cardboard to create printed artwork of volcanoes linked to our 'Shake It Off - Natural Disasters' Geography topic.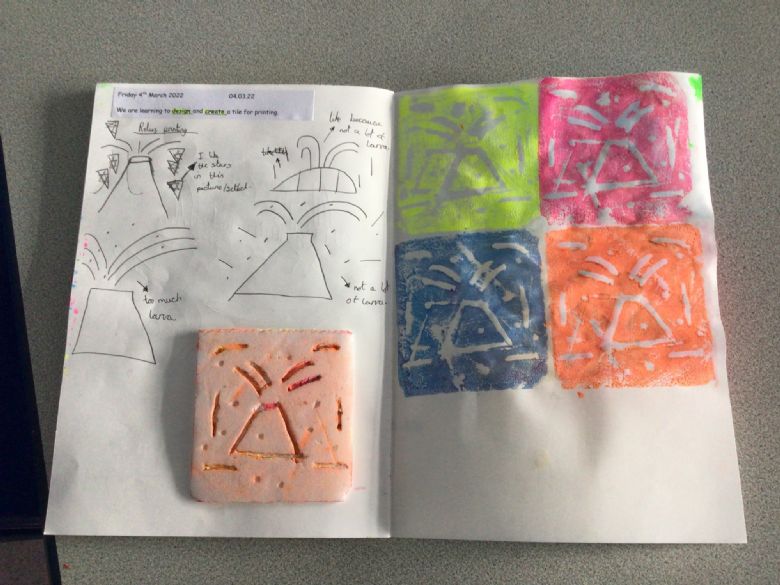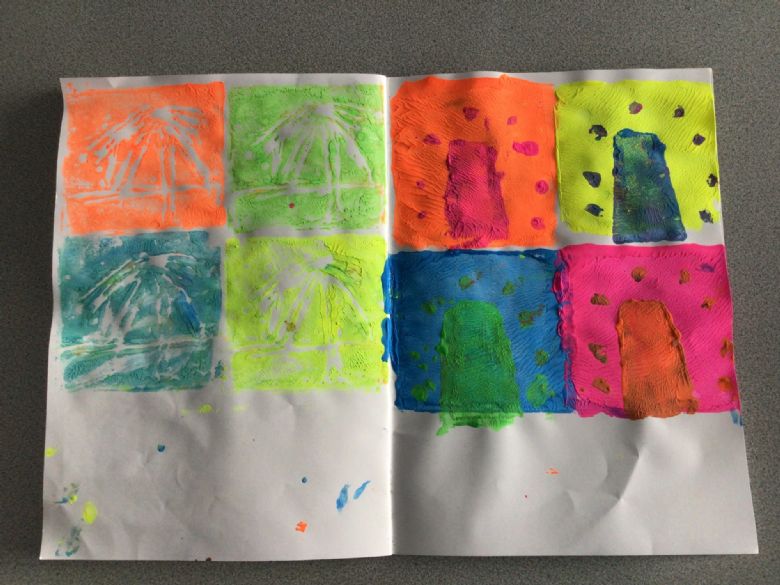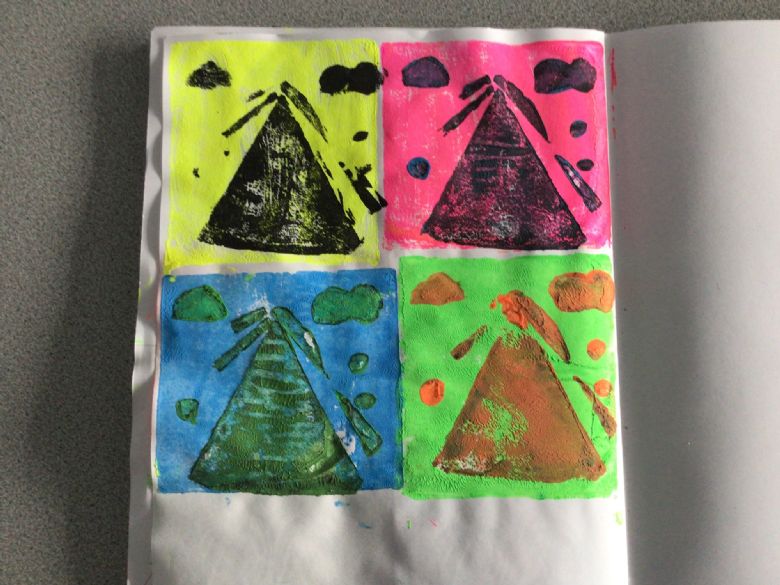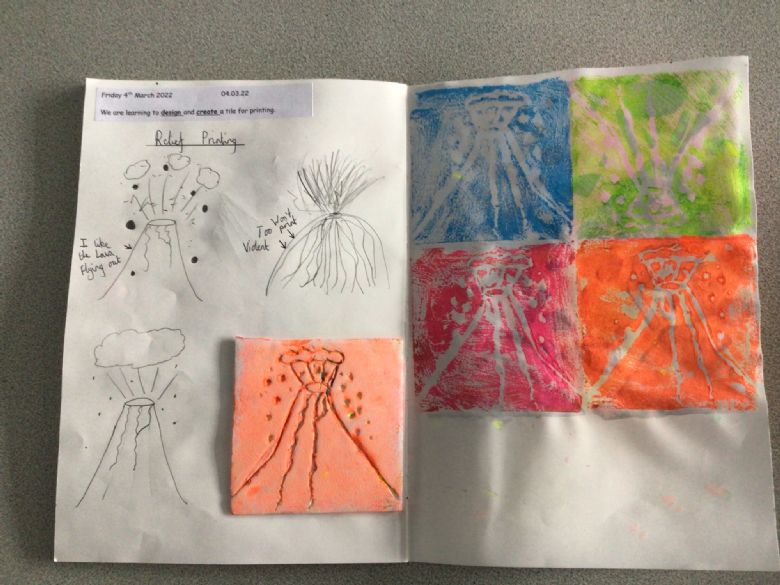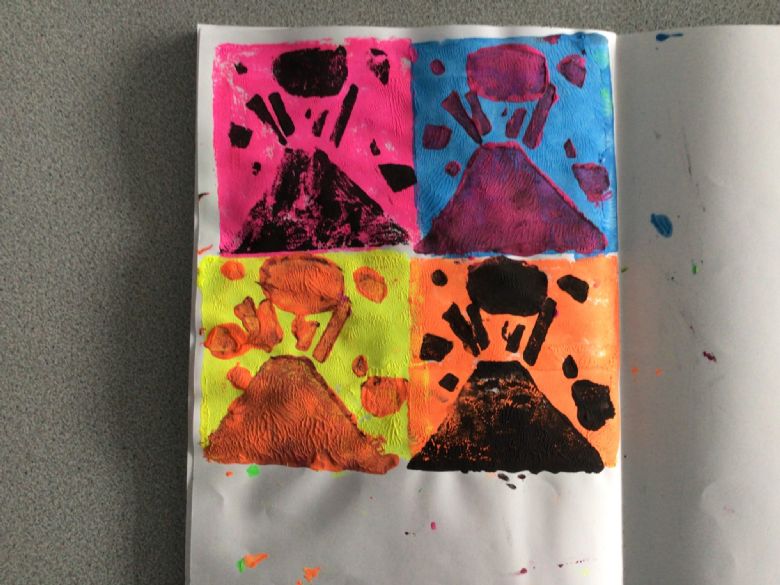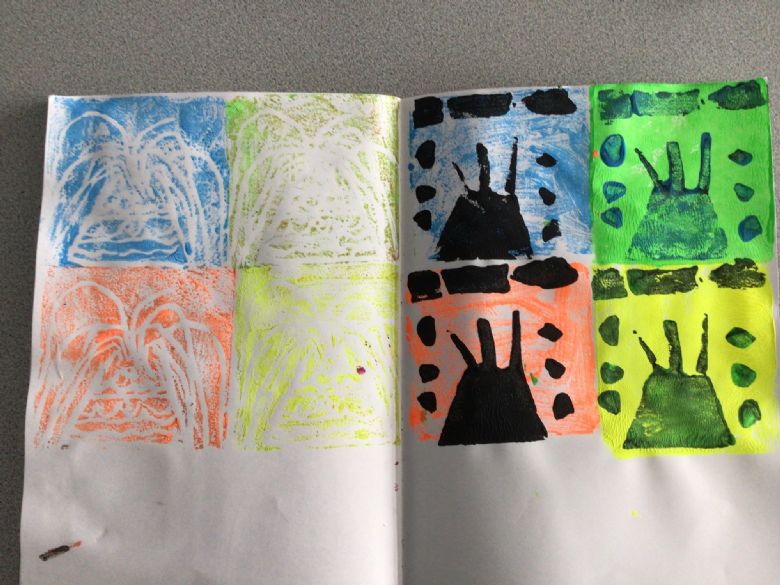 In PE this half-term, we have been doing gymnastics. We have looked at different says of travelling across the mat and also worked together to create some fantastic partner balances.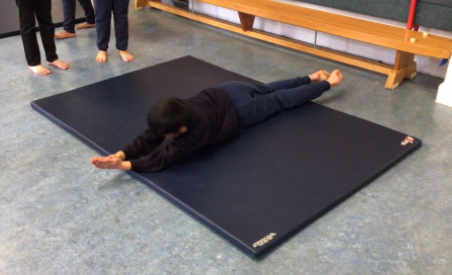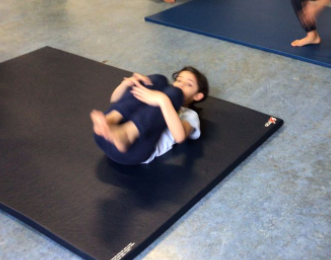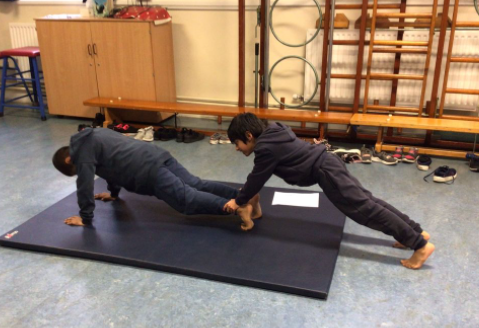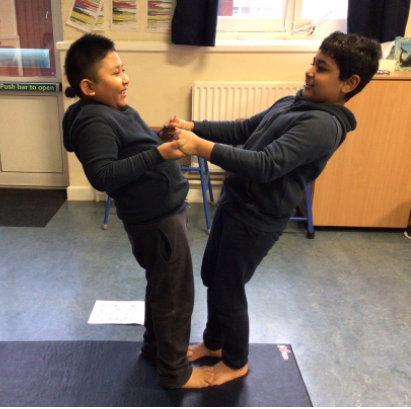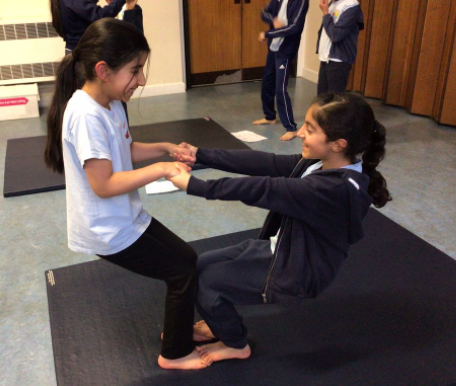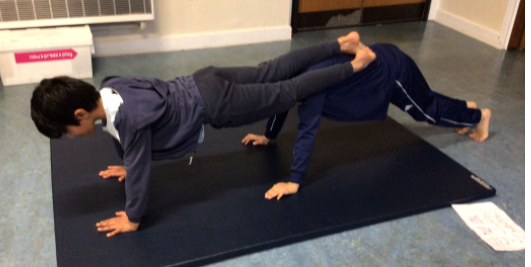 February 2022
During the half-term holiday, Angelfish class completed a volcano project. Everyone tried really hard and I was very impressed how creative and different they all are. We even got to see one of them explode!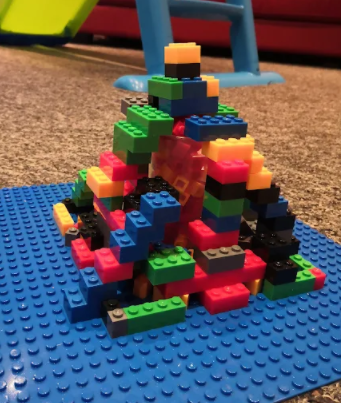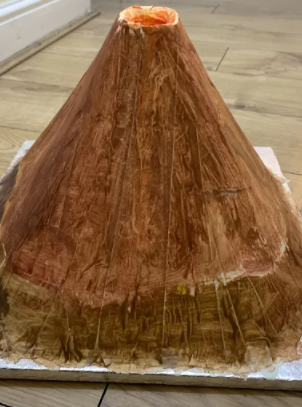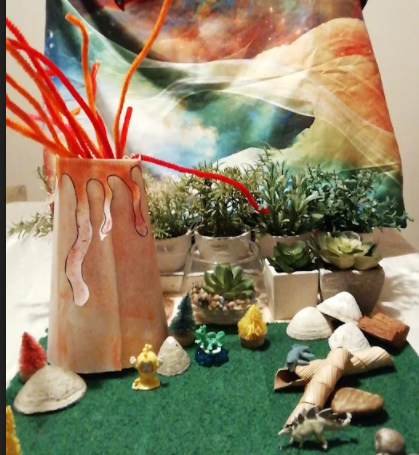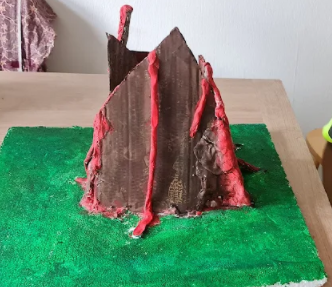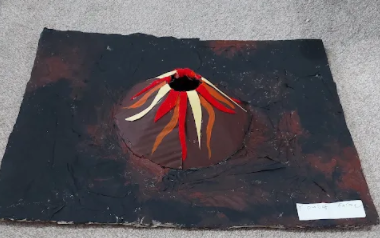 In Learning for Life, the children learnt about the importance of teamwork and had to work together to create the funniest potato. The children had great fun and came up with some great designs!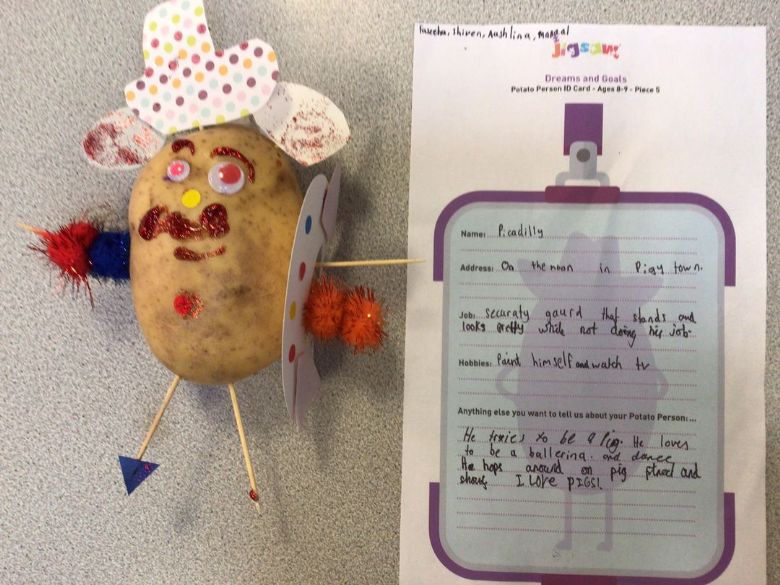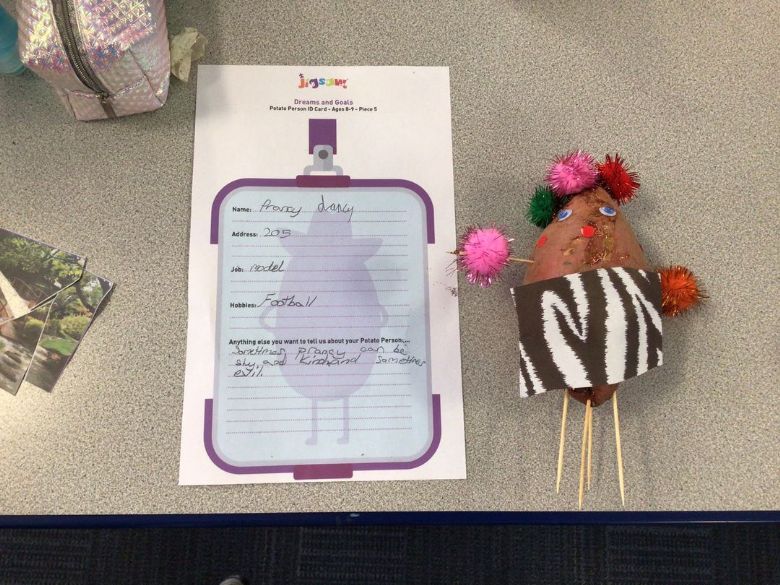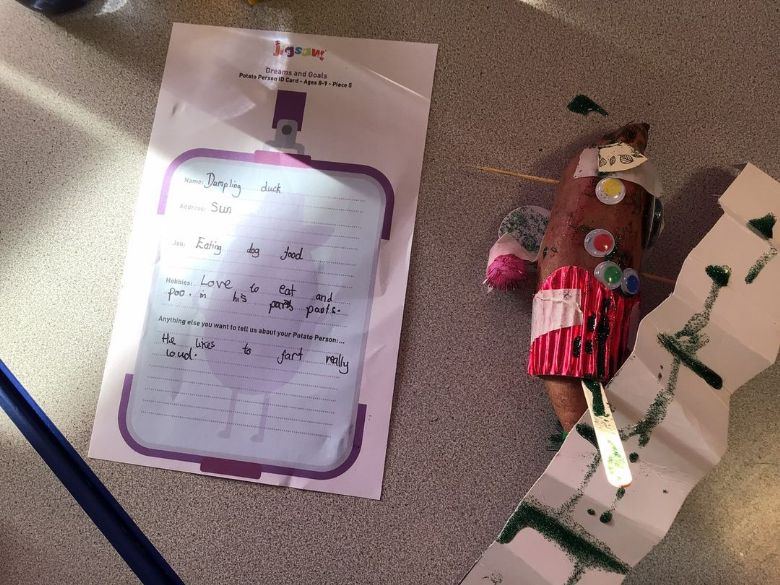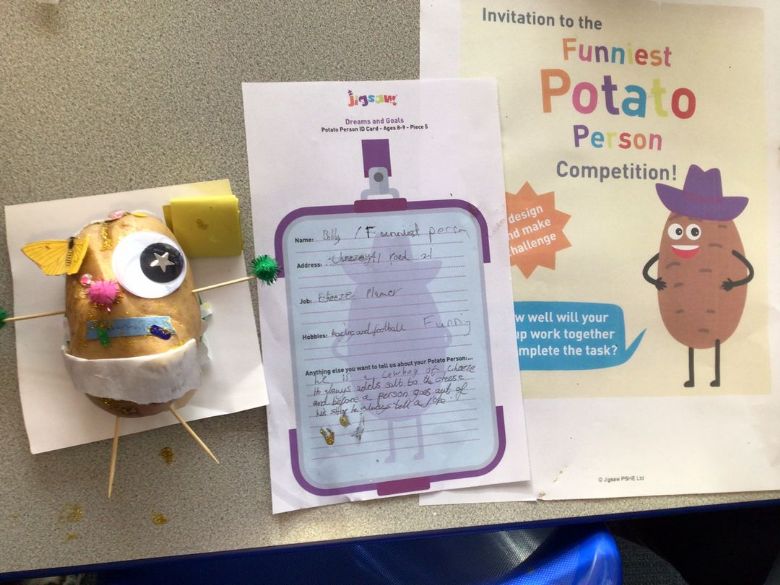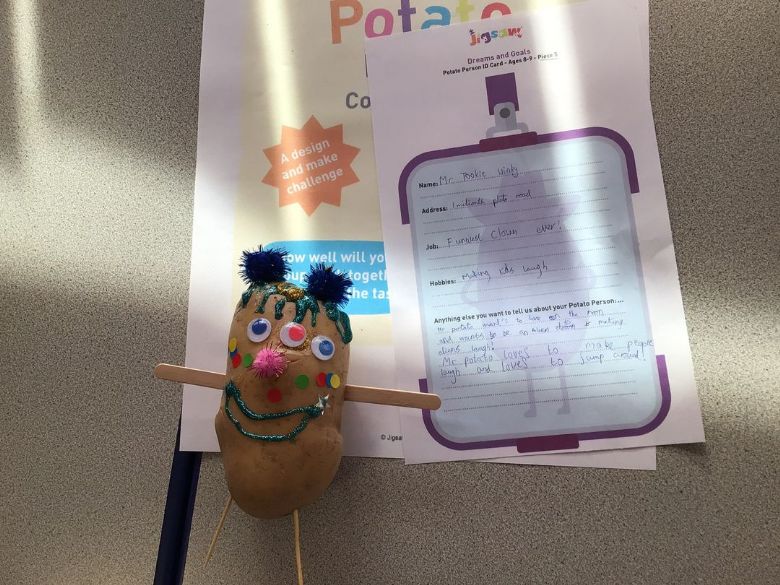 On Tuesday 8th February, it was Safer Internet Day. The children in Angelfish took part in a Now> Press>Play session to learn about how to stay safe online. They also created posters to share with parents at home.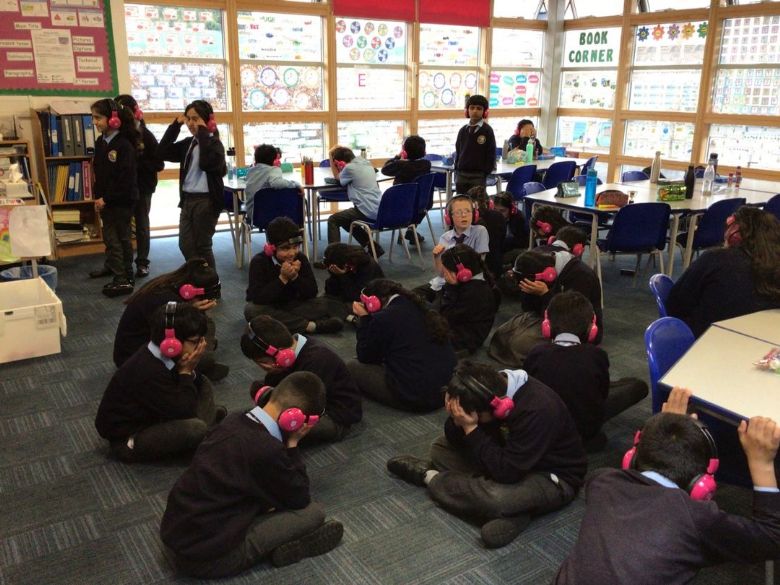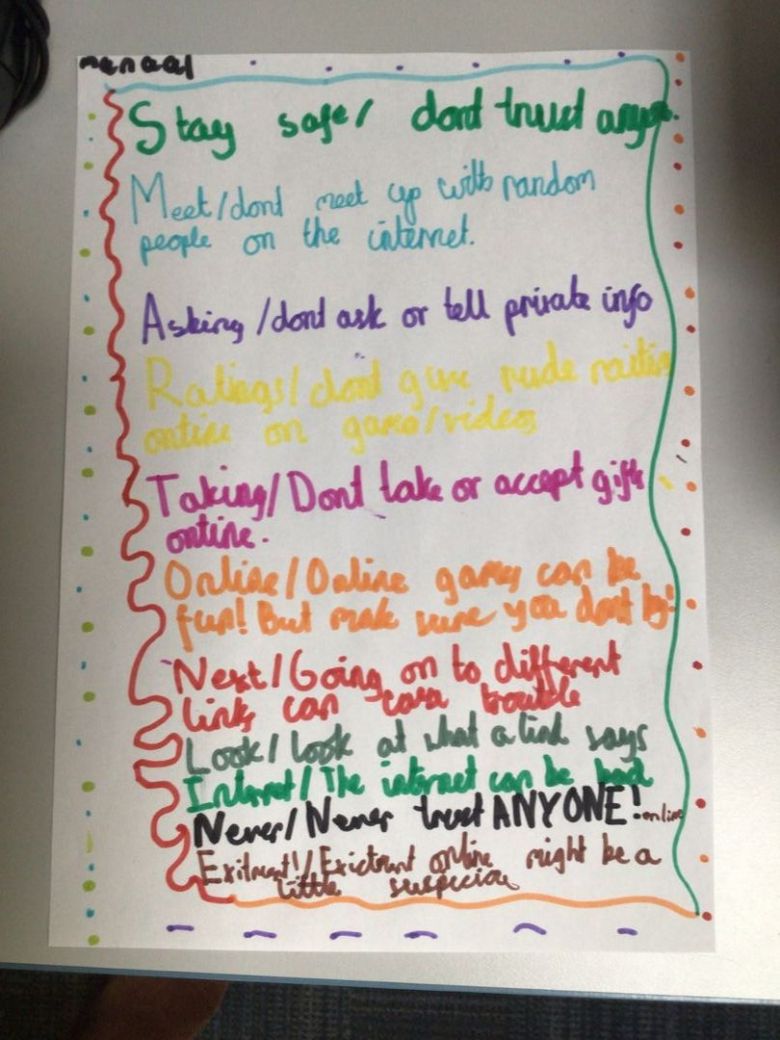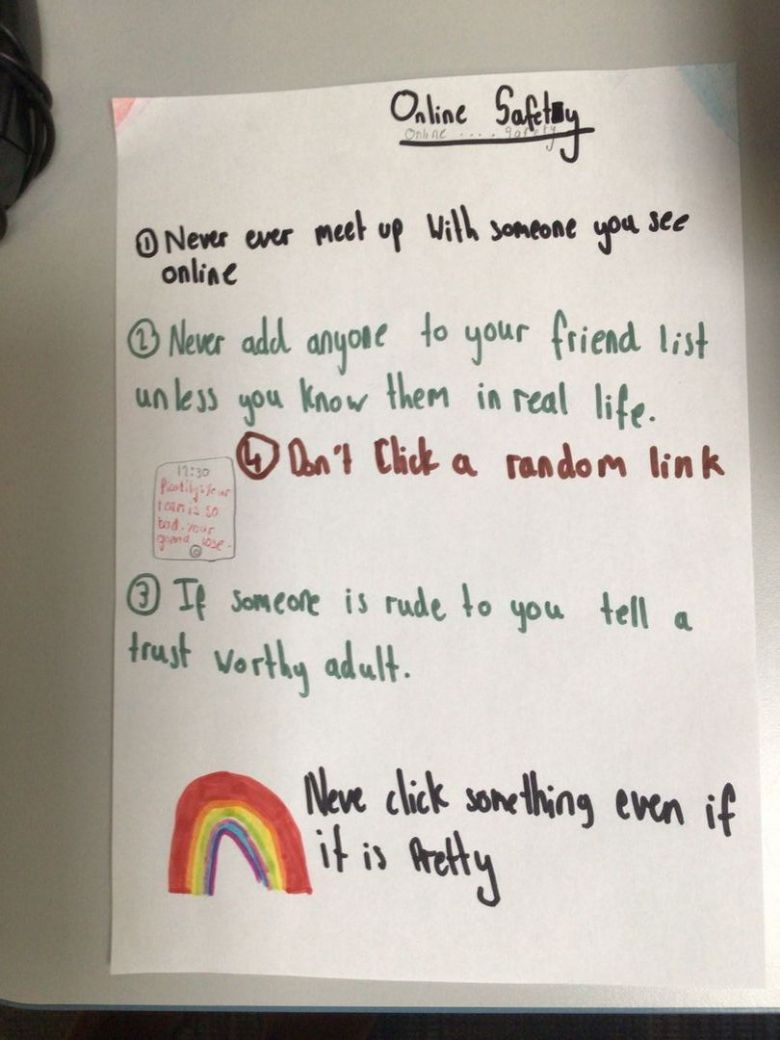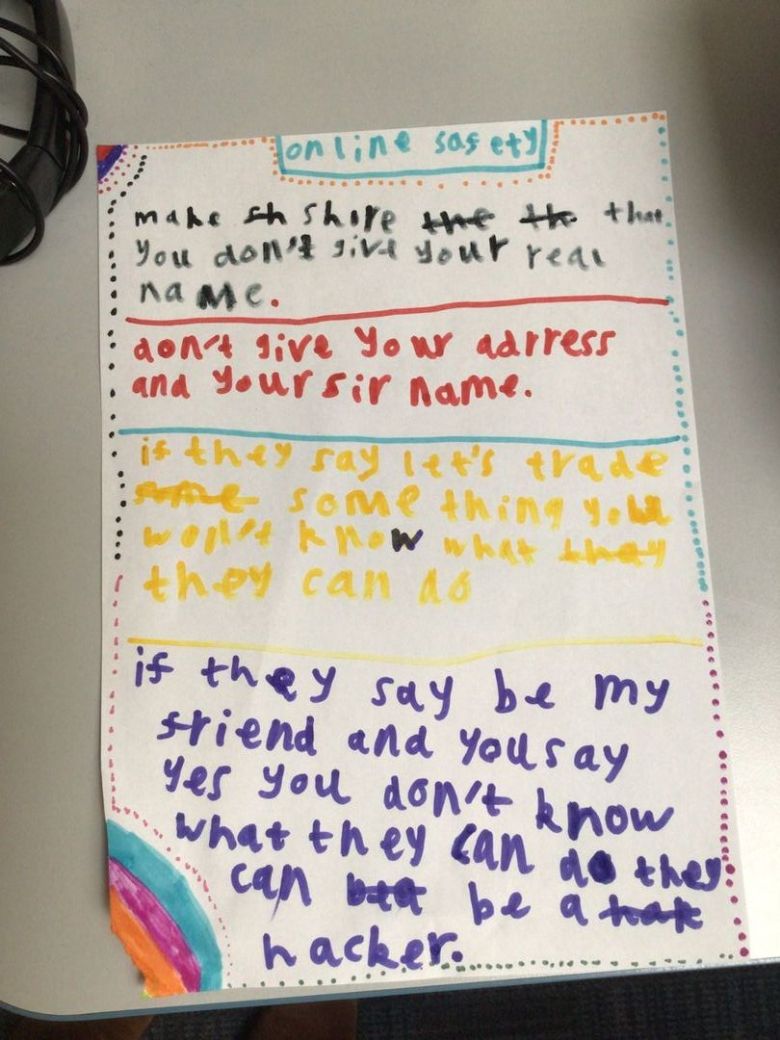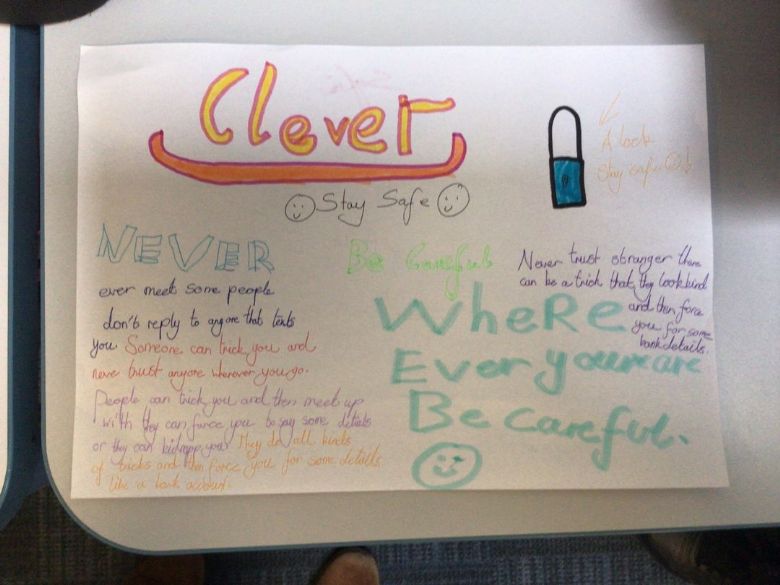 In Maths, the children have been learning about fractions. They used magnetic fractions tiles to help find equivalent fractions.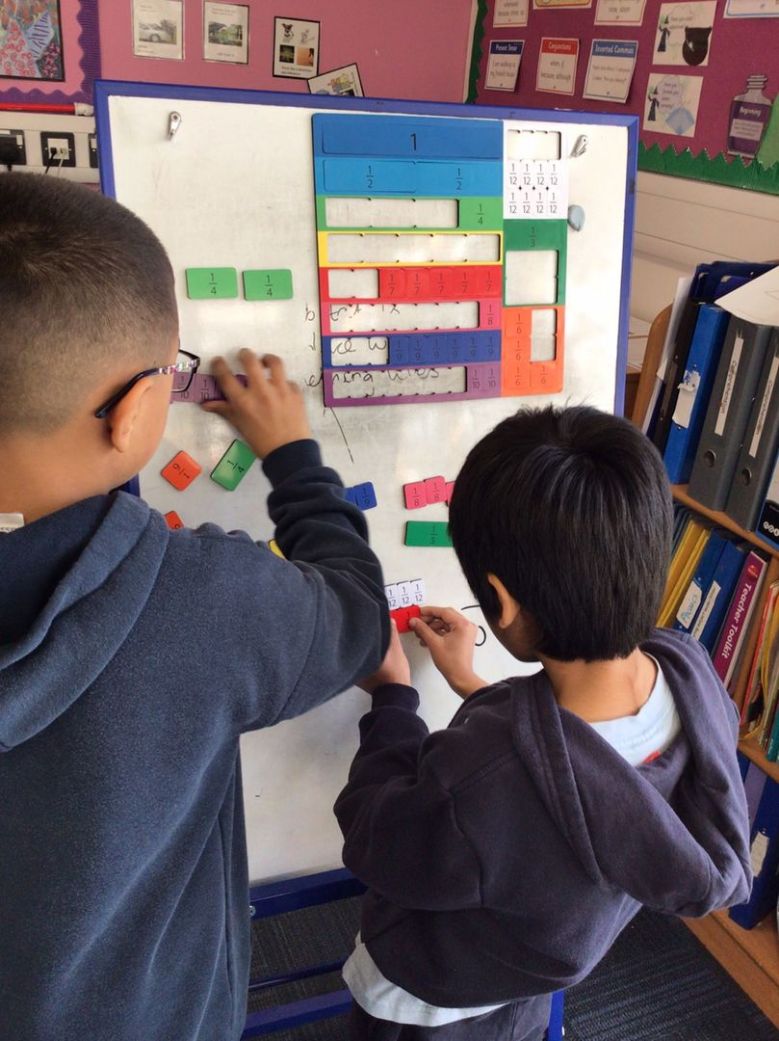 January 2022
Angelfish have come back to school after the Christmas holidays ready to learn and excited about their new topics.
In class, we continued our class story 'Charlie and the Chocolate Factory' by Roald Dahl and used a chapter from the book 'Veruca in the Nut Room' for our 3-week Literacy unit on character flaw stories. In week 1, we learnt about characterisation and used 'show don't tell sentences' to up level or descriptive writing. In week 2, we changed the story slightly and in week 3 we wrote our own character flaw stories. Before writing our stories, we gathered ideas and thought about what we must include when writing: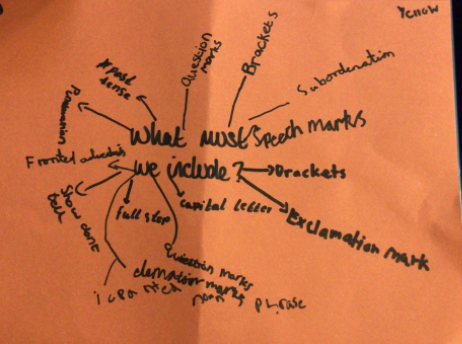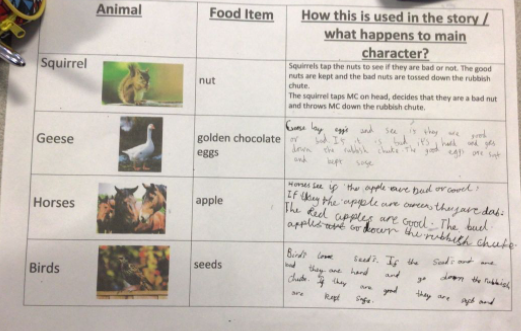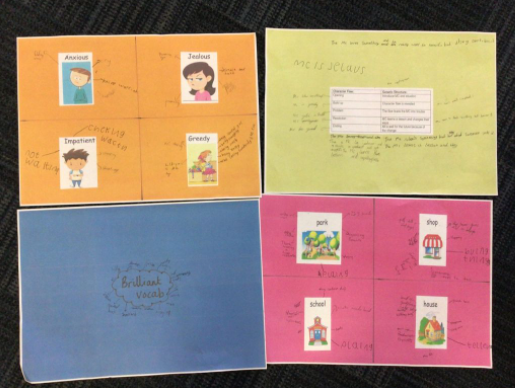 In Maths, we have been learning about using grid method and also formal methods for multiplication and division. We realised how much our homework from over Christmas on learning our times tables helped!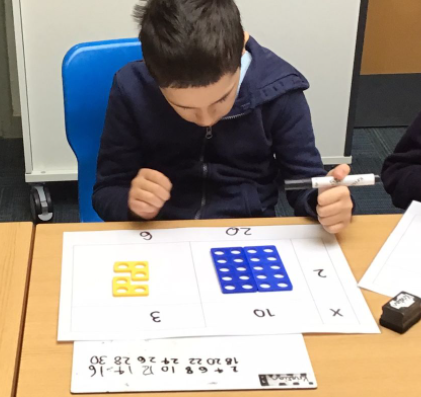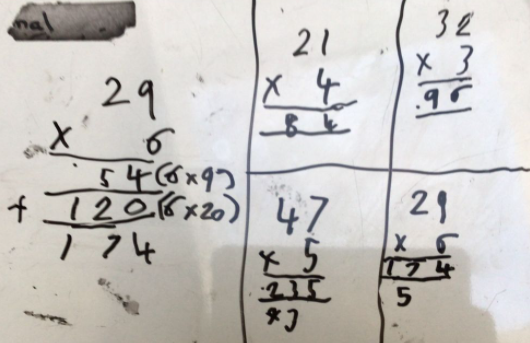 We must remember to continue learning times tables to make sure we are secure with these facts up to our twelves. We can use websites such as TTRS and Hit the Button to learn them. These are linked below:
https://play.ttrockstars.com/auth/school/student/27590/password
https://www.topmarks.co.uk/maths-games/hit-the-button
Angelfish class were very excited to start their new Geography topic 'Shake It Off' where we will learn about different Natural Disasters. The children started their learning by finding out about what was 'under their feet' and the different layers of the Earth. Some children in the class made plasticine Earth models which they then cut in half to see a cross-section of the Earth. They found out it was made of 4 main layers (inner core, outer core, mantle and crust).
In Art, Angelfish have been learning about Edvard Munch and his famous painting called 'The Scream'. They used different media (paint, charcoal, oil pastels, felt pens and sketching pencils) to recreate the painting.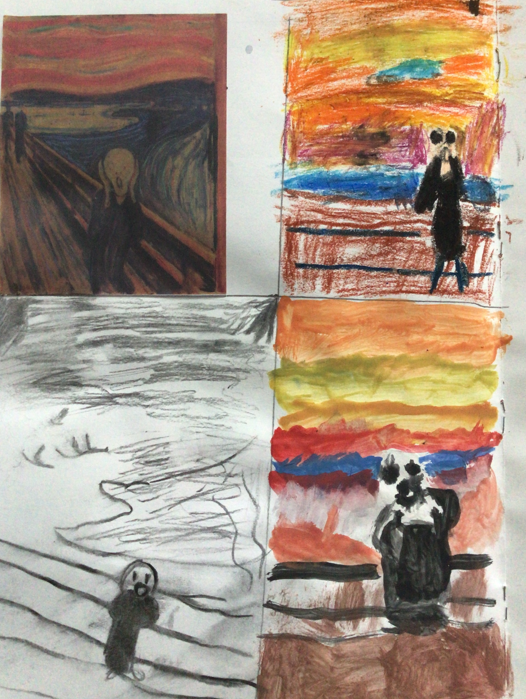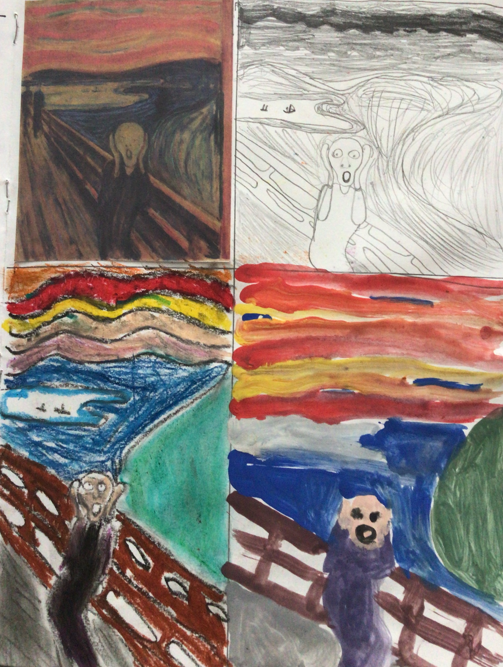 December 2021
This month, we completed our marble runs after learning the skills of making a bridge last month. They turned out great! The children had a fantastic day making them and it was great to see how the children worked independently to problems solve when something didn't work first time round.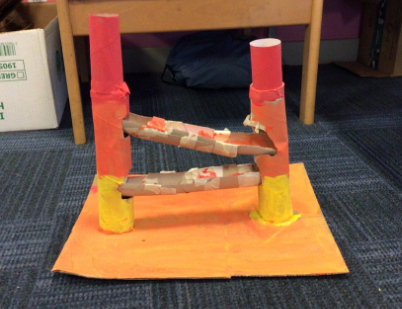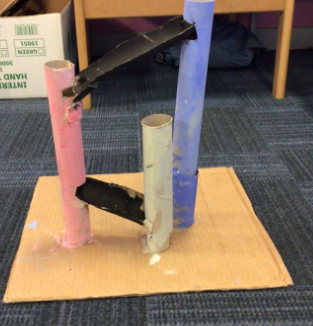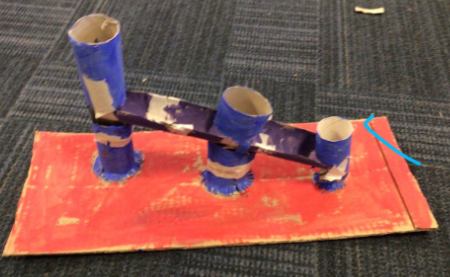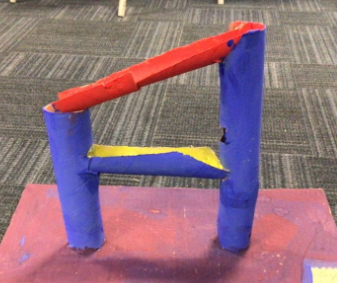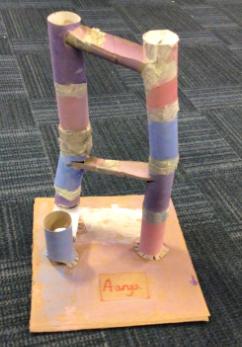 Towards the end of the month, we visited Christchurch in Woking town centre. We had to visit different places in the church (the Christmas tree, the nativity scene and the Advent ring) and answer questions about the Christian celebration Christmas. We had lot o fun and were given a drink and cookie!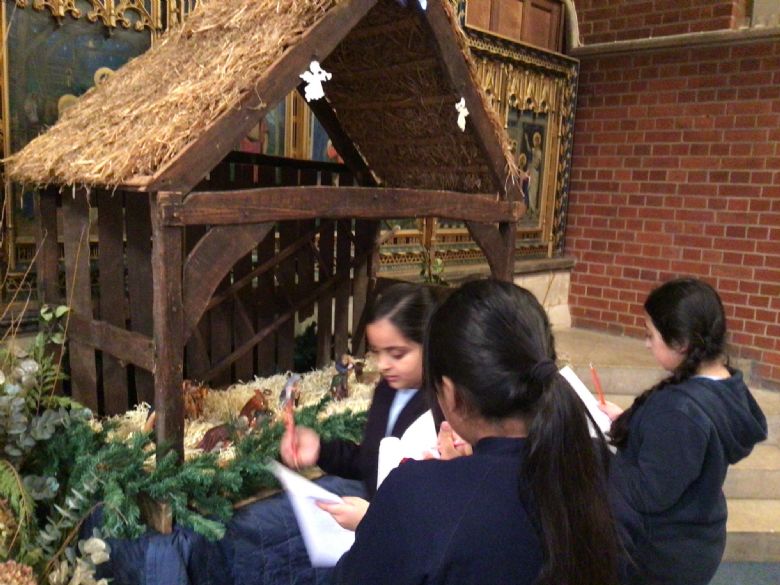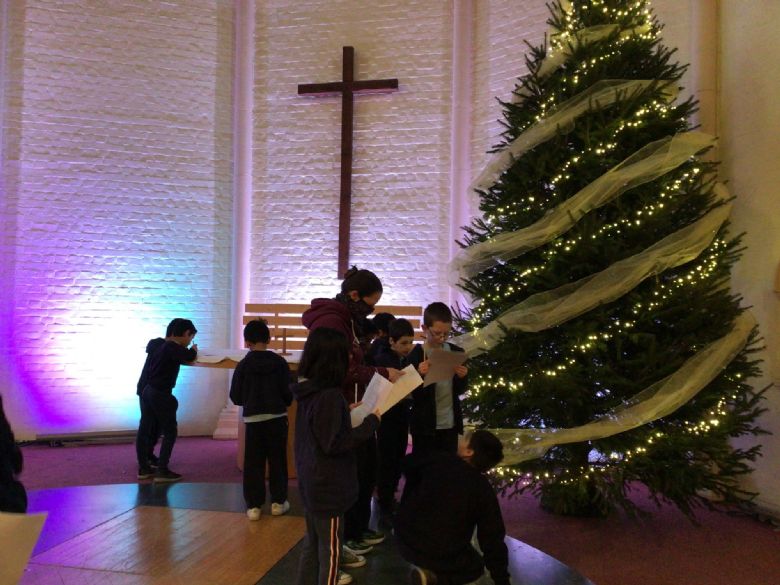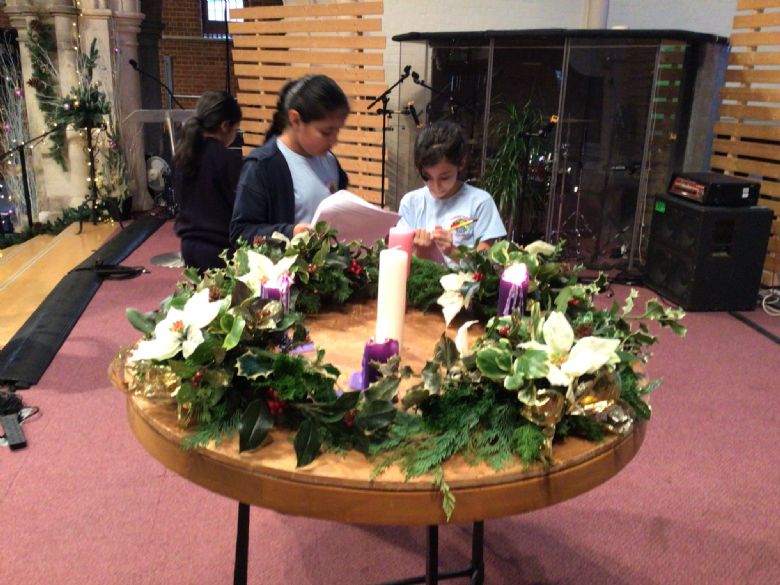 In Art, we have been studying famous artist David Hockney. We looked at different paintings of his and used them to inspire our own design. During the art unit, we learnt about warm and cool colours and also how to mix the primary colours (red, blue and yellow) to make secondary colours (green, purple and orange) We also added white to create tints and black to create shade of those colours. Have a look at our wonderful work on display below: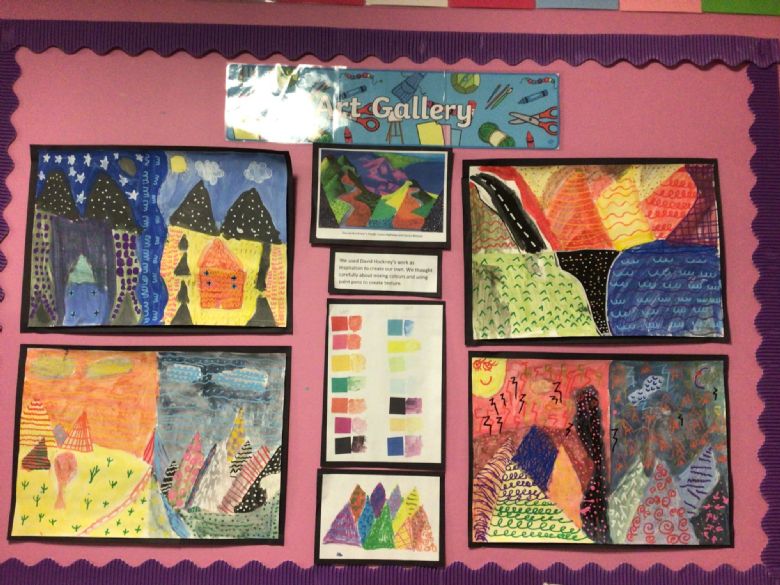 At the end of term, Angelfish class had an unexpected visit from Father Christmas. He surprised us all during a Learning for Life lesson we were doing. The children were very excited to find out that he had brought them the new 'Guinness World Records' book (a favourite in our class), a book about lifecycles, a pop-up volcano book and some times table flashcards - He must know what we are learning about next term!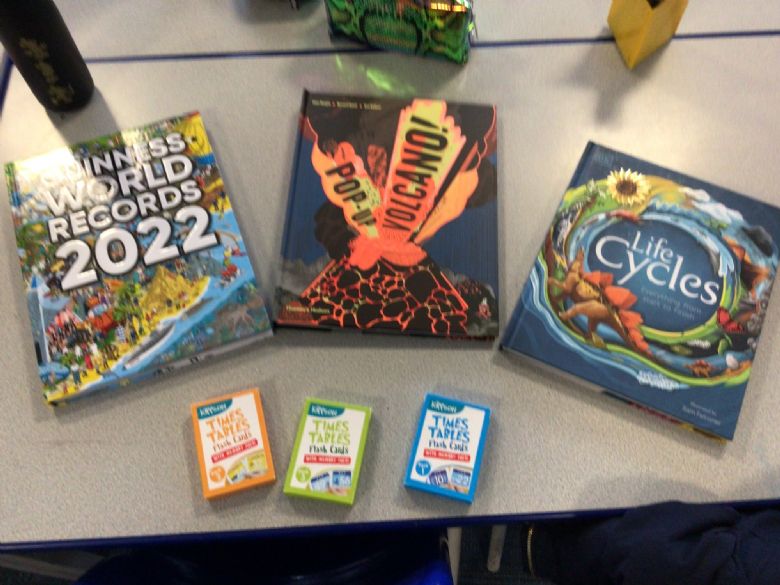 November 2021
This month, we had Mark from the Life Bus come into school and deliver a session called 'It's Great to be Me'. We learnt how everybody is unique and that if everybody looked the same, had the same interests and did the same things life would be very boring. We learnt to appreciate our differences and value our own choices and decisions.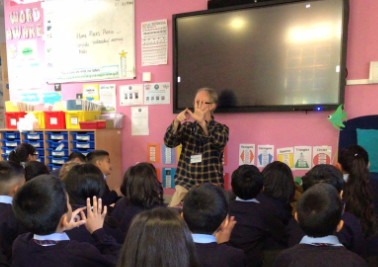 In Science, we have been learning about states of matter. We had to sort items into whether we thought they were a solid, liquid or gas. We also took part in a Now>Press>Play session where we went on a journey and learnt about water in different states. We learnt that as a solid it is ice, as a liquid it is water and as a gas it is water vapour (steam).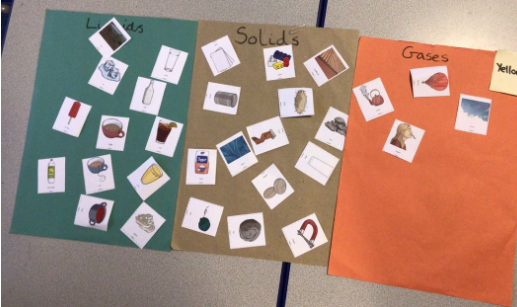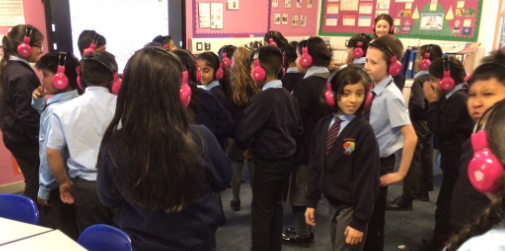 During our Science learning on states of matter, we also investigated to see if gas has a weight. We tested 5 different fizzy drinks to see which was the fizziest. We had to weigh the drink when fizzy and then when flat. The drink with the biggest difference was the fizziest. We had to make sure that we kept the test fair by using the same amount of liquid and waiting for the same amount of time before weighing a second time.
We found out that out of the drinks we tested lemonade was the fizziest.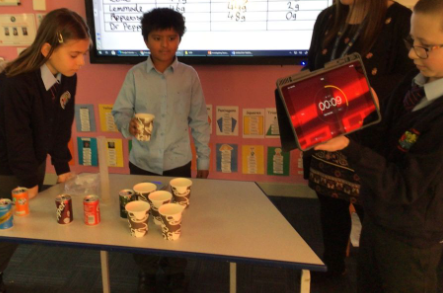 This month in Computing, we have been using Turtle Logo to code and draw shapes. We then used these shapes to create some impressive colourful patterns.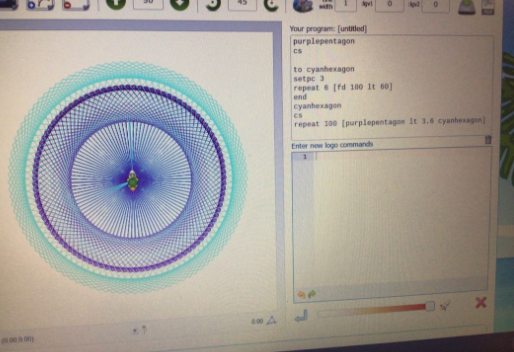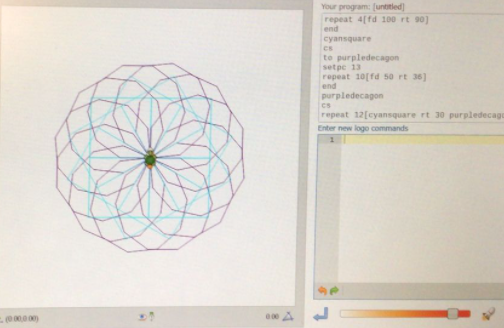 In DT, we have started a project to make a marble run. Firstly, we played with an existing product so that we could see the purpose of a marble run. We had to try and make the time the marble took to reach the end as along as possible. After that, we used cardboard tubes to make a bridge. We will use these skills to make our marble runs next month! We are very excited.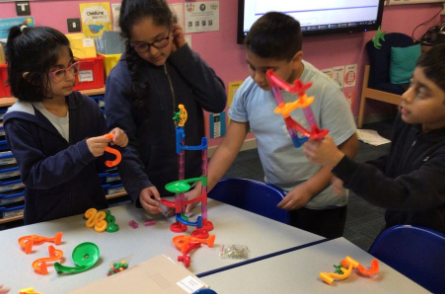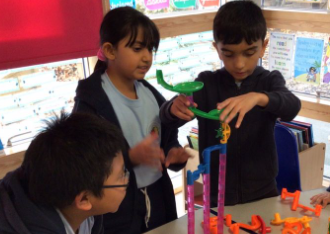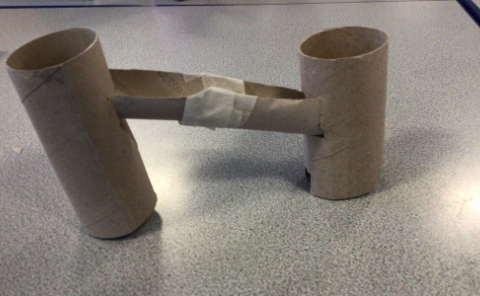 October 2021
This half-term the children in Year 4 used Lego Wedo 2.0 in their Computing lessons. The children thoroughly enjoyed building lego models connecting them to the Chrome books and coding them to make them complete an action.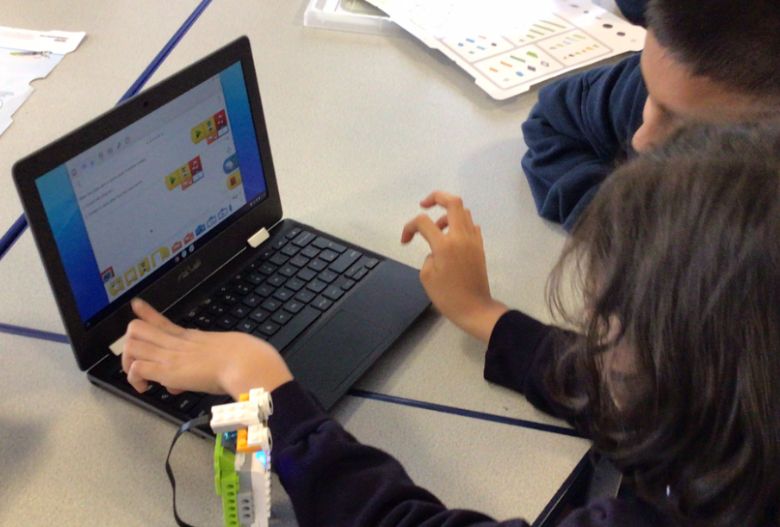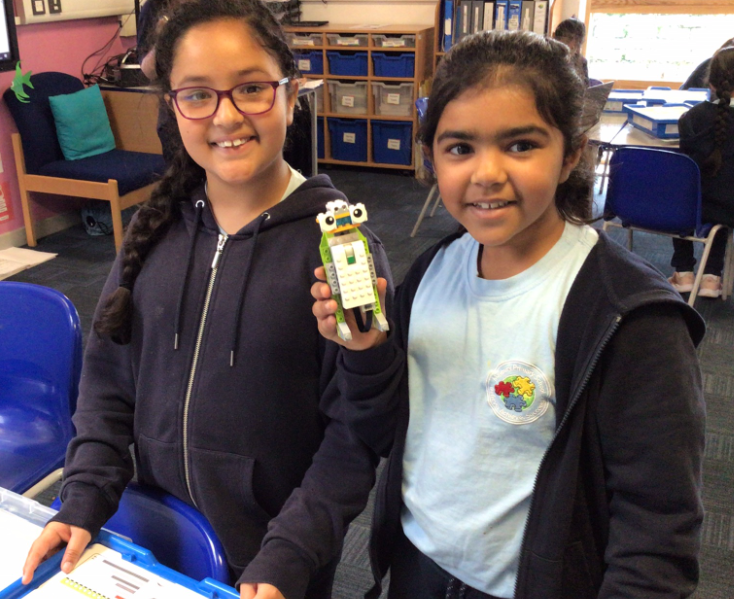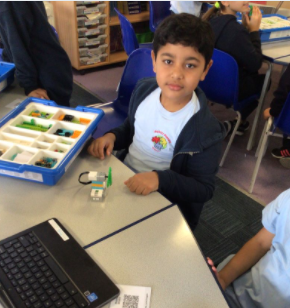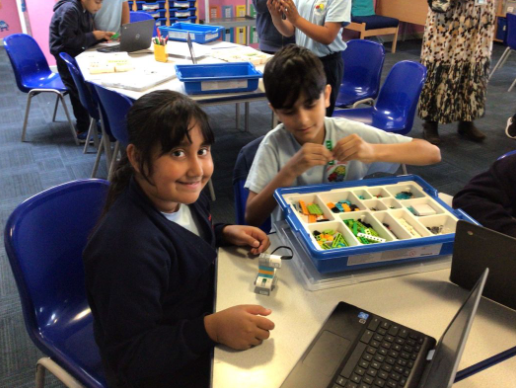 In Music, the children used glockenspiels to play simple notes in time with the famous Rock Song 'Livin' on a Prayer' by Bon Jovi.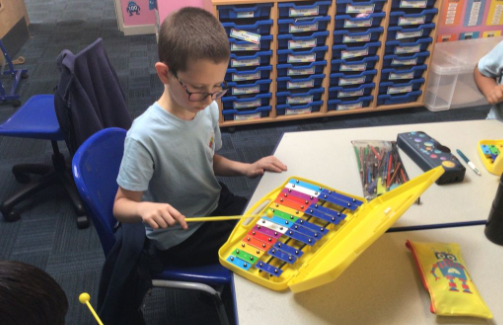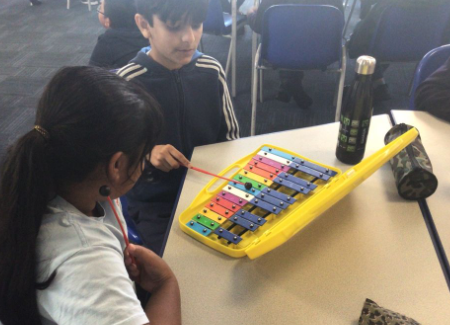 During this month, we had a fencing workshop with Olympic fencer James Beavers. First he taught us the skills for how to stand, move and hold the sword. Next, we played some games, and then we got a chance to fence against each other. We got into pairs and while one of us fenced the other coached giving advice about how we could improve our performance.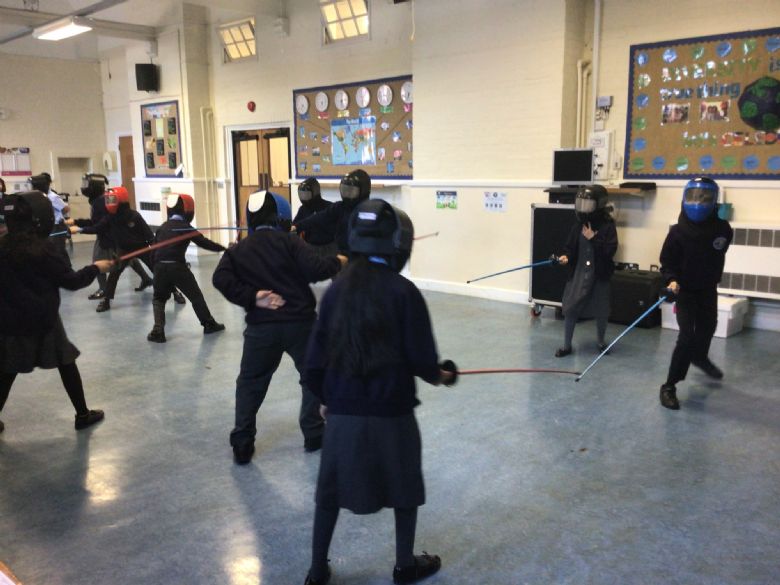 Towards the end of the month, we also held an International Week at Maybury. The children of each class learnt about a different country and completed activities based on that country.
Angelfish Class learnt all about China!
We had a lot fun and completed a lot of activities including:
Using Atlases to locate China on a World Map
Using Atlases to locate Chinese cities and rivers
Using videos and the internet to research famous Chinese landmarks including The Terracotta Army and The Great Wall of China
Writing letters home from a visit to China
Drawing Chinese Dragons
Using Chinese Numbers for simple Maths problems
Cooking Spring Rolls
Using Chopsticks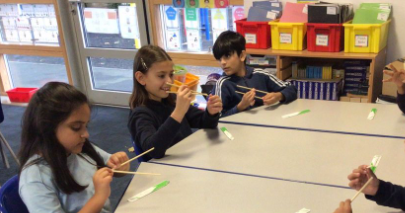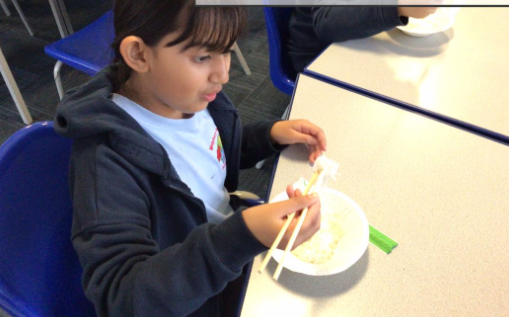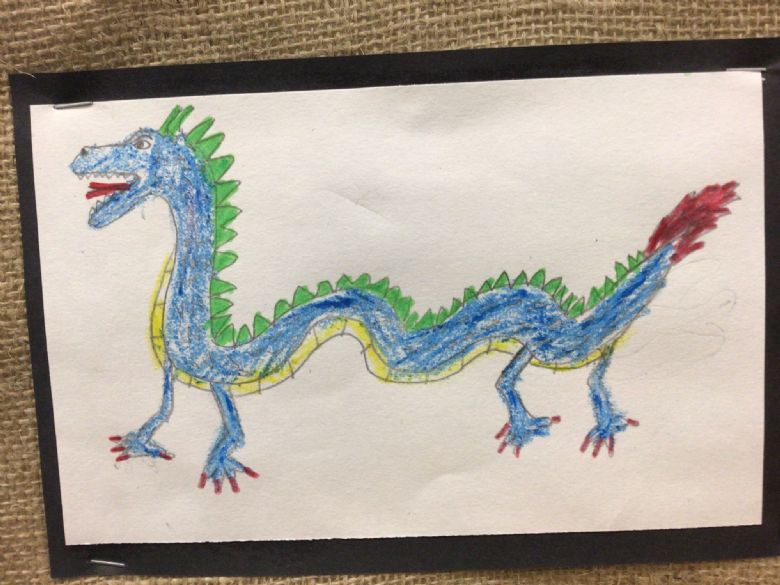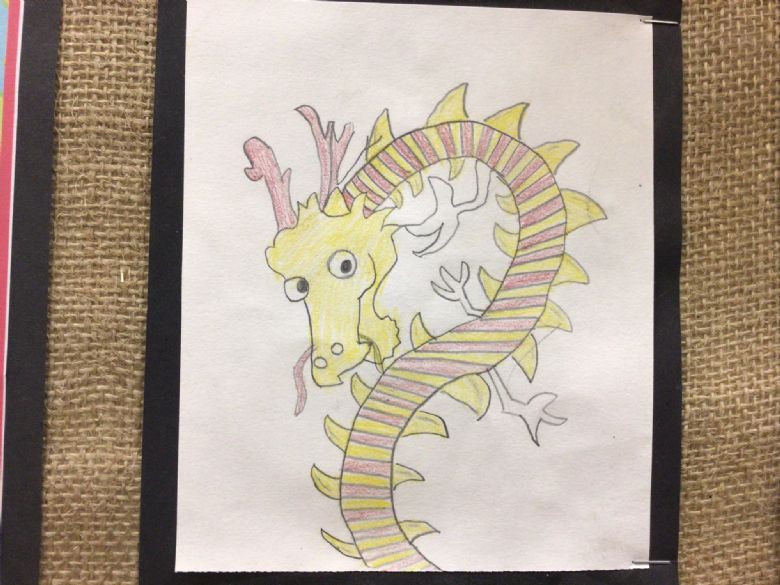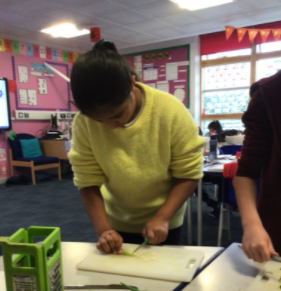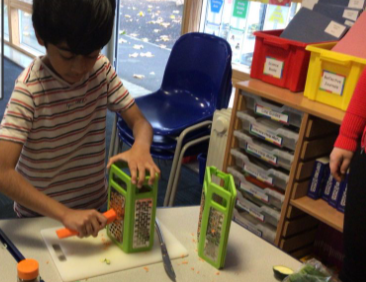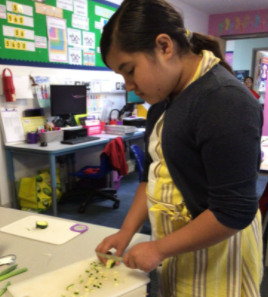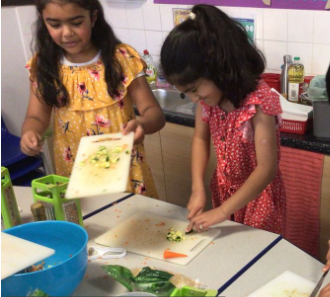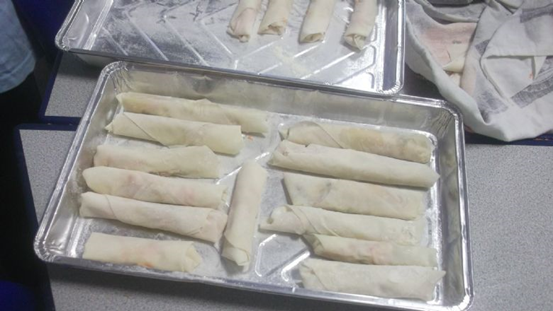 September 2021
Welcome Back Angelfish and Angelfish parents / carers. The children spent their first few days in Year 4 learning about their new class name; Angelfish and created some fantastic fact files and artwork about this sea creature. We then used their fantastic learning to creature a wonderful display of their learning in the cloakroom.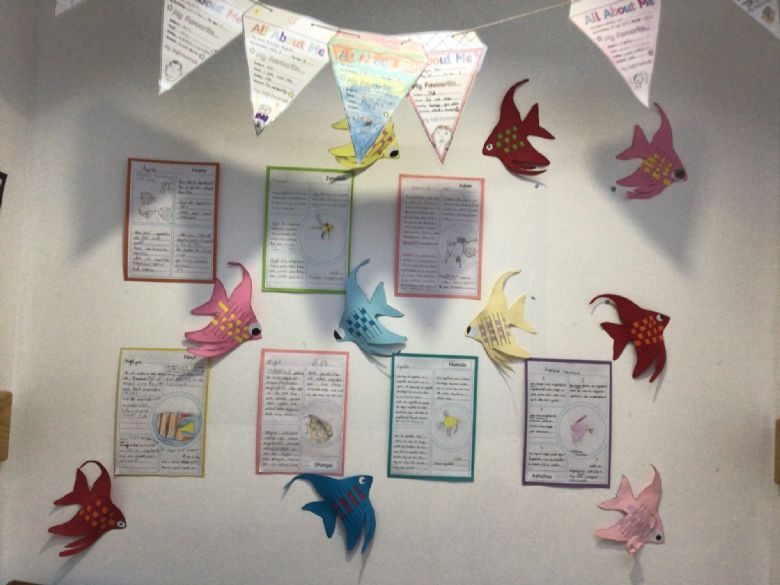 The children have started learning about the ancient Greeks in our History topic (Meet the Greeks) and enjoyed becoming archaeologists. They had to carefully use their paintbrushes to uncover the artefacts and decide what they thought they were.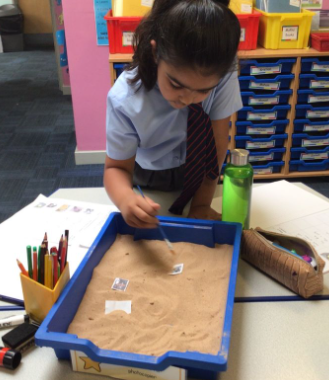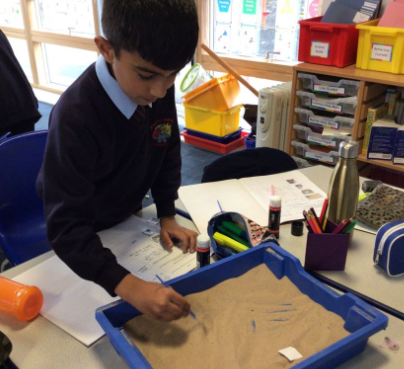 The children also learnt about Greek theatre in our art sessions. They firstly completed research to find out about what Greek theatre was and why it was so important. They then learnt about tone and texture. The children then used the skills learnt to draw ancient Greek theatre masks. Finally, they created their own collage of a Greek theatre mask and drew their own.
In Science, the children learnt about teeth and digestion. For our science enquiry, we looked at how different liquids affect teeth (we used an egg as the eggshell represented the enamel on our teeth). We kept the eggs in the liquid for 5 days and observed each day to see how the liquids had changed the eggshell. We were surprised (and disgusted) by some of the results!