Our Curriculum
Intent
At Maybury Primary School our motto is: believe, achieve and succeed. Our primary aim is to develop a love of learning through meaningful, engaging and creative learning experiences. We aspire to enable each child to become an active member of our school and the wider community.
We are a multicultural and diverse school community where all pupils are equally valued. We use children's experiences to deepen and extend their understanding about each other and the world in which they live. These experiences are vital in enriching the National Curriculum that we follow, to enable every child to excel.
The curriculum at Maybury Primary Schools is designed to provide a broad and balanced education that meets the need of all children. It provides opportunities for our children to become independent, confident learners with high aspirations who know how to make positive contributions to the wider community. We want our pupils to be able to retain knowledge and gain transferable skills to support their next steps in education.
We provide a personalised curriculum for new arrivals and children with English as an additional language, which involves clear language modelling and vocabulary development and ensure that they have access to the curriculum through translated resources and bilingual staff.
Our children's safety in modern society is paramount to us and we consider internet safety to be an essential skill to teach. We have an annual 'Internet Safety Week', half termly online safety lessons and regular parent workshops. Our children are also taught about road, fire and water safety.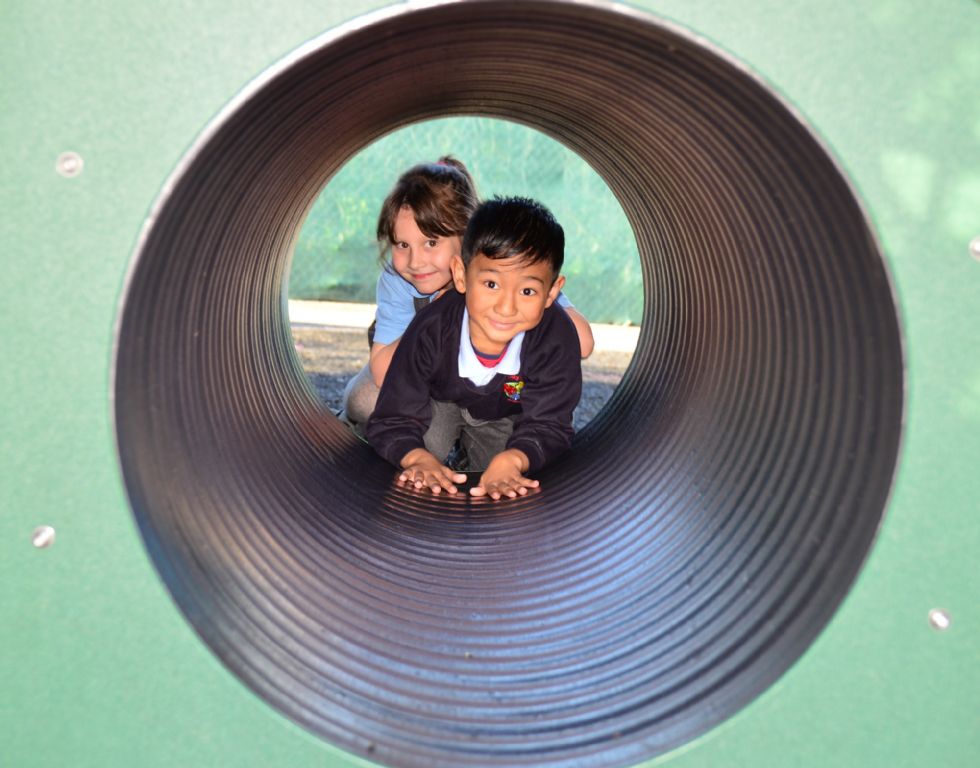 Values Education
Our curriculum is underpinned by a strong values based ethos which helps our children understand about their responsibilities to themselves and others. We have high expectations of all our children and encourage them from the outset to be aspirational and self- reflective individuals. We appreciate that our children live in 'complex and demanding times' (Claxton, 2011) and as a result our curriculum takes their personal development and welfare into account.
The primary curriculum aims come from the national 2014 curriculum which have been adapted and developed to create exciting topics which will engage and enthuse the pupils. We make cross curricular links in our teaching to ensure that children are transferring skills, vocabulary and it allows children the opportunity to flourish as individuals, developing a variety of skills and showing their creative sides.
Our key aim is that when our pupils' leave Maybury Primary School they are well equipped for their next stage of education, secondary school by having:
· An excellent attitude towards learning
· The ability to preserve in difficult situations.
· To aim high and challenge themselves to achieve great things in the future.
· A strong sense of moral purpose and respect for others.
Implementation
Curriculum design
At Maybury we have strategically planned our curriculum to meet the needs of our community. We believe that the topics we teach will enthuse and inspire our children, developing them as individuals to ensure they make excellent progress from their starting points. Our rich and vibrant curriculum aims to develop specific skills which can be seen across the school throughout all subject areas. As a team we have created long term plans which ensure progression within a context. Teachers then use this to create medium term plans and short term plans where they highlight learning objects, key vocabulary, assessment opportunities and clear differentiation to ensure all of our teaching is carefully tailored to meet the needs to all children.
Literacy
Our literacy lessons are based around high quality texts which are integral to our teaching of writing, together with a range of age specific resources and the use of technology. We follow a three weekly writing sequences where the children learn to: imitate, innovate and invent. Integral to our writing sequences is giving the children time to develop their skills in different contexts and editing and publishing their work. Grammar, punctuation, phonics and spelling are intertwined into their lessons.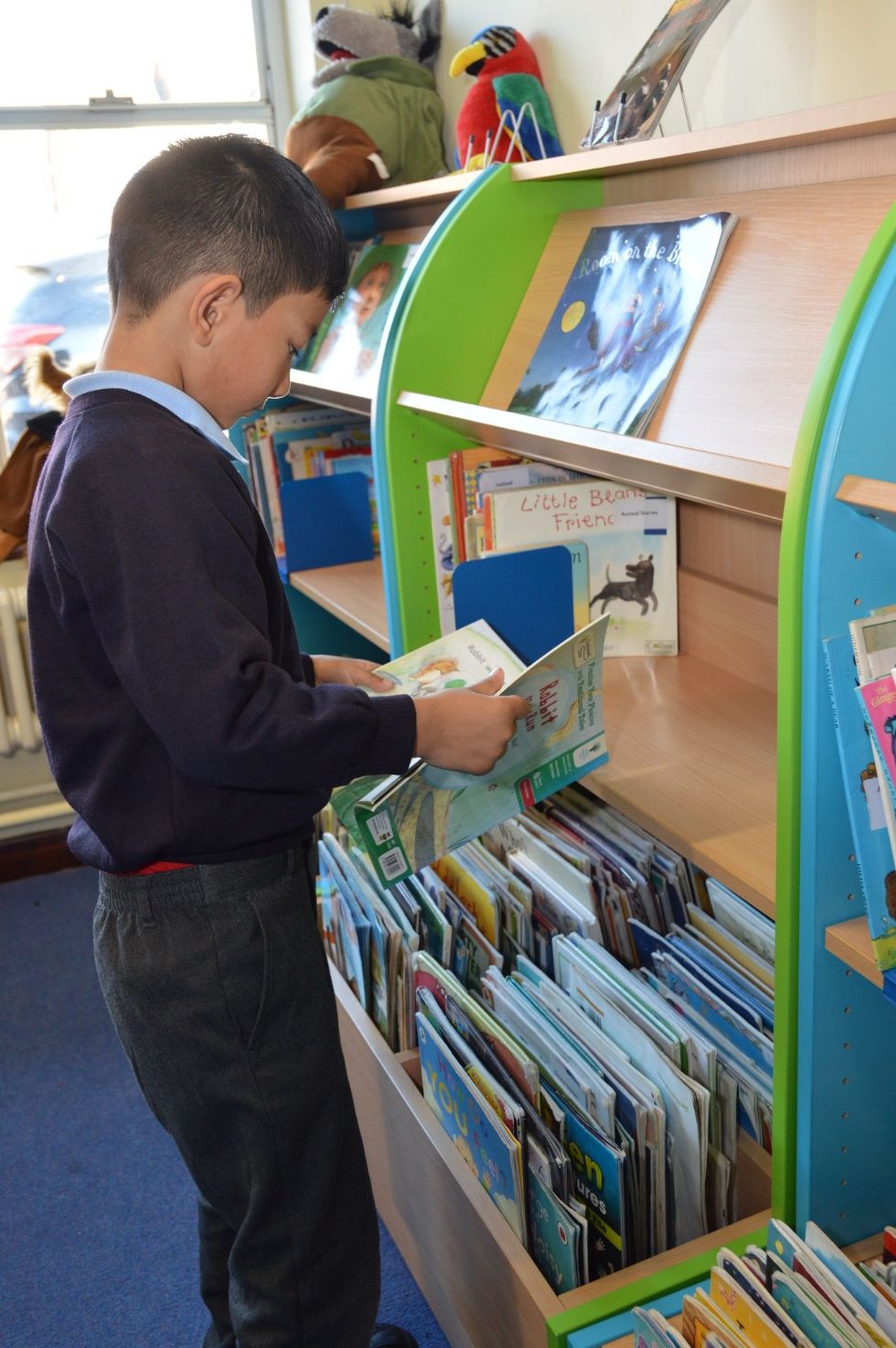 Writing workshop
During 'Writing Workshops,' children are grouped by ability to ensure that the learning is at the most appropriate level for their needs. This is taught three times a week for 30 minutes in KS2 and every day in KS1, in addition to the literacy session and Reading Roundabout. The main emphasis of this teaching is on phonics and grammar.
Speaking and listening
We aspire for our children to become clear, fluent and confident speakers. We provide a range of speaking and listening opportunities, such as, drama, presenting, questioning and the use of 'Talk Buddies'. Teachers also utilise strategies for 'Talk for Writing'. Children are encouraged to articulate their thinking before writing.
Maths
Maths at Maybury provides a foundation for understanding the world; the ability to reason and problem solve mathematically, an appreciation of the beauty and power of mathematics, and a sense of enjoyment and curiosity about the subject.
There is a strong emphasis on Mastery, which means children having a secure understanding of mathematical concepts and processes, combined with a genuine procedural fluency. Children are able to apply their understanding of a concept in a wider variety of contexts, some of which are more difficult. They can manipulate the facts they know and the skills they possess in order to solve more complex problems.
At Maybury, there is an expectation that all children can succeed in maths, giving children a secure and sustainable understanding of mathematical concepts by developing consistent models and images throughout all year groups. Children who master a concept easily are expected to deepen their understanding, for example by applying it to solve problems embedded in mathematical investigations or more complex contexts. Children who do not master an objective with the rest of the class are supported to enable them to gain more experience and achieve mastery, for example through same-day intervention, plus longer-term help if necessary.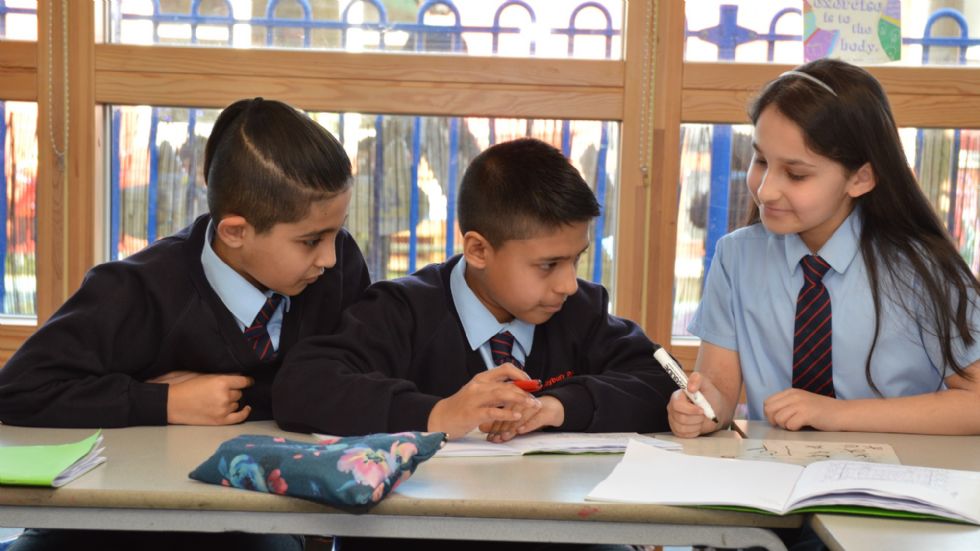 Science
Science teaching enables children to broaden their scientific view of the world around them, progressing to a wider range of scientific ideas. The children will do this through exploring and talking about their ideas; asking their own questions; and solving problems. At Maybury, we aim to deliver a high quality science education, which provides children with a secure understanding of the world we live in. We aim to help children develop an understanding of key scientific concepts whilst engaging in meaningful enquiry.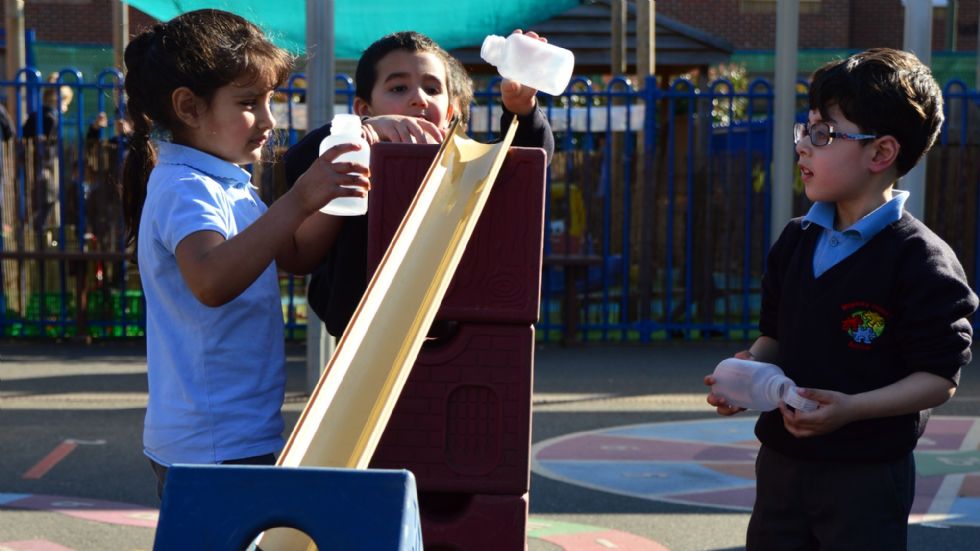 Foundation subjects
In each year group children cover the New National Curriculum (2014) through a range of exciting learning experiences. Learning for Geography, History, Art and design, Design and technology and Music is taught through a cross curricular approach and themed units of work.
History
Our History curriculum is designed for the children to learn about significant events in time (taught chronologically) and to draw parallels to today. They are taught the key facts and vocabulary for their topic which can be seen on the knowledge organisers that are in their books and go home with them to share with their parents. The school utilises school trips, visitors, artefacts and other high quality resources to bring each topic to life.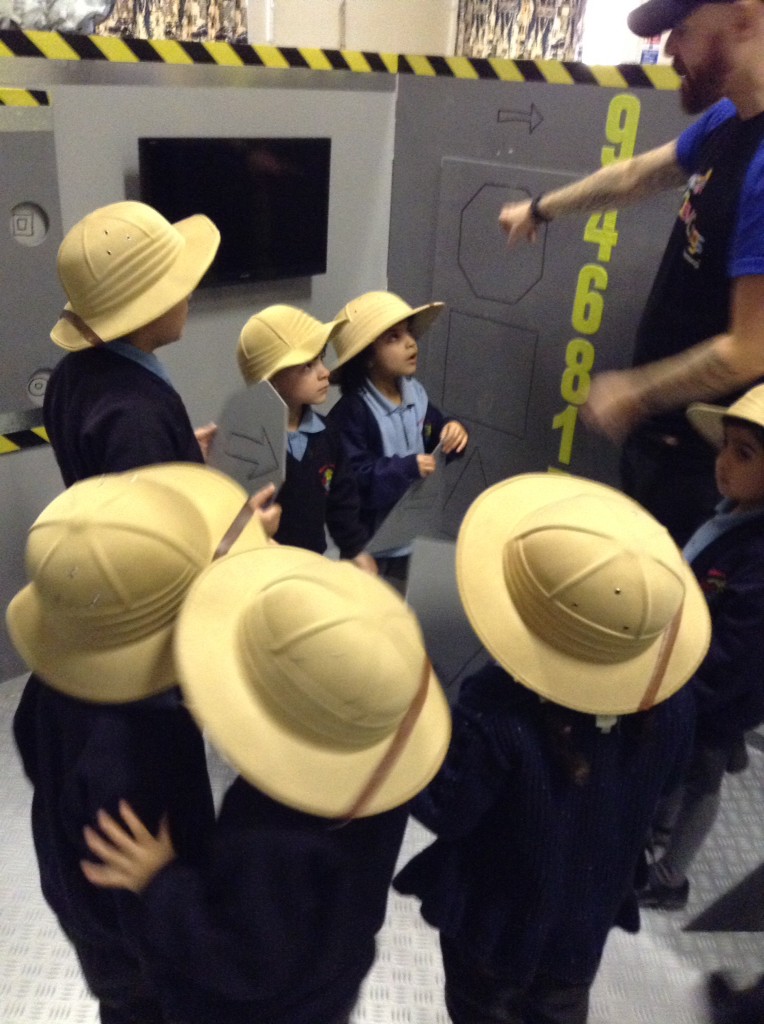 Geography
Where possible, links are made to our local area during Geography lessons and our international week provides the children with a rich understanding of a range of different cultures and traditions. Our four areas of focus are for children to develop their: contextual world knowledge, geographical understanding, geographical enquiry and mapping skills.
MFL
At Key Stage 2 children will begin to learn French as an introduction to modern language with a high focus on oral spoken language. Through these lessons the children will make grammatical links with the English language, build a French vocabulary and will learn about French culture and traditions.
Computing
We recognise that computing is integral to children's learning across the curriculum and that the use of information communication technology is a central part of our children's lives both at home and at a school. We aim for our children to confidently and independently use and apply these skills to support and extend their learning.
Children have shared access to 30 laptops, 30 iPads, flip cameras, desktop computers, magnifiers, recording equipment and a range of software. The children are both taught and assessed using Interactive whiteboards, visualisers, iPods, digital cameras, voice recorders, and numerous other technologies. The children also have access to a SMART table that allows them to learn in small groups on more focused and personalised tasks. Our school also subscribes to a number of online resources including PurpleMash and Phonics Play. We have a range of programming hardware and software available to the children to help teach the computing curriculum in a fun and engaging way such as Scratch, Beebots, Probot and a Makey Makey.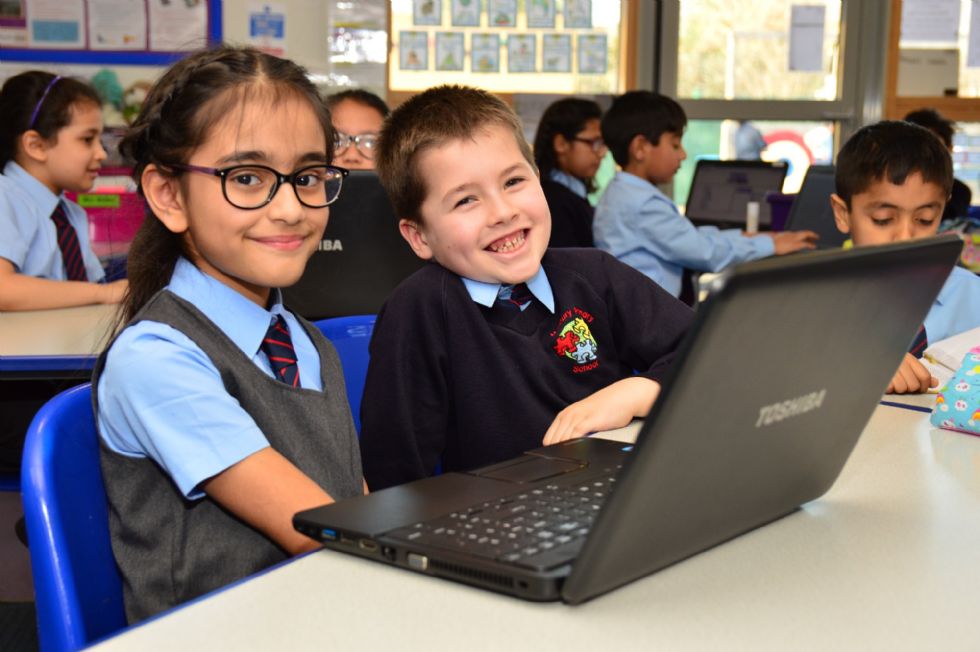 PE
In Physical Education children have the opportunity to engage in a variety of team games including football and hockey, as well as learning about gymnastics and dance. In these sessions, they learn about the rules of the games as well as developing different sporting skills. Swimming is taught during Key Stage 1 and 2. We encourage friendly competition by taking part in intra-school competitions where sports teams within the school play against each other. We have strong links with staff at our local secondary school, who support and extend our teaching of physical education, who teach P.E at Maybury every Wednesday, providing high quality CPD for teachers. We offer a range of sporting clubs, some lead by our staff and others coached by outside sports providers.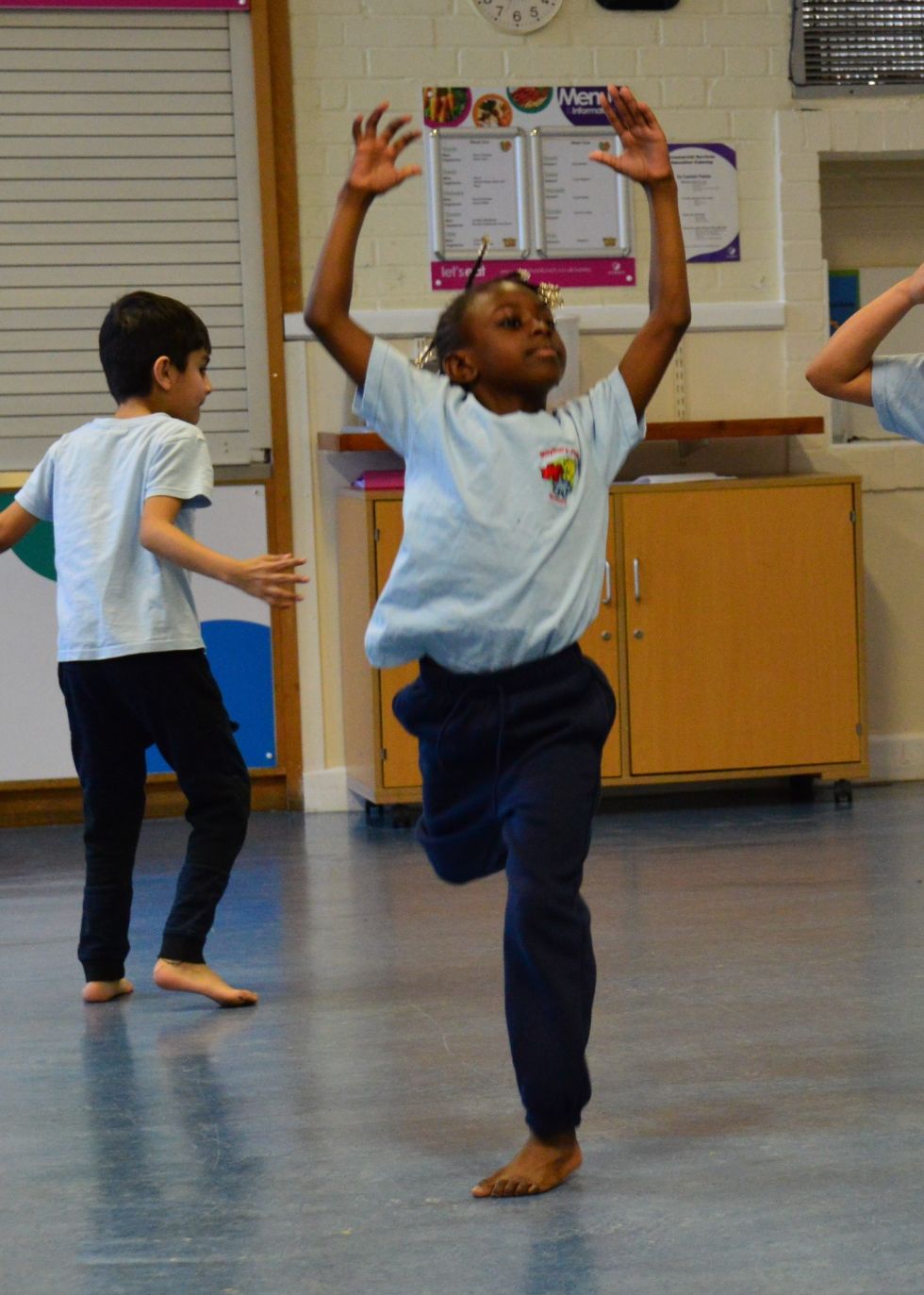 RE
Religious Education is taught according to the updated 2017 agreed Surrey syllabus. This syllabus promotes equality and respect for people of all faiths, cultures and lifestyles which supports our school's multicultural beliefs. It focuses on teaching the children about all six of the main faiths. We demonstrate this through celebrating festivals from all faiths including Eid, Diwali, Chinese New Year, Harvest, Christmas and Easter. The new syllabus focuses on improving children's understanding of each religion's teaching by building on previous learning ensuring progression throughout their time at Maybury. The children are also taught units about comparison and spiritual development which encourage them to reflect on their learning about religion and life as well as how we can learn from religion.
Learning for Life
Personal, Social and Health Education (Learning for Life) is a key learning area which underpins all areas of the curriculum but is also taught in a more specific way through focused PSHE sessions. PSHE is now called Learning for Life as it covers the six areas which educate and prepare the children to be responsible citizens that understand what it is to have a healthy, physical and emotional lifestyle.
Music
We believe that Music is an important part of the curriculum which teaches an appreciation of music, as well as: relieving stress, promoting self-esteem, heightening listening skills, nurturing creativity and developing memory skills. Each year, the children will have the opportunity to play an instrument, sing and compose music. We use high quality resources and music specialists from the EEEA trust to enhance our teaching of music.
Art
In our school, the children learn to use different media to paint, draw and sculpture. As children move into Key Stage 2, they begin working in a sketch books which is moved up with them every year. Across the children the children learn to appreciate other artists by researching, integrating, imitating and commenting on the work of other's.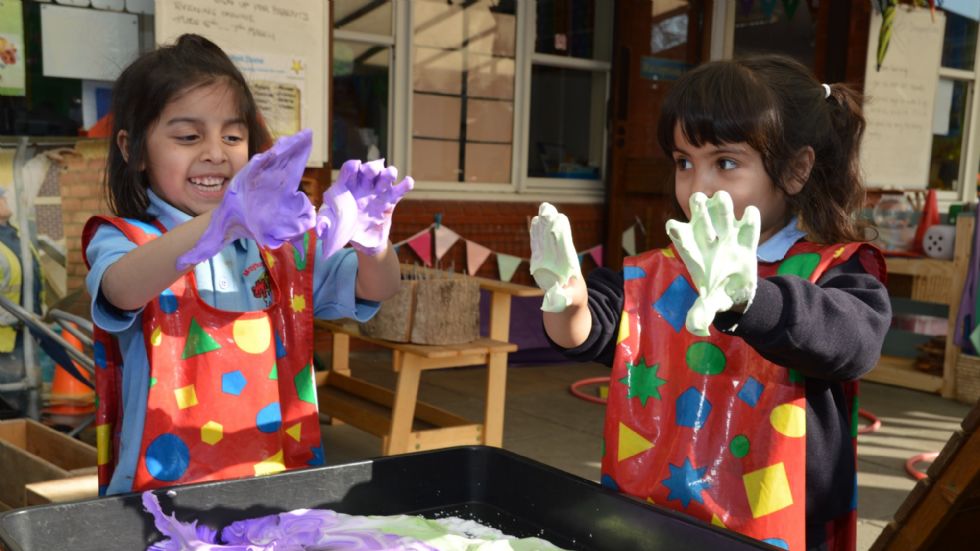 DT
In DT, our children complete three DT projects a year, one of which has a Food and Nutrition focus. For each unit, the lessons follow six principles: purpose, functionality, design decisions, innovation and authenticity. We celebrate the children's completed designs in celebration assemblies and they can often be seen exhibited around the school.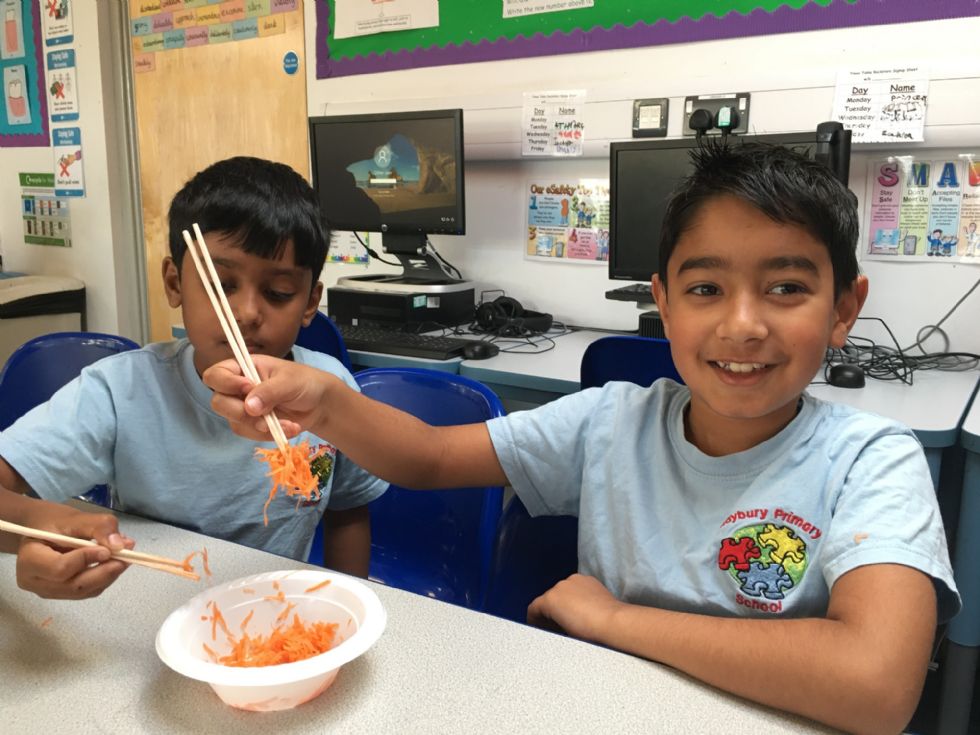 Growth Mindset
At Maybury, we know that pupils who have a positive attitude towards their learning will make good progress and be successful. Consequently, instilling all our pupils with 'growth mindsets' has become a key priority for the school. We want all our pupils to relish challenges, embrace their mistakes as part of the learning process, value the importance of effort, respond carefully to feedback and take inspiration from others. This will help them to achieve, not only with us, but also in their future lives as adults.
Key aspects of growth mindset at Maybury Primary School:
· We celebrate making mistakes – we can learn from them;
· We never give up – perseverance is the key if we are to succeed;
· We learn from each other;
· We don't compare ourselves with others;
· We challenge ourselves and take risks;
· We remember that our brains are making new connections and growing all the time.
Developing our pupils' wellbeing
At Maybury we prioritise our pupils' wellbeing through providing exciting and inspiring trips both in the local area and further afield. In addition to this we organise regular visits from artists, performers and visitors. In Year 4, our children have a sleep-over at school and Year 5 and 6 all children have the opportunity to go on a two night residential trip. We enrich the learning experiences that our children have with specialist teaching in music and physical education. The children have the opportunity to enter more able Maths workshops, compete in PE competitions and enter writing competitions. We also offer a wide range of popular after school clubs which are free to all children, including: sports, art, DT, music, computing, timetable, board games, book and writing clubs. Furthermore, we have a trained Forest Schools teacher who delivers Forest schools lessons to children throughout the school in our purpose built Forest School area.
We believe that teaching our pupils about safety is paramount to their wellbeing. We consider internet safety to be an essential skill to teach. We have an annual 'Internet Safety Week', half termly online safety lessons and regular parent workshops. Our children are also taught about road, fire and water safety through our learning for life curriculum.
Children are also given '100 things to do before you leave Maybury', including: bake bread; build a den; and go to the theatre. These are intended to expand our children's life experiences.
In addition, we have a number of high quality interventions which can be used to address the needs of individuals and groups of children. These include Lego based interventions, Drawing and Talking therapy and Young Carers drop in sessions. We are fortunate to have a trained ELSA (Emotional Literacy Support Assistant) who provides support to a number of pupils helping to develop their confidence, social skills and self-esteem.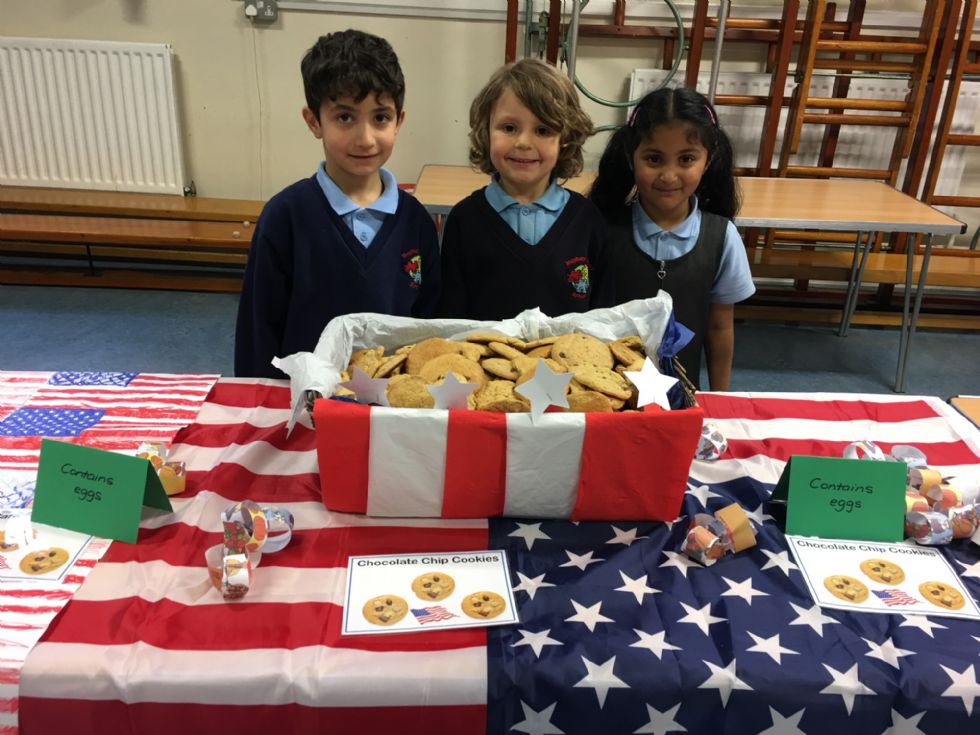 Children are given opportunities to make a positive contribution to the life of the school and all children are members of a 'learning team'. We regularly participate in national and local focused weeks and projects such as 'Anti- Bullying Week', 'Online Safety week' and 'MyMoneyWeek' which help children to learn about keeping themselves safe, healthy and responsible citizens. Children also learn about others living in challenging circumstances and help to support charitable bodies and causes through national fundraising days such as 'Children in Need', 'Big Me' day and class 'Enterprise' weeks. Children learn about being part of the school community, local community and being part of the British society. Throughout the school the children learn about right and wrong through assemblies, role play and circle times. They are taught about human rights and what it is to live in a democracy. Learning for Life also teaches the children about finances, careers and gives them confidence to be what they want to be. In Upper Key Stage 2 children learn about the rule of the law and the British criminal justice system.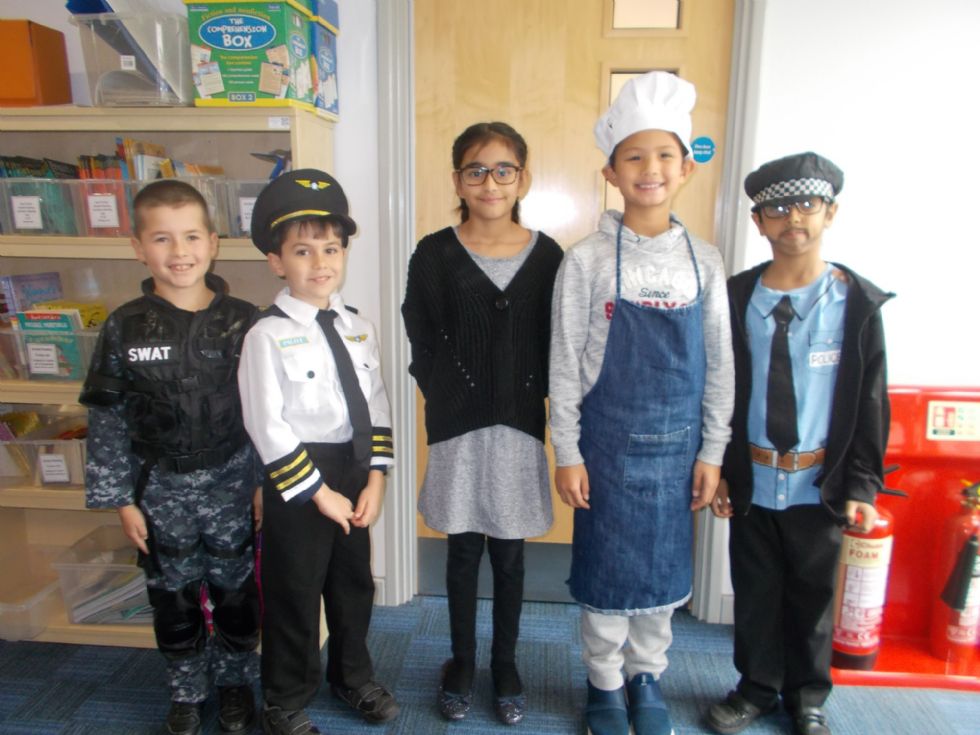 Accessibility and Support
At Maybury, we believe that all children are entitled to as broad, balanced and relevant curriculum which we achieve through quality first teaching, pre-teaching of vocabulary, targeting interventions and strategically scaffolded learning.
Our highly qualified staff use their expertise to skilfully scaffold and support children's learning across all curriculum areas. Children are carefully observed and assessed at ongoing and regular intervals to ensure that the learning opportunities we provide are relevant and responsive to individual needs. We utilise a number of targeted interventions and adaptations to the curriculum in order to present our children with additional challenges or support as appropriate. These focused interventions include: Reading Recovery, Numbers Count, Boosting Reading at Primary (BRP) Talking Partners, Talk Boost, firstclass@number, Success@Arithmetic, Early Literacy Support (ELS), literacy interventions using Fischer Family Trust materials and web based support through online learning platforms such as Lexia. Staff regularly work with link professionals such as speech therapists, educational psychologists or specialist teachers to receive training which enables them to support the specific needs of individual pupils.
Parental Involvement
We value and encourage parental involvement and the benefits this has for children's learning and development. We fully support our parents through focused parent workshops where we model how we teach children and show parents how they can best promote their child's learning in specific areas.
Each class has a dedicated page on our school website with ideas and strategies for parents on how to support their child's learning at home. In the foundation stage classes parents are invited to complete 'Proud Clouds' to share and celebrate their children's learning achievements at home. All children have home reading records and we encourage parents to make comments in these.
We hold regular parent/teacher meetings to inform parents about their child's progress and to share individual targets. In between these times, parents are encouraged to come into school for half termly parent drop ins to look at books and talk to the class teacher in a more informal setting. We also open up our library for parents and children to enjoy once a week. We are also fortunate to have a full time, bilingual, home/school link worker who works closely with our families.
Impact
The innovative practice across the school provides a strong foundation and opportunities for children to collaborate and develop social skills both indoors and out.
Our consistently highly, quality-first teaching of Literacy has resulted in higher Reading (77% in 2019 compared to 74% in 2018), Writing (82% compared to 78% in 2018) and GPS 95% compared to 81% in 2018) results at the end of KS2. Our Maths results at the end of KS2 have remained consistently good (73%). Our phonics screening results have been above the national average for the past 2 years. 75% of children achieved GLD, above national in a cohort where 50% of children were summer born.
This curriculum design ensures that the needs of individual and small groups of children can be met within the environment of high quality first teaching, supported by targeted, proven interventions where appropriate. In this way it can be seen to impact in a very positive way on children's outcomes. We track carefully to ensure pupils are on track to reach expectations of our curriculum.
OFSTED (2018) "You and your staff are motivated by an astute awareness of the pupils in the school and their diverse range of needs. Collectively, you are determined that pupils have every opportunity to succeed and you work persistently towards achieving this goal".
Enjoyment of the curriculum promotes achievement, confidence and good behaviour. Children feel safe to try new things. High quality visits and visitors to the school enhance the curriculum and provide opportunities for writing for a purpose.
OFSTED (2018) "Your school is a vibrant and purposeful place. Pupils enjoy coming to school[...]Pupils are friendly and courteous. Their conduct is excellent. This contributes to the positive learning atmosphere that is evident around the school".
Children have opportunities to share their learning with each other, their parents and carers and other learners through school-based and external exhibitions, performances, competitions and events involving other schools. Developing their independence and motivation as learners and their sense of responsibility as future citizens is at the heart of all our teaching and learning.
A key focus on wellbeing and safety means that the children feel safe at school.
OFSTED (2018) " All parents….said that their children feel safe at school and are well looked after. Pupils learn how to make sensible choices, considering topics such as online safety, road safety and when to call 999…. They [the children] play their part in promoting safety".