Sea Turtles
Welcome to Sea Turtles Class (Year 5)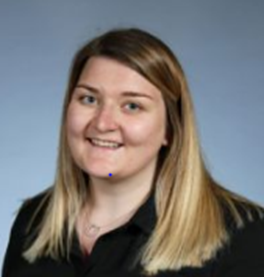 Mrs Melling
Class teacher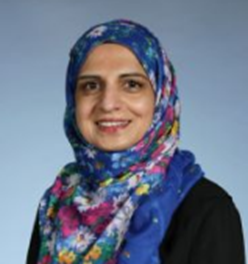 Mrs Hussain
Teaching Assistant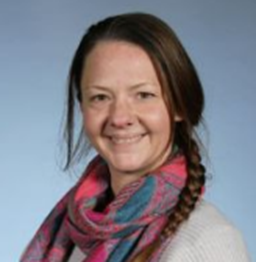 Miss Wickenden
Learning Partner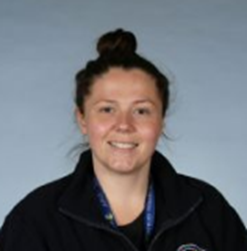 Miss Mitchell
HLTA (Friday PM)
For google classroom:
Please click the link here --->
Wonde
<--- to type in your Emoji password to log in to Google Classroom
For autumn 1 we will have P.E on Tuesday and Thursday. Please wear your P.E kit on these days.
Home Learning Expectations
Home Learning will be set on google classroom.
SPaG will be set on Monday and due in on Wednesday
Maths will be set on Tuesday and due in on Thursday
Reading will be set on Friday and due in on Monday (This counts towards their weekend reading).
Spelling tests are on Tuesdays and the children should be practising their spellings for this.
Reading needs to be completed at least 4 times a week with a signature for every reading session (school books, home books and library books all count towards this)
If you child cannot access google classroom at home, please speak to me ASAP so we can support your child in accessing this. A screenshot of the problem sent to our class email: seaturtles@maybury.surrey.sch.uk would be greatly appreciated.
October
This month, in Sea Turtles, we have been finishing off our art journey creating Modroc sculptures. We finished them and placed them on a tree just like the original blob picture. We thought carefully about their stance and the colour we painted to represent their emotions. Can you guess which emotions they are showing?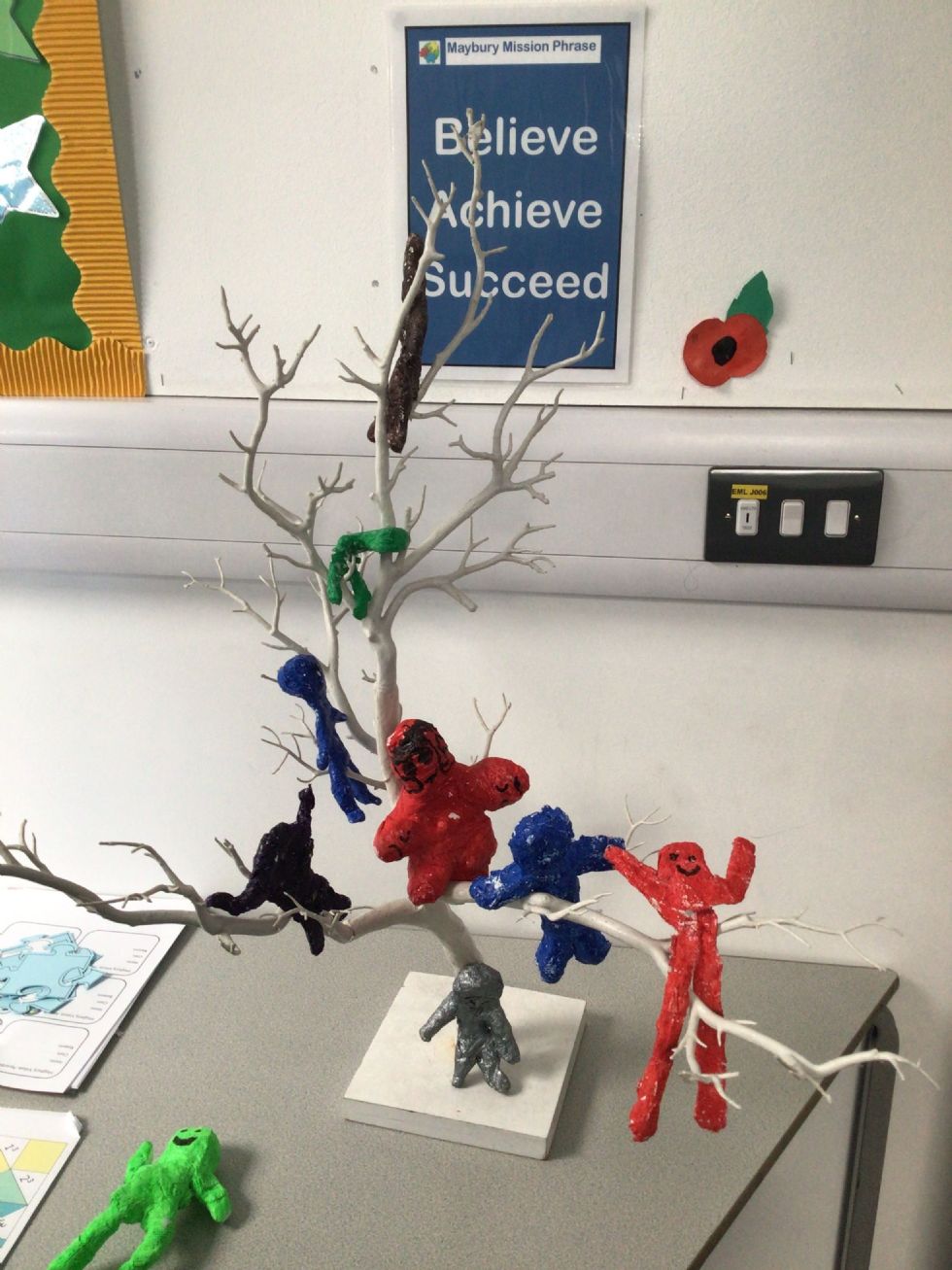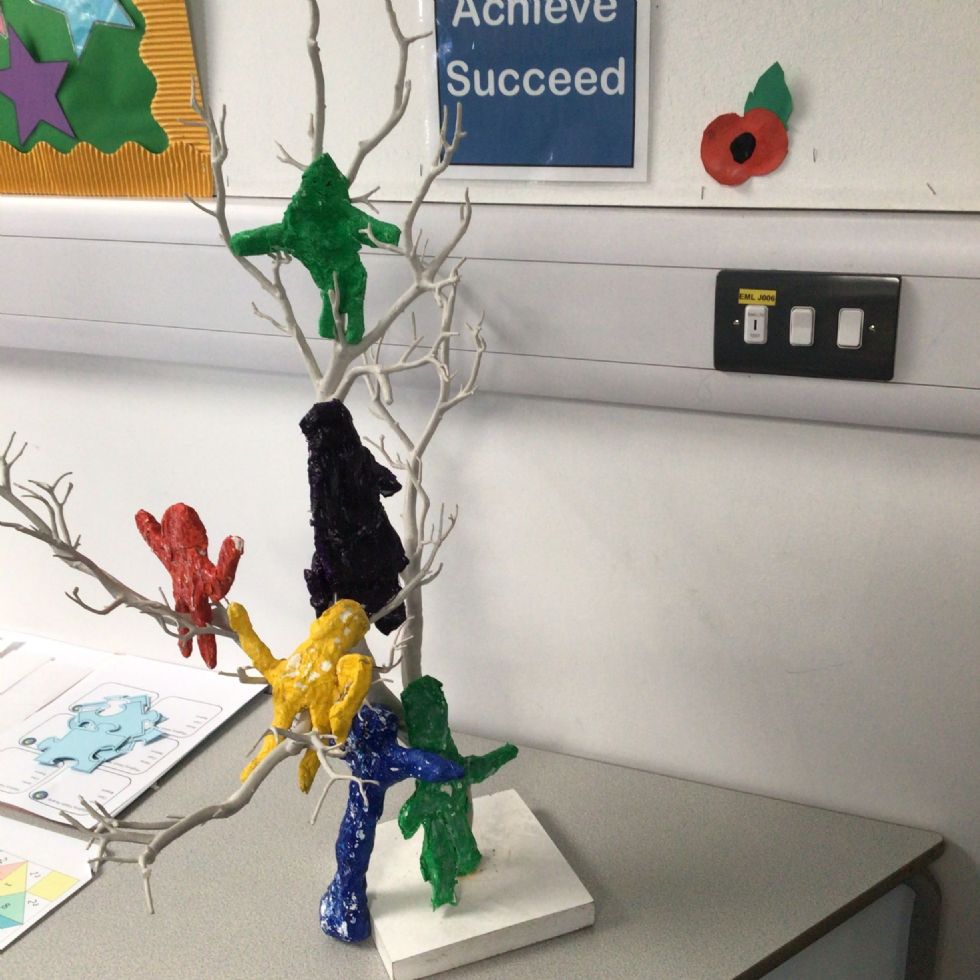 In maths we have been focusing on our times tables, we have been looking at multiples, factors, prime numbers, square numbers and cubed numbers, all of these rely on us knowing our times table facts!
This week has been international week, we have been learning all about Mexico. We have learned about their festival of 'Day of the Dead', in literacy we wrote haikus about the celebration here are some we created:
'The day of the dead
Is a time to celebrate
And not to be feared'
'Heaven gates open
Adults and children's spirits
Joyfully come home'
Haikus are a poem which only have 3 lines. The first and the last line contain 5 syllables and the second contains 7 syllables. Sea Turtles came up with some excellent Haikus, we have displayed them on our classroom windows for you to read.
Our online safety lesson this half term has been about spam emails, we have learned the key warnings that an email or letter may not be official and what to do if we come across an email we think could potentially be harmful.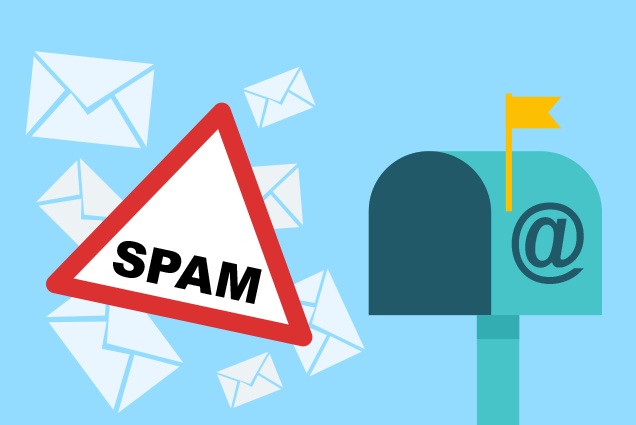 September
Welcome back everyone! It is so lovely to see all of you and I hope you all had a lovely summer!
In art we have been looking at the 'blob' tree, identifying the different emotions and recreating them by creating skeletal structures. We used a variety of materials to experiment with which would be best for our Modroc sculptures.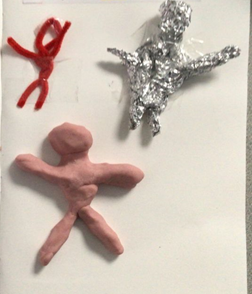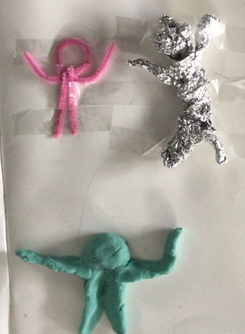 We have been learning all about maps in Geography. We have become confident in using atlases as well as online maps. We have also been using an 8-point compass to give directions.