Seahorses Home Learning
** Please can school reading books and library books be returned to school so they can be cleaned ready for September **
Hello parents and carers,
It is Science Week this week.
Today we experimented with air pressure and made a balloon hovercraft. It was quite tricky to blow up the balloon and get it onto the bottle lid that was stuck to the CD. Once we were ready to go, we had to lift the lid so the air would escape from the balloon through the hole of the CD and make it move along. We found it worked much better on really smooth surfaces.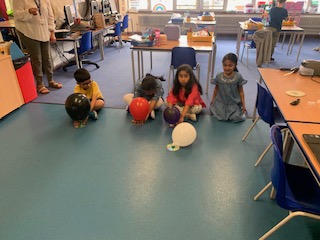 Here is what we did yesterday. We helped superheroes escape from the ice that the baddies had trapped them in. We had fun. Today we are making balloon hovercrafts.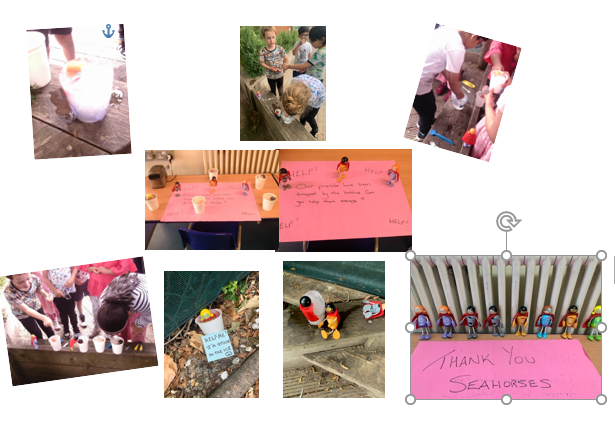 Please look at the photograph gallery and see if you or your work is there. If it isn't send us in a photo anytime and it will be in the half term gallery. We love to see your learning and see you guys having a nice time playing, We love to see you safe and well. Look in the tab to the right called SEAHORSES HOME LEARNING GALLERY.
***** From tomorrow Thursday 7th May you will need to click on the tab on the top right hand side of this page to access each days home learning. *********
IT'S COMPETITION TIME. GO ONTO TIMES TABLES ROCKSTARS AND LET'S BEAT THE JELLYFISH THIS WEEK. MISS SLADE HAS PUT A JELLYFISH v SEAHORSES COMPETITION YOU WILL SEE WHEN YOU LOG IN. RUNS TILL FRIDAY 8TH MAY.
**************GO SEAHORSES!**************
* If you have come to the end of your home learning writing book or are coming to the end and need a new exercise book please email seahorses@maybury.surrey.sch.uk *
Due to the lovely photos you have been sending in, we thought it would be great for you all to see them so we set have up a Seahorses Home Learning Gallery. When we get your photos we will add them and each week there will be a different gallery. You will see the link on the right here called Seahorses Home gallery. Click on that link to view the photos. Please do not send photos of your child if you don't want them to appear but you can still send photos of their learning. The photos on there now have all had permission granted so that we can share on the website. Thank you!
Everyday please login to Bug club to read and complete some phonics activities on phonics play. See login details below:
Please login to Active Learn (Bugclub) and read one of the online books. Make sure that you answer the comprehension questions. Your login details are in the front of your school reading diary.
Phonics
Login to phonics play and play some of the games.
https://www.phonicsplay.co.uk
username: march20
password: home
Remember if you want to get in contact with us you can email us at seahorses@maybury.surrey.sch.uk
Friday 8th May
Click on the tab on the top right hand side of this page to access todays learning.
Thursday 7th May
***** From tomorrow Thursday 7th May you will need to click on the tab on the top right hand side of this page to access each days home learning. *********
Wednesday 6th May
Phonics
Please watch and join in with the a-e phonics lesson on the Letters and Sounds YouTube Channel.
https://www.youtube.com/watch?v=q4jz3U25Xjk
English
Today we are going to look at joining sentences together using the words and, but or or. Two short sentences can be joined together by adding a word between them.
For example: I went to the park and to the shops. Sam went to Spain but it rained every day.
For question 1 use and but or or to join the two sentences given below together. Remember to only use a full stop at the end and to get rid of the capital letter in the middle of the sentence. For some of the sentences there is more than one joining word that you can use and it will still make sense.
For question 2 finish the sentences in your own words.
Maths
Mental Starter
Number bonds to 20. What numbers are missing in each number sentence?
10 + * = 20
20 + 0 = *
15 + * = 20
17 + * = 20
* + 12 = 20
9 + * = 20
13 + 7 = *
* + 4 = 20
Lesson 3: Add together and find a Part
First watch the lesson video as it will help you and will explain what you have to do.
https://whiterosemaths.com/homelearning/year-1/
For questions 1 and 2 copy the part part whole models into your book. You can use real objects to help you or just draw the dots.
For question 3 draw the 6 apples into your book and colour 2 of them green. Then colour the rest of them red.
Computing
I would like you to create a pointillism picture on purple mash. It can be of whatever you like.
Instructions for accessing PurpleMash:
1) Go to https://www.purplemash.com/sch/maybury-gu21
2) Type in the username and password (both are year1 with NO spaces)
3) From the home screen click on the art icon.
4) Then Click on 2 paint a picture.
5) Choose pointillism and then click ok
.
​
​
​
​
​
​
​
​
​
​
​
​
​
​
​
​
​
​
​
​
​
​
​
​
​
​
​
​
​
​
​
​
​
​
​
​
​
​
​
​
​
​
​
​
​
​
​
​
​