Starfish
Welcome to Starfish class page!
We are a kind and happy class who welcome you into our classroom to share our lovely learning.
These are the people who help us learn in Starfish
Mrs Eldred
Class teacher
Mrs Mills
Teaching Assistant
Miss Bondar
Teaching Assistant (am)

Miss Mitchell
HLTA
If you need to contact Mrs Eldred, please email: starfish@maybury.surrey.sch.uk or message on Tapestry
Our PE day is on Friday. Please come to school in your PE kit on a Friday.
Stay and Play is on every Monday morning, 8.40am to 9am
December 2022
There was much excitement in Starfish Class when Santa sent us one of his Christmas elves to check that we were being good and installed a 'Santa Cam'. Every morning the elf is found somewhere in our classroom doing something different, and the children have enjoyed finding him.
Starfish Class have been comparing Christmas to other celebrations. They had fun decorating Christmas trees, playing Christmas games, wrapping presents and writing labels. They even helped Santa to deliver presents to the correct houses and designed and wrote their own Christmas cards.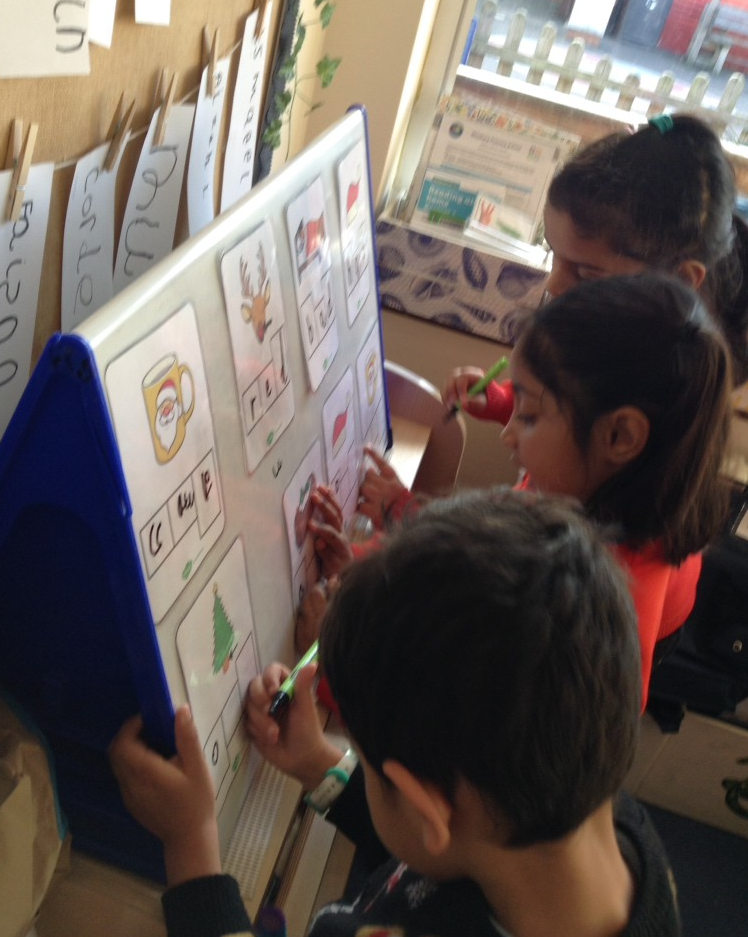 .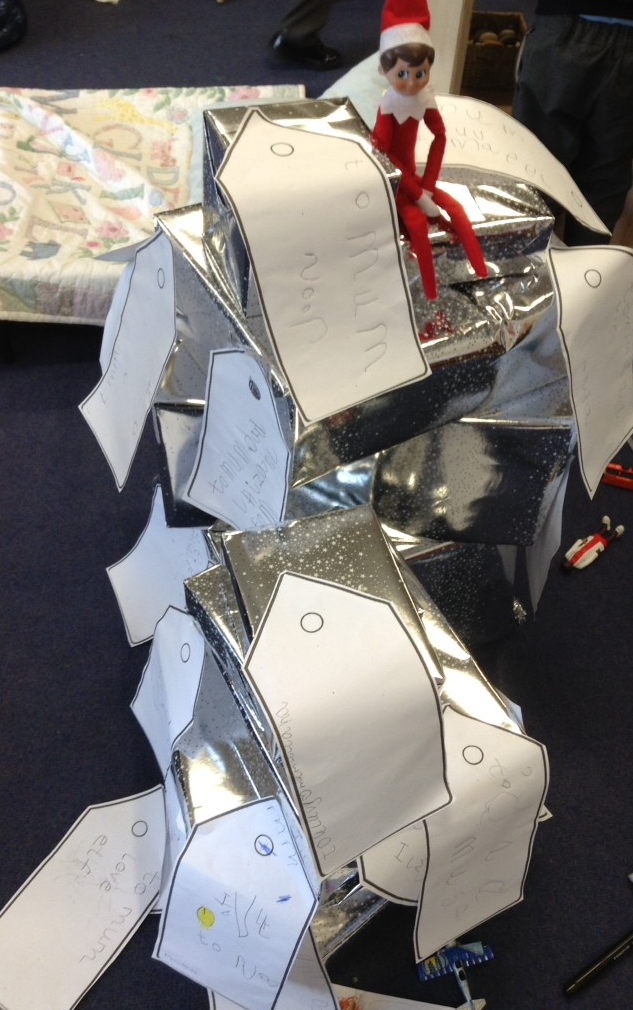 .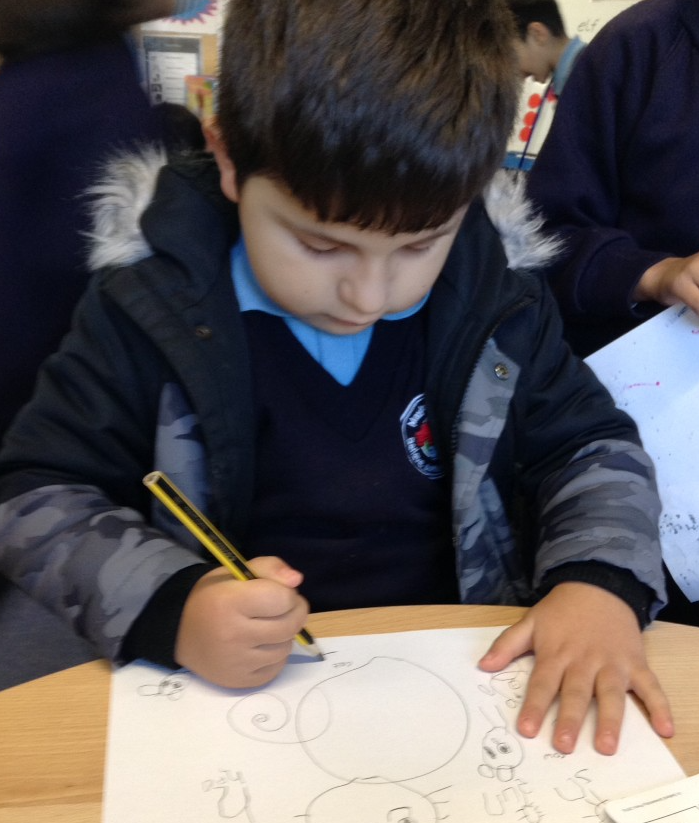 Starfish enjoyed learning different Christmas poems and performing them in front of all our school families. The children were very brave, used their loud voices and entertained everyone with their different personalities.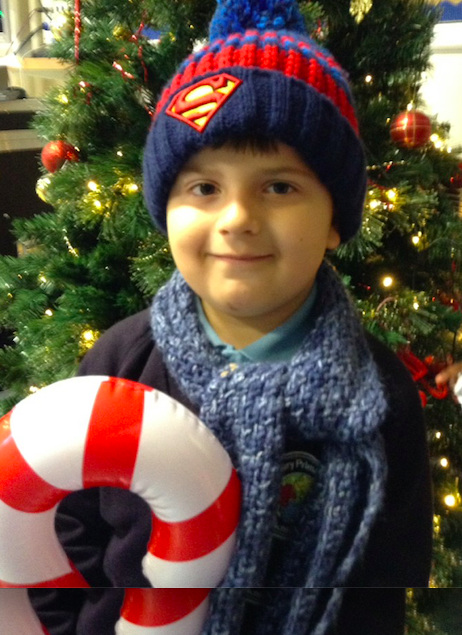 .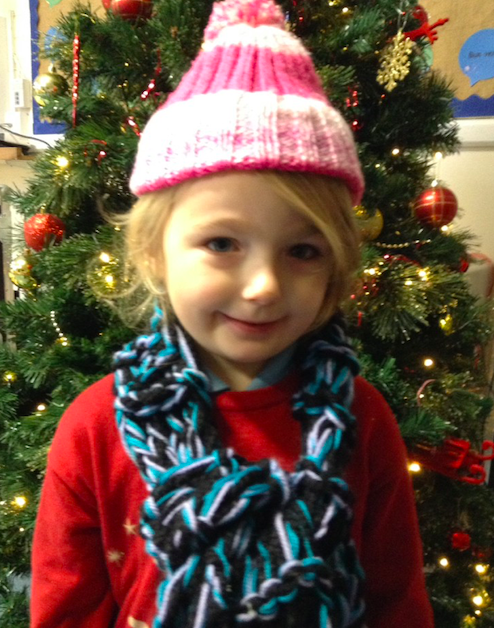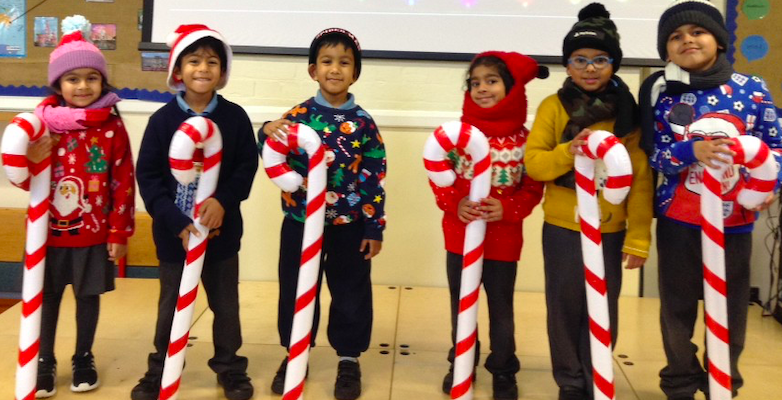 We all had a great time at the Pantomime in town. This year it was Cinderella. We enjoyed booing the ugly sisters who were mean to Cinderella and joining in with the pantomime language and silly games which we found very funny.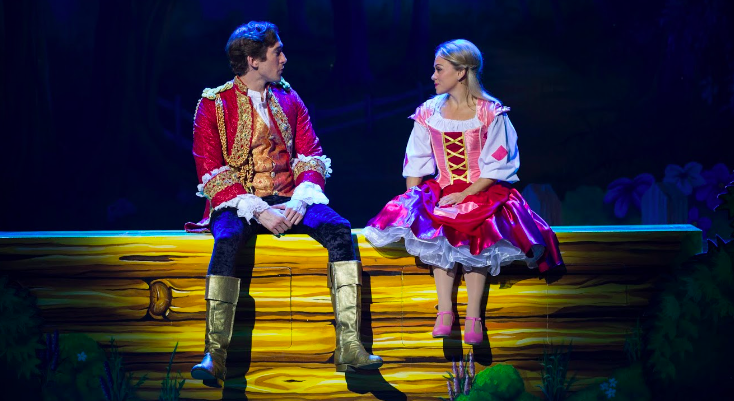 .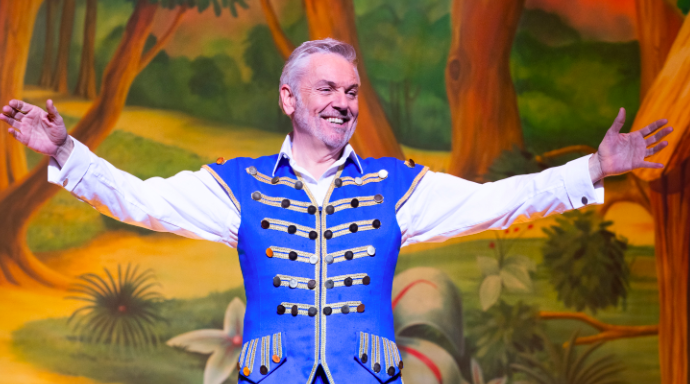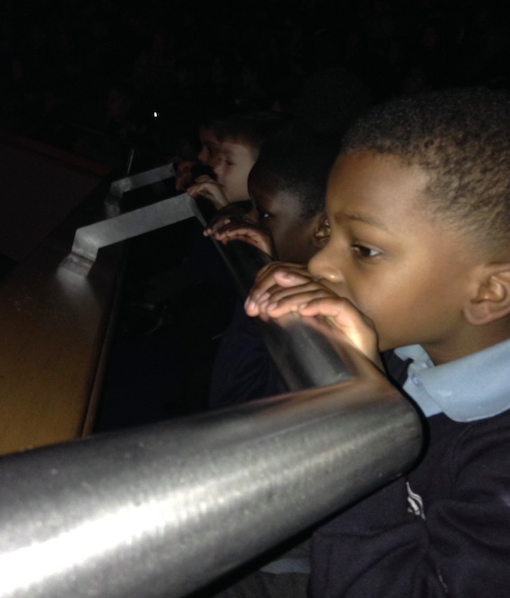 .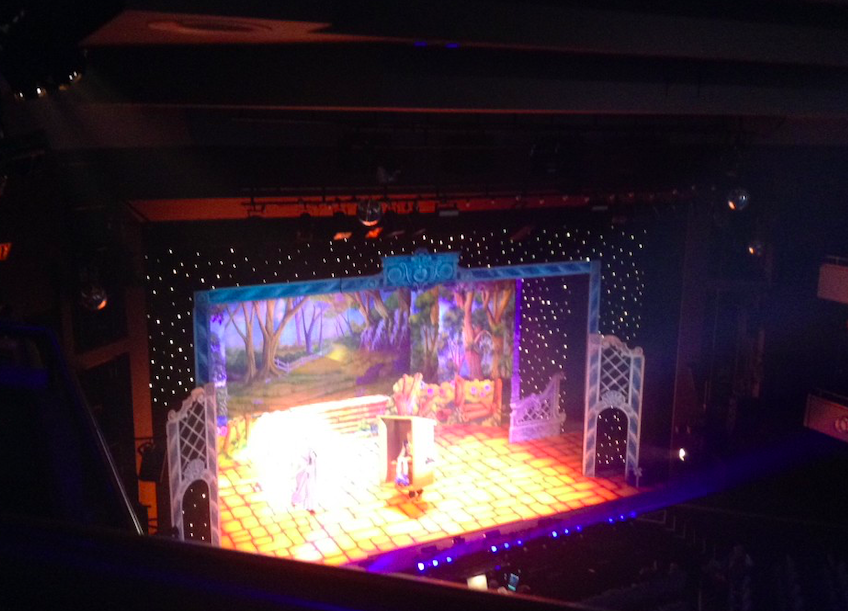 We love our guinea pigs, Bob and Max and enjoy looking after them. Each day we feed them and check they have water and hay. We help to clean out their hutch and have learnt that guinea pigs eat a lot which means lots of poo!
We love giving them cuddles and treats!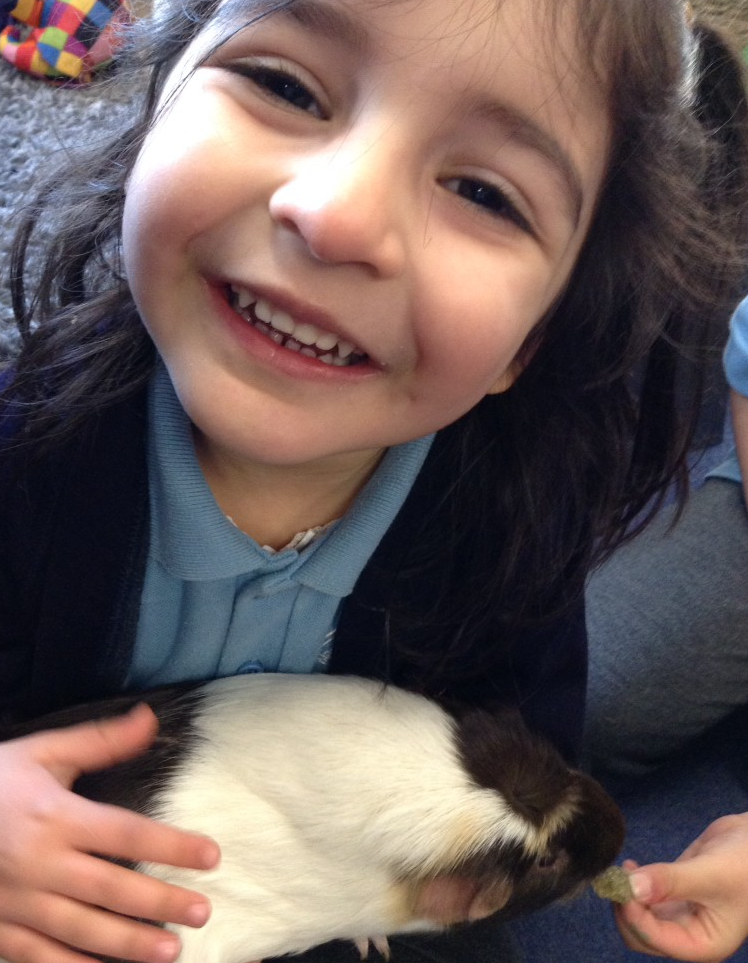 .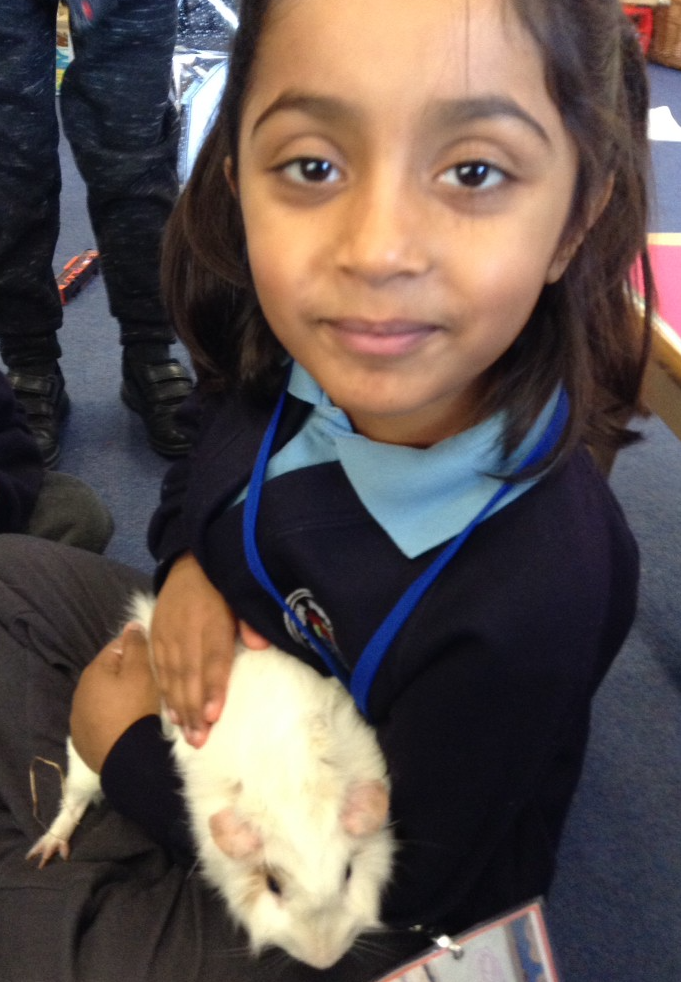 .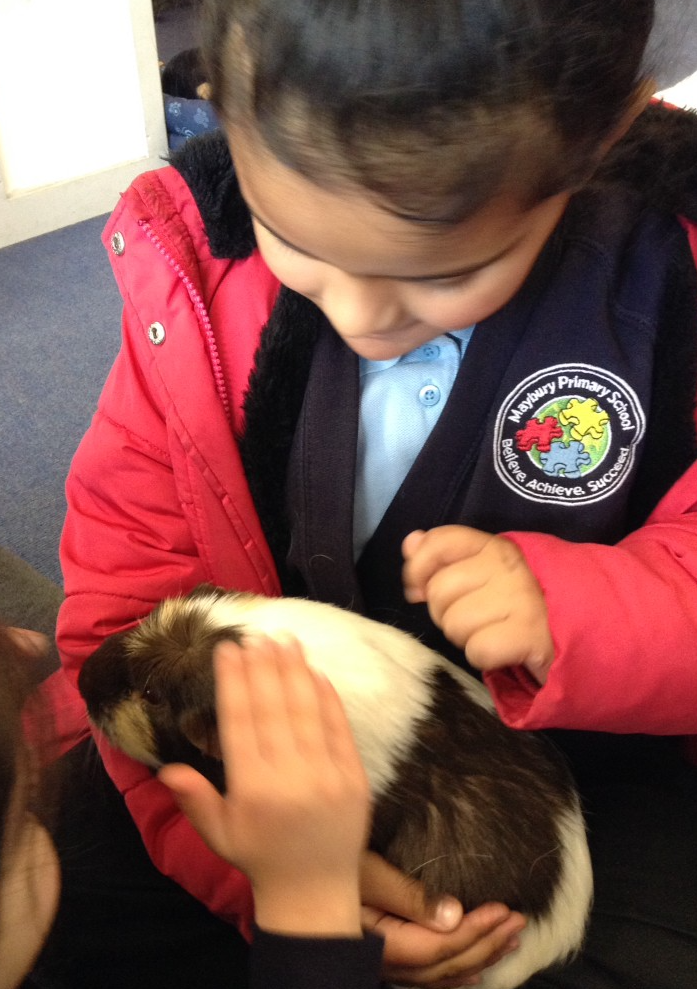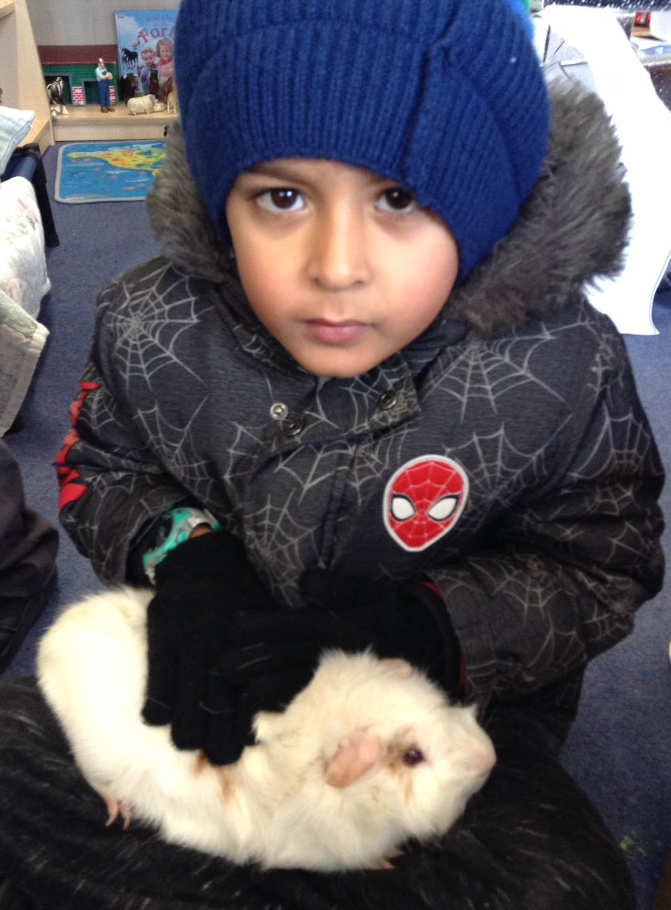 .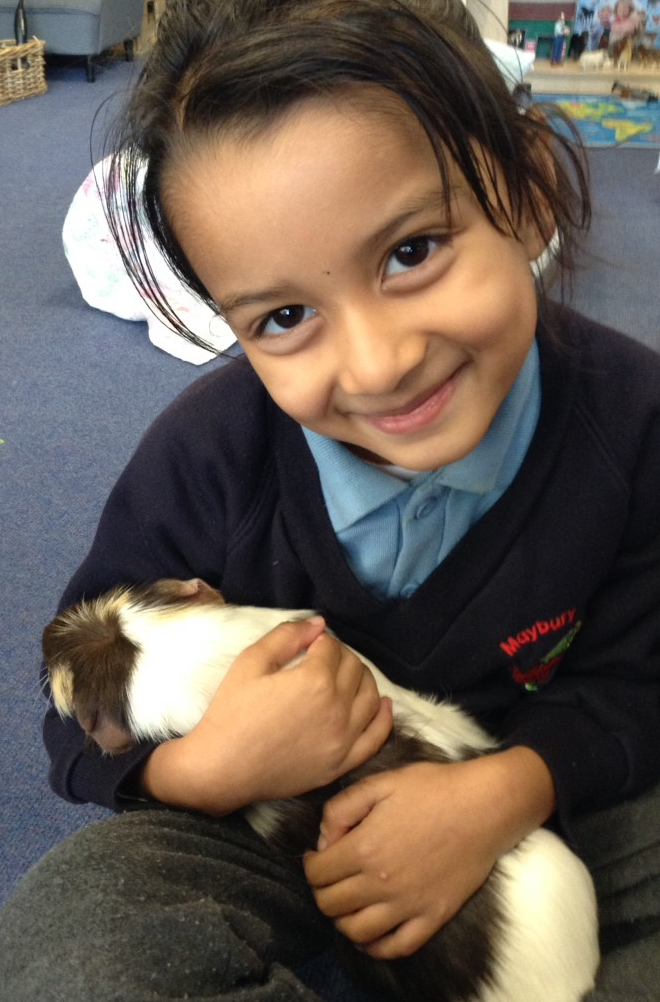 November 2022
Little Street
Starfish had lots of fun on their first school trip to Little Street. They got to dress up and pretend to be lots of different people within our community. The children were so well-behaved, and we were so proud of them all. The staff at Little Street also commented on how well-behaved our children were. They were great ambassadors for our school.
Take a look at what we got up to...
We got to be the shopkeeper and go shopping for our tea.
.
We also got to be the doctor and the patients.
Some of us were builders.
Some of us dressed up and put on a show.
Some of us chose to be farmers and look after the animals.
We enjoyed driving the cars around the road, and we got a drink.
Life stages
We have been reading 'As we Grow' and have been exploring what happens as we get older. The children have been naming and ordering the different life stages.
Some children ordered the dolls house people and noticed that the elderly people had grey hair and the man had gone bald and lost some of his hair.
Some children ordered the different life stages outside from baby, toddler, child, teenager, adult to elderly. The children noticed that the elderly man had a walking stick to help him walk. We talked about how when we were a baby we couldn't walk, then we learnt as a toddler, got better and faster as we became a child, teenager and adult but then needed help as we got older again.
Some children chose to cut out pictures of the life stages and stick them in a human timeline.
The children have also been comparing themselves now to when they were a baby. Wow, we have learnt to do lots of things. We can now walk, talk, run, jump, eat, drink from a cup, sleep in a bed, learn our sounds and use them to read words. The list goes on and on....
Odd Sock Day
This week is anti-bullying week (week beginning 14.11.2022), and today we came to school in odd socks to show that it is OK to be different. We also talked about the concepts same and different.
Remembrance Day
The children in Starfish Class remembered the brave soldiers that fought and died in the war. We talked about the poppies that people wear to remember the brave soldiers. The children decided to make their own poppies to help them remember and say thank you.

Autumn Walk
Starfish went on a walk to the park looking for signs of autumn. We have learnt that in the autumn the weather gets cooler, and we start to need to wear a coat. It can be quite a windy time of year too. The leaves on the trees change colour and then fall to the ground.
We learnt a poem about the leaves falling in autumn.
Leaves are falling, leaves are falling.
One fell on my nose.
Leaves are falling, leaves are falling.
One fell on my toes.
Leaves are falling, leaves are falling.
One fell on my head
Leaves are falling, leaves are falling.
Yellow, orange, red.
We then got to play in the park until it poured with rain, and we had to find shelter very quickly!
.
.
.
Stay and Play Sessions
Today we had our first Stay and Play session in Starfish Class. Lots of Mummies and Daddies came to play and help us with our learning.
Play and Stay sessions are every Monday from 8.35am to 8.55am. It is a fantastic opportunity to see what your child is learning at school. Please come along and join in with us whenever you can.
.
.
.
.
Bonfire Night
We learnt about Bonfire Night and being safe when near fireworks.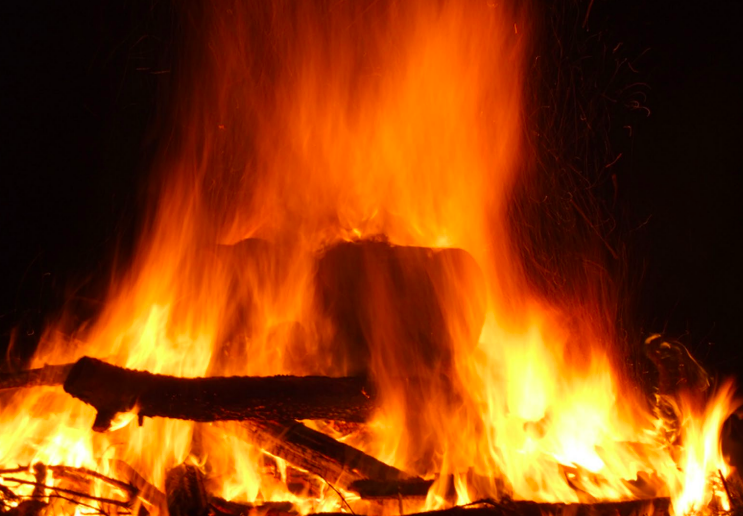 .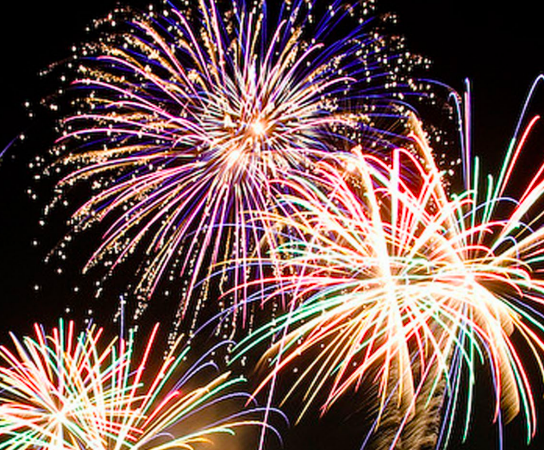 We watched videos of fireworks and described them using words like, whoosh, whiz, pop, bang!
We made firework patterns in the coloured sand.
We watched children on Bonfire Night make patterns with sparklers in the sky. We made sparklers that we could eat, they were yummy!
.
Remember...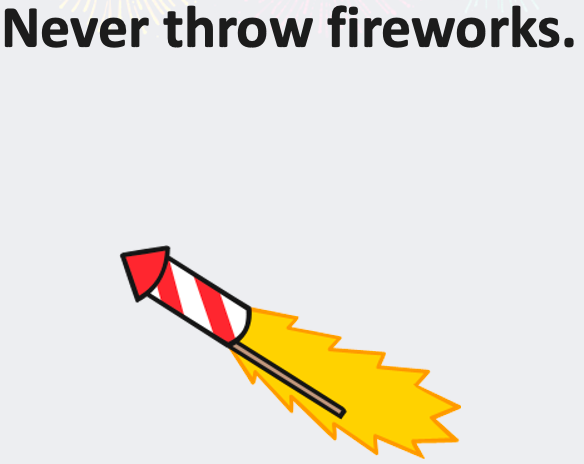 .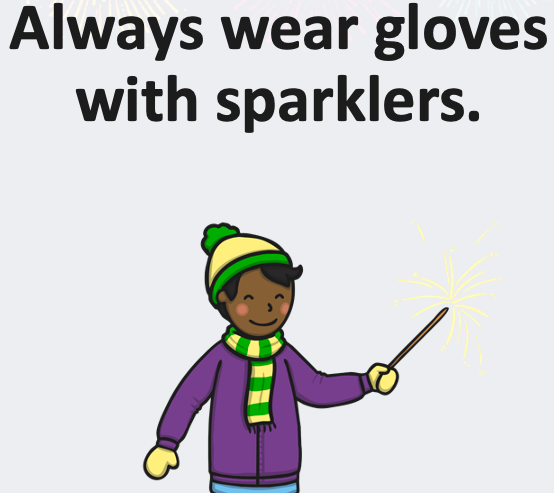 .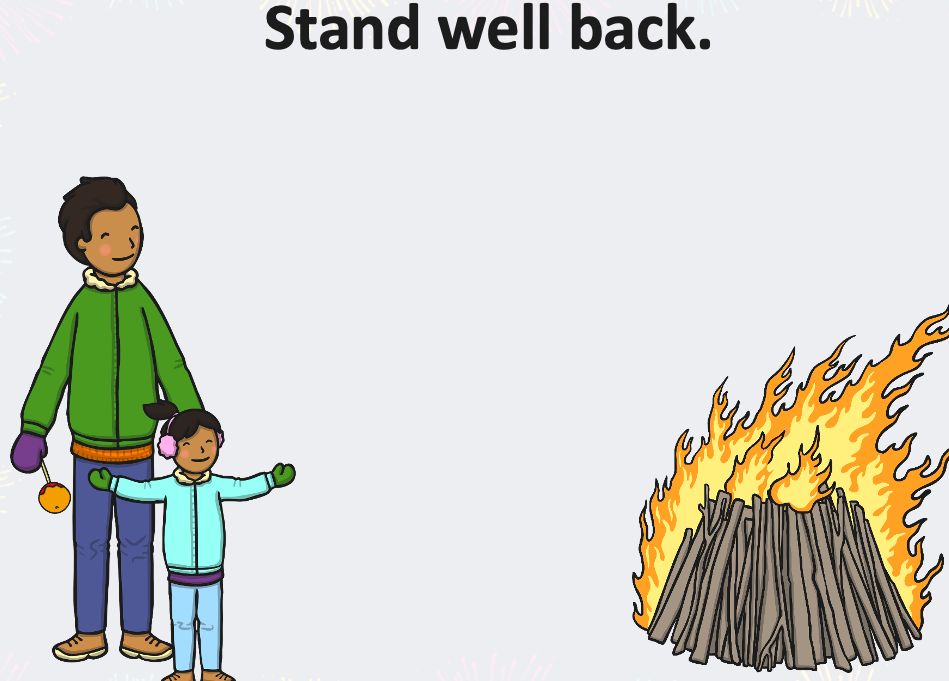 .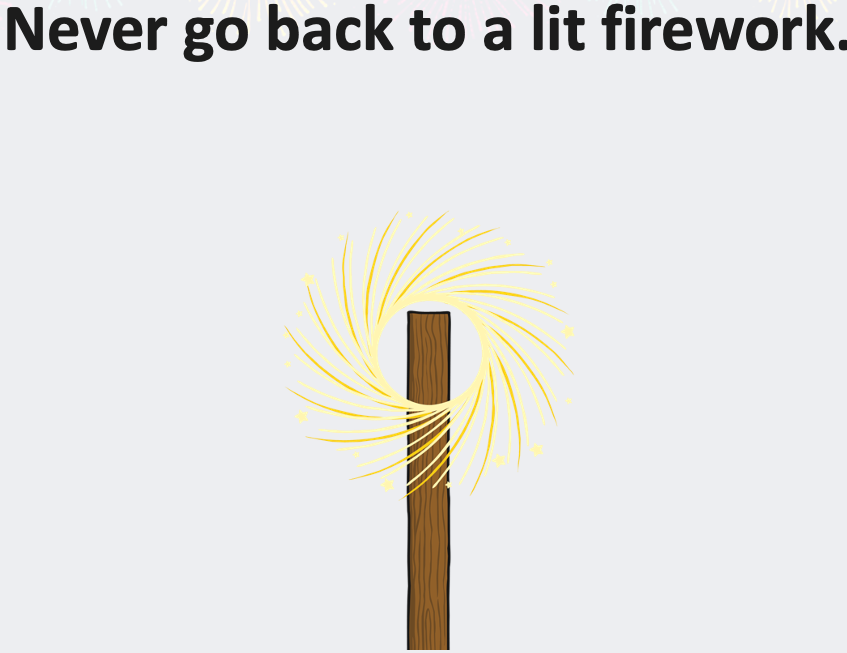 The Festival Diwali
Starfish Class have enjoyed finding out about the festival of Diwali. The children used clay to make Diva lamps.
We found out that people give gifts of sweets at Diwali time. The children used the play dough to make sweets to give to their friends.
The children also made rangoli patterns outside using chalk to decorate our garden for Diwali.
If you want to find out more about Diwali you can watch the videos below.
Click HERE to watch the Diwali Videos
The Life Space
Harold the giraffe came to school to teach us about how we can keep healthy. He told us we need to eat healthy food, get lots of exercise (an hour a day) and lots of sleep (12 hours a night). Did you know we grow when we are asleep?
Harold reminded us about the importance of brushing our teeth after breakfast and before we go to bed.
October 2022
International week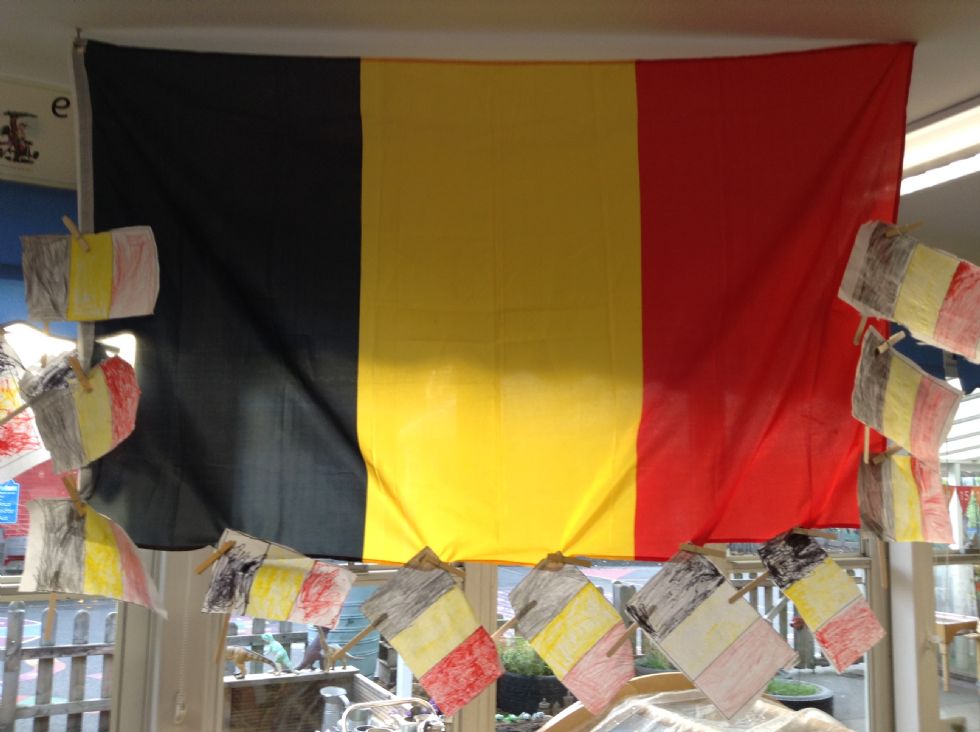 The week before half-term was international week. Starfish have enjoyed learning about the country Belgium. They particularly enjoyed cooking chocolate shards to share with the rest of the school.
We found Belgium on a world map and the globe and discussed how we would travel to Belgium. We found out that football is a popular sport in Belgium, and it is where The Smurfs came from. In Belgium, people speak French, German and Dutch.
Belgium is famous for Belgium chocolate, Belgium chocolate and fries with mayonnaise - yummy!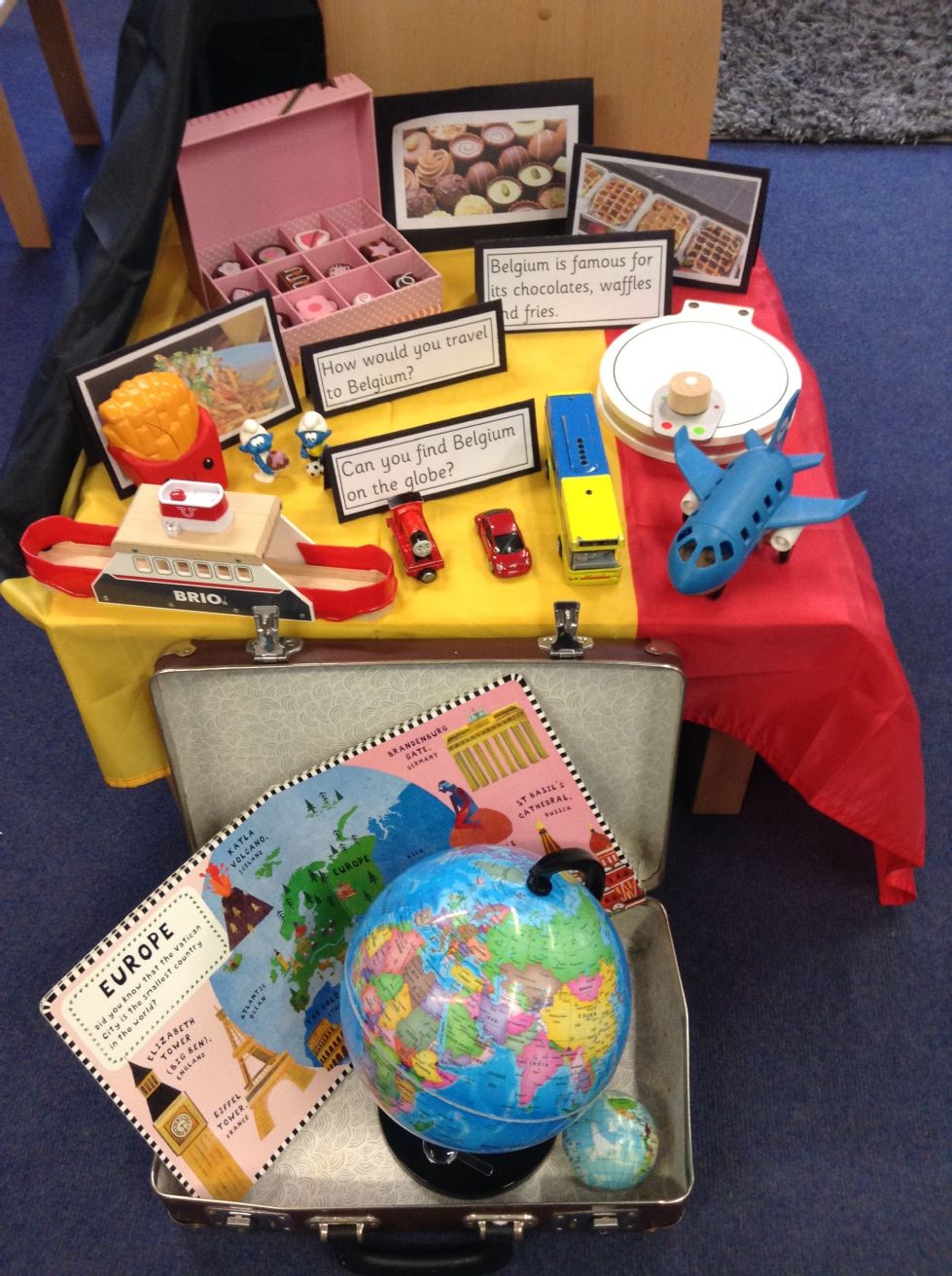 The last Wednesday of every half-term is 'Wellbeing Wednesday'. We talked about the things we like to do and are good at doing and what makes us 'wonderful'. We then had wellbeing treats. Today we had balloons to play with, and we made Belgium waffles.
.
We have now introduced the children to using our woodwork bench. Initially they have learnt to safely hammer nails into lumps of wood. Later in the year they will use this skill to make objects by joining pieces of wood together using nails.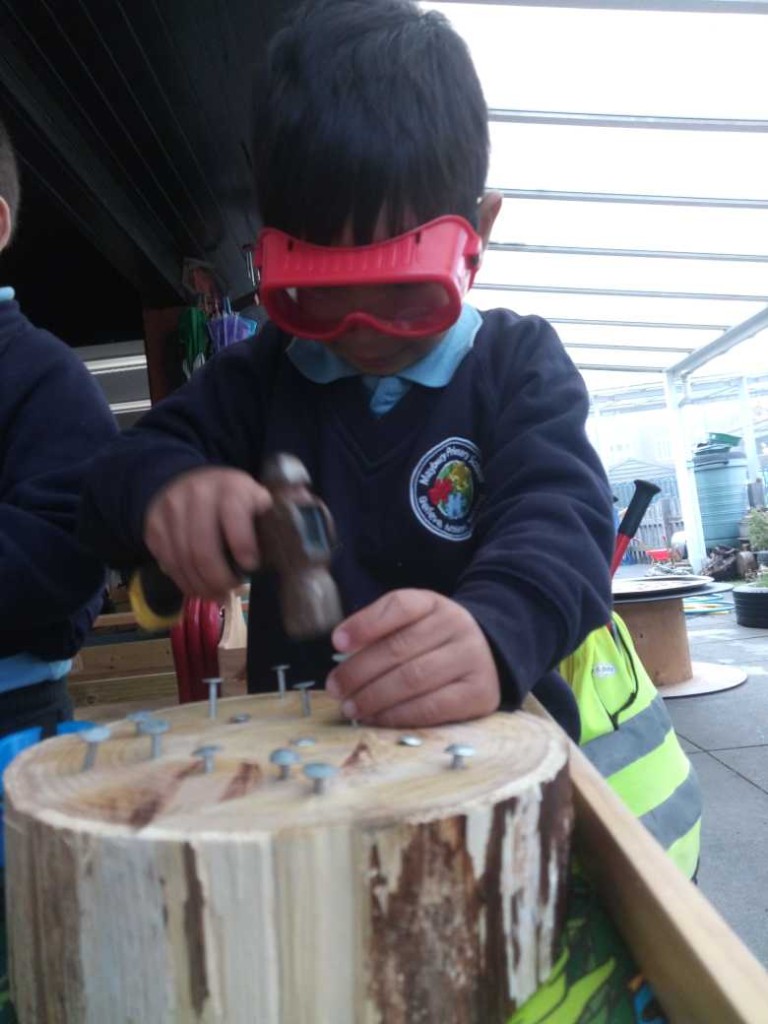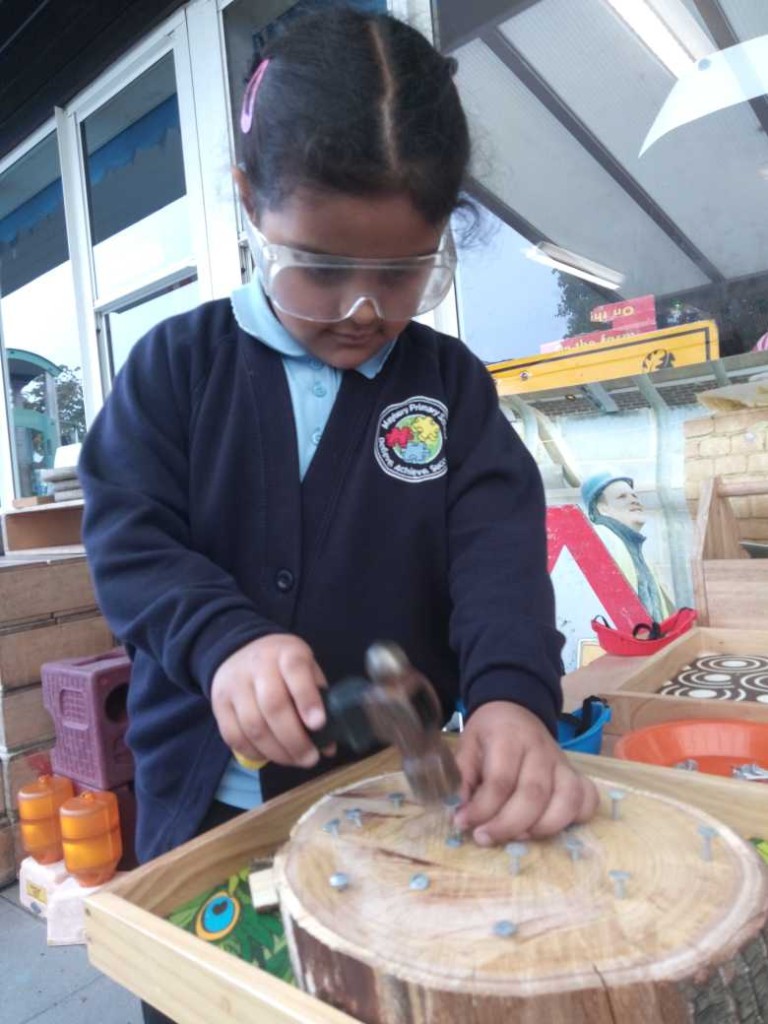 This month we have been reading the book 'You Choose'. This is one of our 'Protected Characteristic' books which promotes children saying what they think and having a choice.
We have also been talking about keeping safe when we are 'online' and enjoyed discussing what "clicking chicken' got up to on the computer.
One night Chick hops into the farmer's house and has a browse on his computer - CLICK - soon she's shopping online for the whole farm! But when she arranges to meet up with a friend she's made online, she discovers all is not as it seems...

Fred Game
Here is a great video to watch to help your child blend sounds together. This link will run out in December. Enjoy watching.

The children in Starfish are really enjoying their phonics learning and are excited every morning to find out what sound they are learning each day. The children have enjoyed practising their sounds as they play in our school role play being the teacher.
In maths, we have introduced the children to subitising, an essential maths skill for developing composition of number. The children use their 'fast eyes' to say the amount of objects/dots they see, they don't count and also represent each amount on their fingers.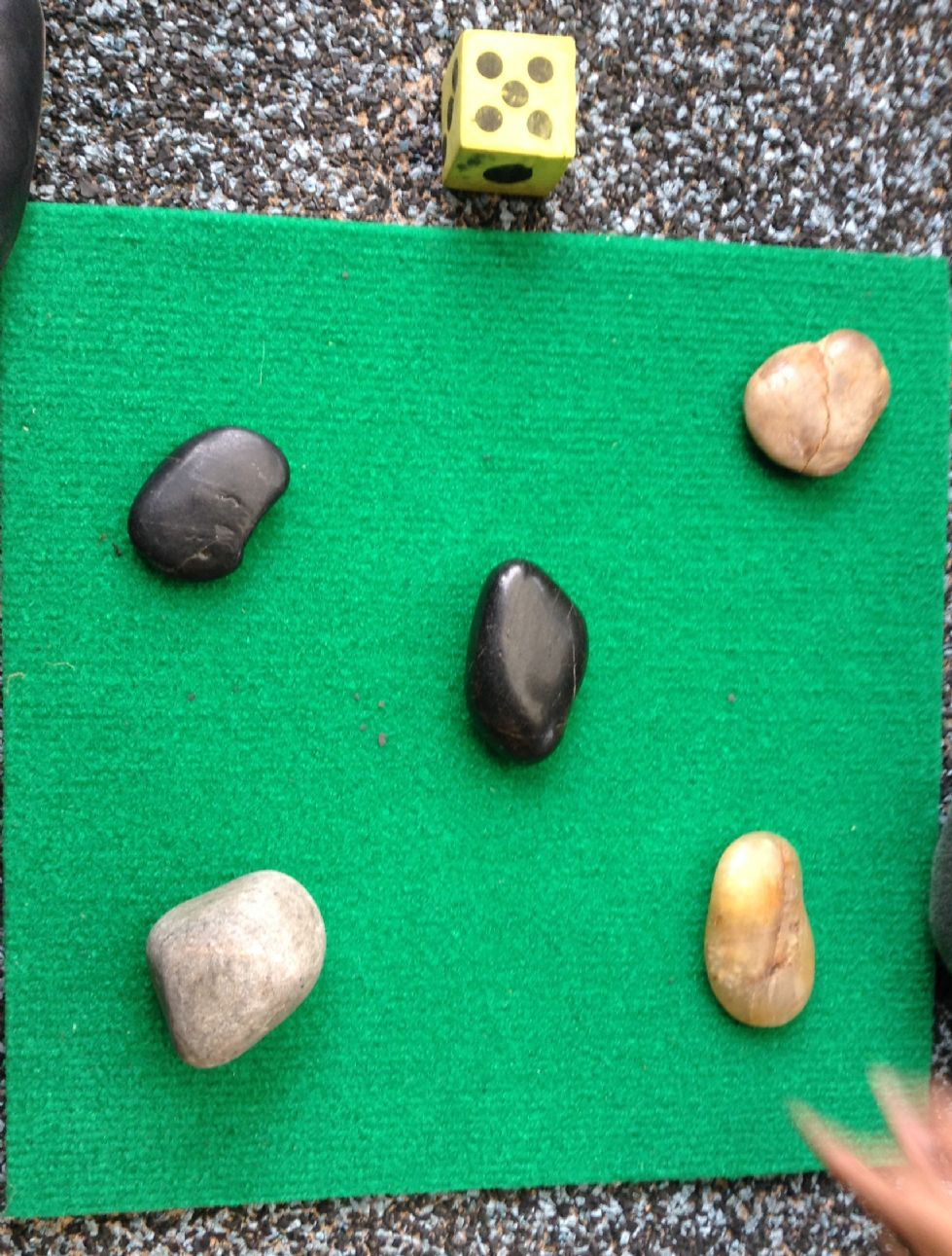 Subitising and copying dice patterns.
Have a go at home.
"Fast eyes, don't count, say the amount!
The children are really enjoying taking turns on our interactive whiteboard, where they are learning to play games and draw by clicking on icons to make things happen.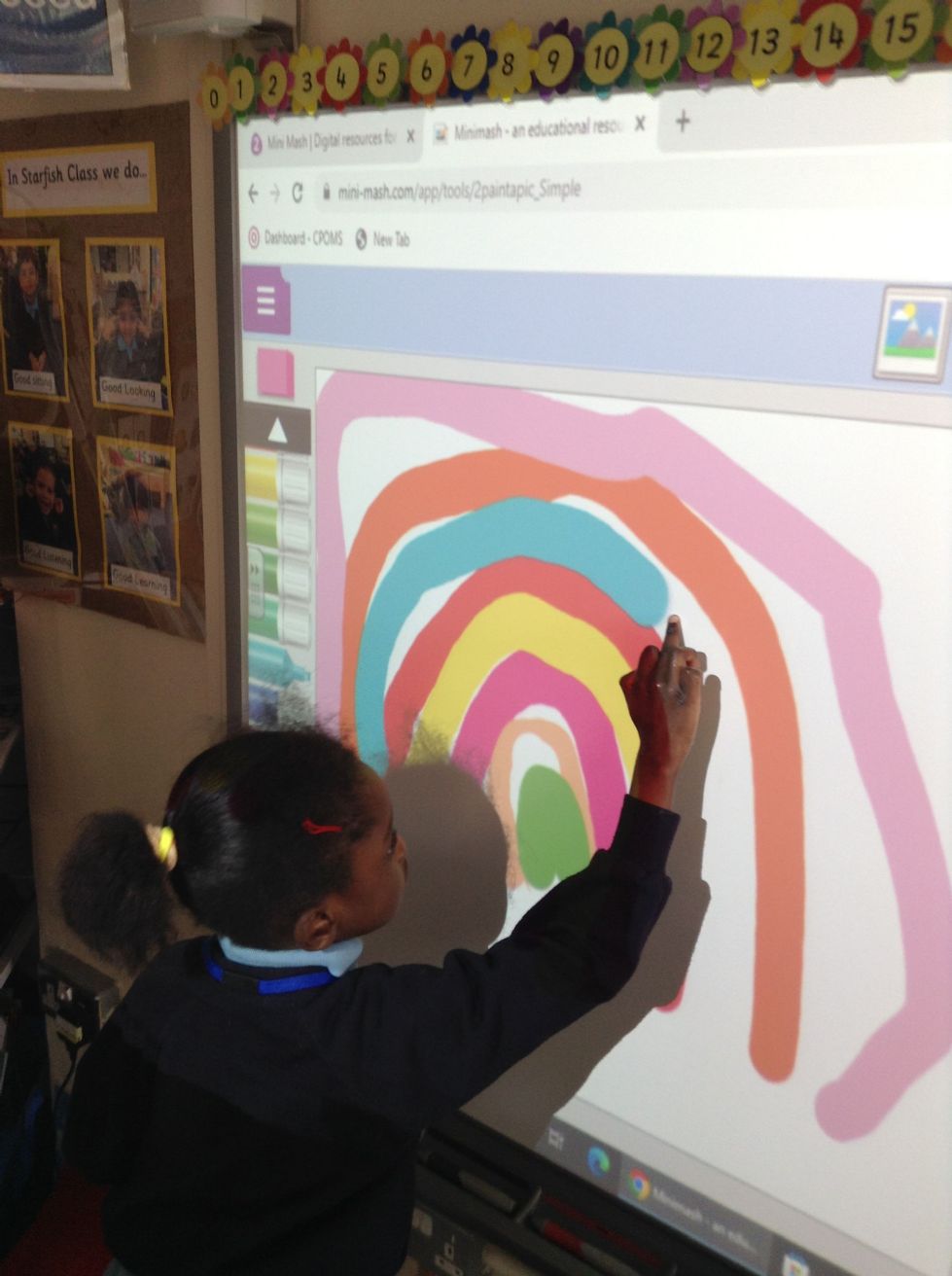 Starfish are also learning to look after our garden and know they have to water the plants to help them grow bigger.
September 2022
Clear pronunciation of sounds is extremely important when teaching phonics. This video will demonstrate how to say sounds clearly. Click the link below.
Here is a useful video for you, to help you know how to support your child at home with their first stages of reading. Children need to learn many things such as their phonic sounds and being able to use 'Fred Talk' before bringing home a reading book from school.
Any questions about reading and reading books please ask me directly.
Thank you.
Mrs Eldred
Welcome back and welcome to our new children and families. The children in Starfish Class are settling in very well to life at school, exploring their new classroom and garden, learning our new routines, making new friends and are developing their listening skills, which are so important for learning.
The children have adapted to having lunch at school really well, trying new foods and trying to use their knives and forks. I have never seen so many clean plates!
See photos below of our happy, settled children.
.
.
.
July 2022
We said goodbye to our 5 beautiful butterflies. We have watched them grow from tiny caterpillars to beautiful butterflies. As each one flew away we reinforced different ways to make 5 considering how many butterflies had flown away and how many were still in the butterfly garden.
June 2022
In maths, we have been investigating doubles through lots of activities. We are good at showing doubles on our fingers and can now say our doubles to 10 from memory. We love to play 'double darts' where we double our score and rolling a die and doubling the number. We use the stem sentence - 4 is made of 2 and 2, double 2 is 4.
.
.
The weather has been hot and sunny, and we decided we wanted to go to the beach. As we couldn't, we brought the beach to Maybury!
Here we are fishing in the rock pools and writing down what we have found.
.
Having a picnic on the beach and dipping our feet in the water to keep cool.
Fishing for fish and reading the words on the fish. Reading and retelling the story of The 3 Little Fish.
.
We really enjoyed reading the words on the fish and squirting each sound with the water guns as we decoded them using our phonics.
Bob and Max have really settled in to Starfish Class and the children are loving taking care of them. The children have become very responsible and love to feed them treats all day long. The guinea pigs squeak for the children when they have gone home.
This term we have been learning about insects and spiders. Did you know spiders are not insects? Insects have 6 legs, but spiders have 8 legs! We learnt a poem about spiders.
We have watched some tiny caterpillars grow into big fat caterpillars, then hide in a chrysalis changing into butterflies. It is amazing to see the changes. It reminds us of the story 'The Very Hungry Caterpillar', one of our favourite stories..
We read the story 'Sam's Sandwich' and made our own disgusting sandwiches filled with bugs. We tried to trick our teachers to eat them. We also wrote what Sam put in his sandwich using our phonic knowledge.
We read the story 'The Very Busy Spider' and made our own stories based on the book. We practised spelling tricky words 'want' and 'said' as we wrote every sentence. Wow, we are getting good at writing.
As it has rained quite a bit we were able to find lots of worms and snails. We found spiders, ladybirds, bees, blue beetles and ants when we went on a bug hunt.
.
.
We started the second half of the summer term with Science week and a visit from the Planetarium! We pretended to take off from earth in our space rocket and visit the moon. We had fun walking on the moon with our special space boots and space suits on.
We then looked at the stars in the sky and learnt how to find different star constellations at night. Our favourite one was 'The Bear' which really looks like a saucepan.

During Science week we also learnt about inventor Elon Musk. Elon Musk invented Tesla cars and was the person behind 'Space X', wanting to send rockets and people to the planet Mars, so we can maybe live there in the future.
May 2022
Our final week of Summer 1 term was 'Kings and Queens' week. The children enjoyed learning about the Queen and celebrating her 70 years on the throne.
The children made cards to congratulate the Queen on her Platinum Jubilee and have sent them to the Queen. We are hoping for a palace reply.
.
.
We learnt some interesting facts about the Queen. Her name is Elizabeth, she is 96 years old. She loves Corgi dogs and horses. The Queen has 3 castles, 9 thrones, her favourite colour is blue. The Queen rules our country and is the only person who can declare war or stop a war. We used our phonic knowledge to write a sentence about the Queen.
We also put the Queen's life in order from baby to elderly person. We learnt new words to describe different stages of life - baby, toddler, child, teenager, adult and elderly person.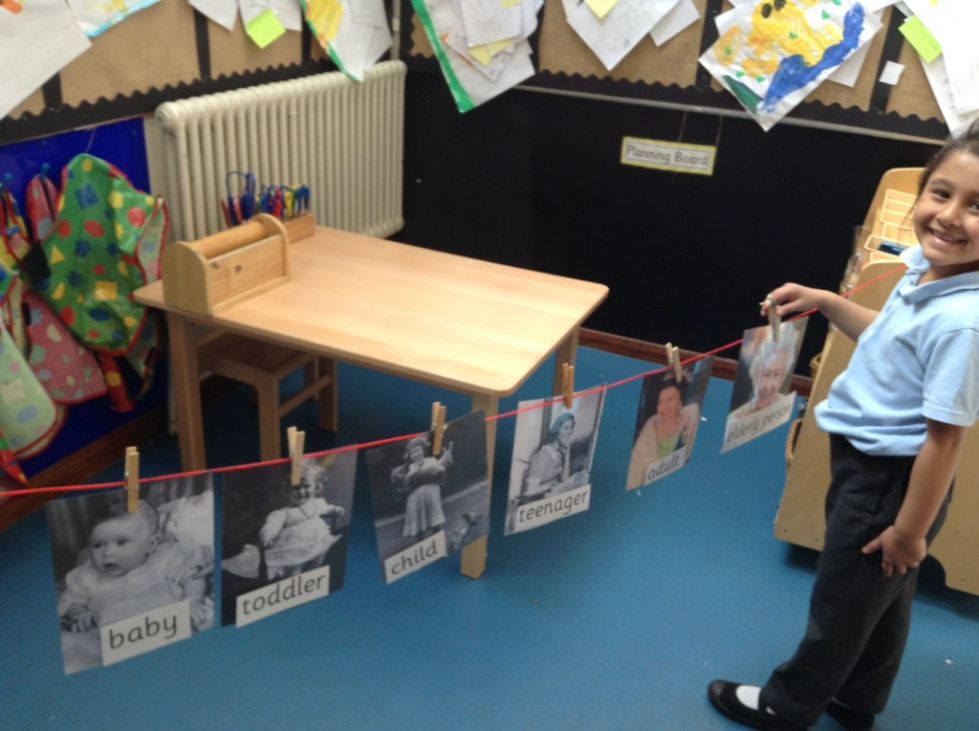 We loved practising how to curtsy and bow to the Queen and how to wave just like the queen.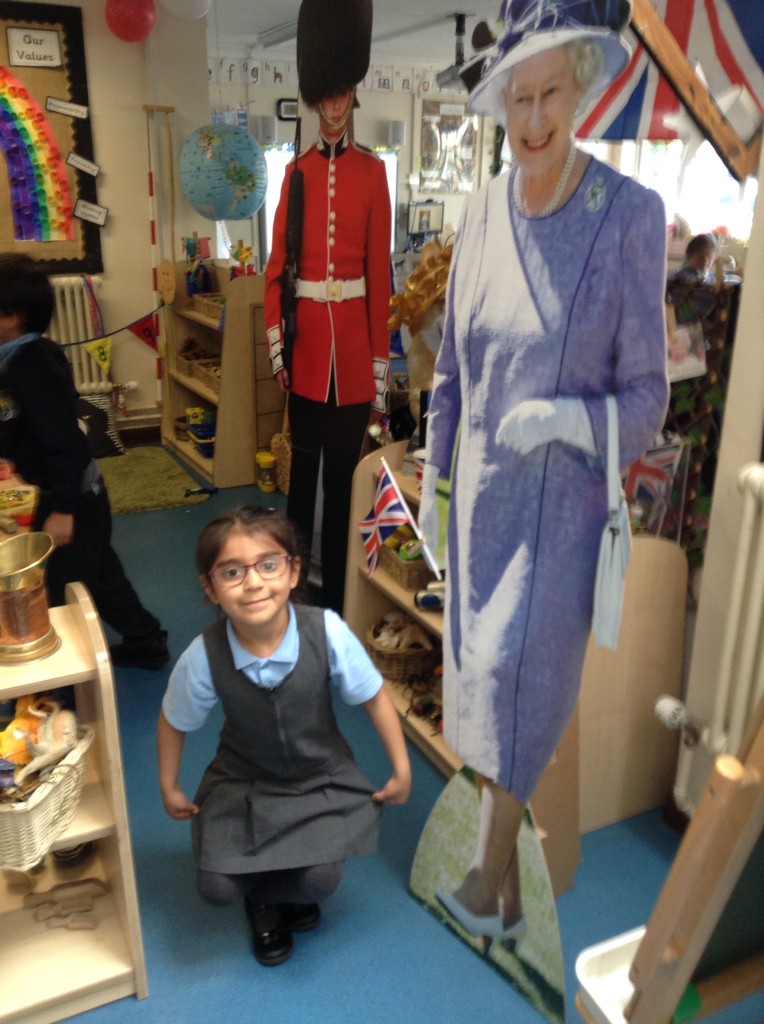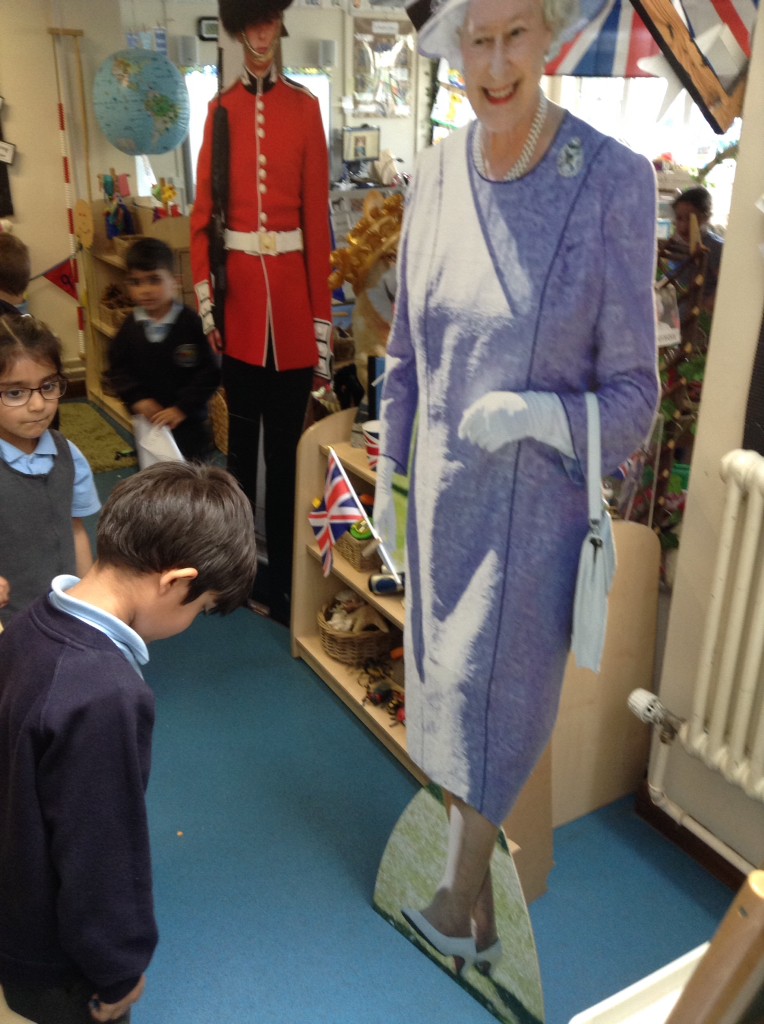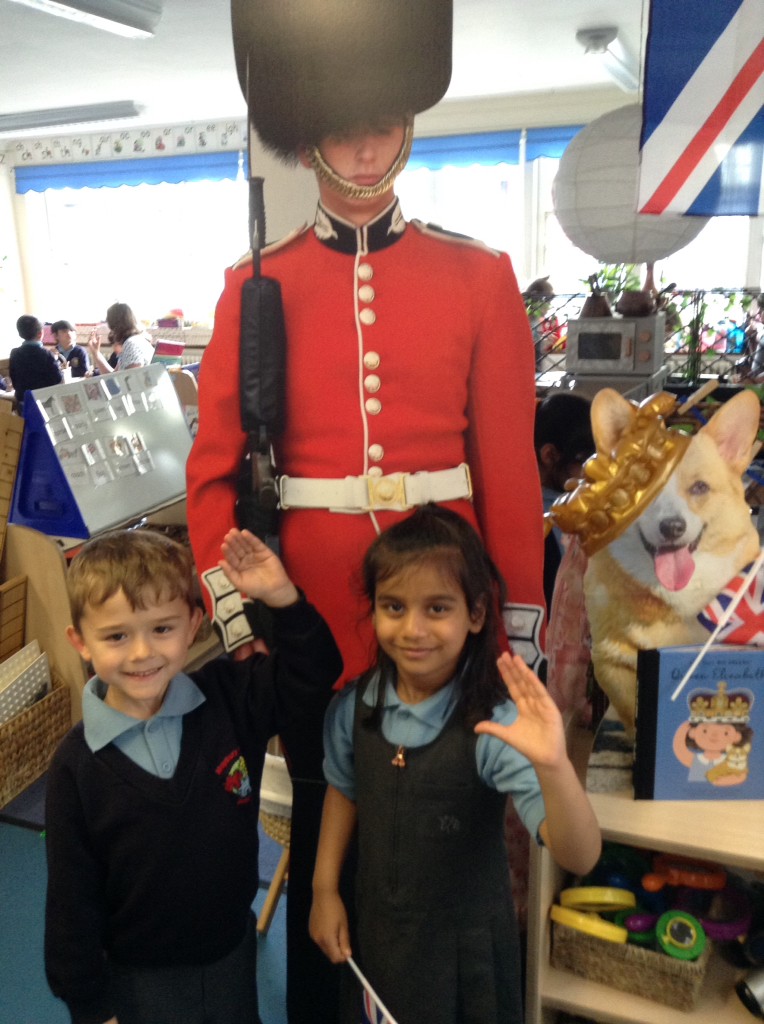 Starfish were lucky to have a workshop about the Queen with Heidi from Chertsey Museum. We learnt about how the Queen became Queen and her coronation. We reenact her coronation, when the Queen was crowned Queen.
We are getting very excited for our 'Street Party Picnic' and have baked jam tarts ready to share with our friends. We have also made crowns, so we can be like kings and queens at the party.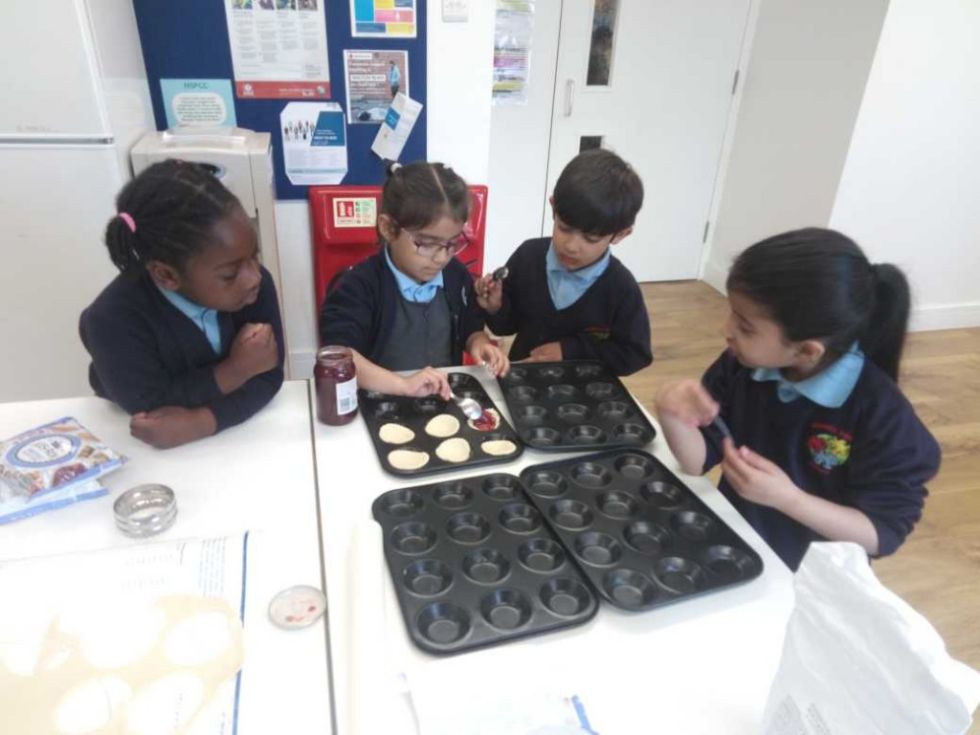 All Ready for our 'Royal Picnic' with the Queen!
This week in Starfish Class, we have been reading the story 'Rosie's Walk' and drawing imaginary maps of Rosie the Hen's journey. We have been using the language to describe Rosie's position such as over, under, through, between as we recreated her journey using large wooden blocks.
We learnt that we had to just draw landmarks on our maps as flowers and people would not be useful as they move and wouldn't always be in the same place.
.
Some children made up their own stories where other characters went on journeys too. They drew maps of the journeys.
The children in Starfish Class have become really interested in our world map and globe and have enjoyed learning where different animals live around the world and locating countries of interest to them. They also used their phonics to write labels for the different countries.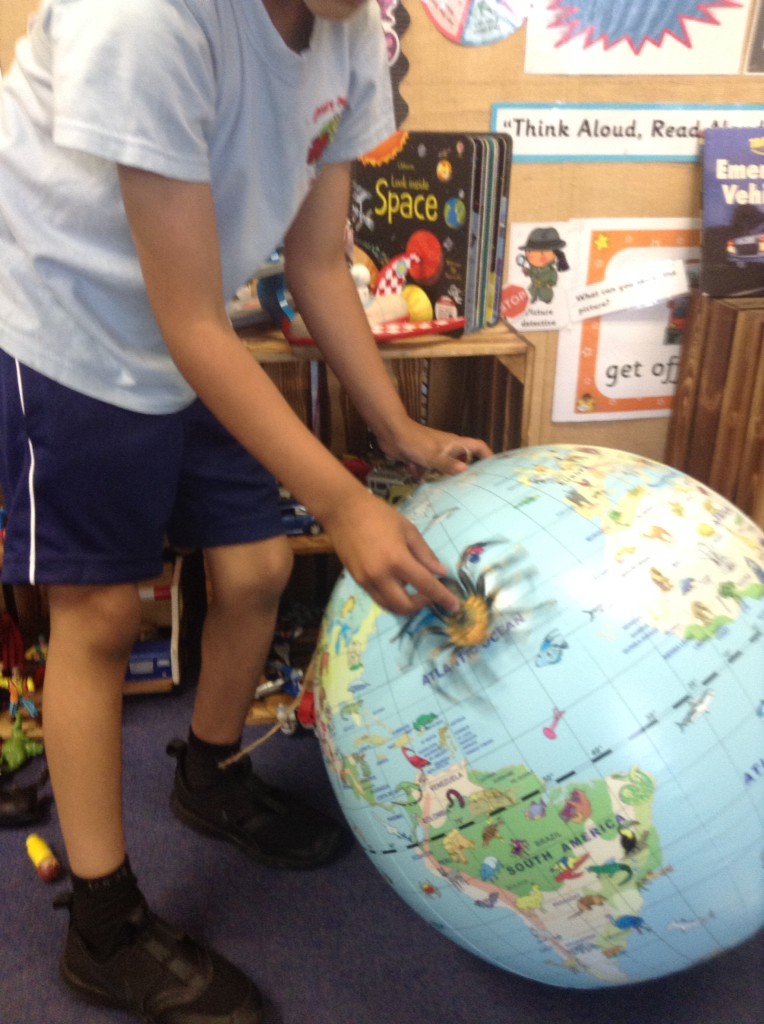 This week (week beginning 9.5.2022) we welcomed our 2 new guinea pigs to our classroom, Max and Tom. The guinea pigs live in our outdoor area, where the children are learning to handle them carefully and participate in the care and feeding of them.
We are learning to develop a respect for life and a sense of responsibility where living things are concerned, also to increase sensitivity and awareness and consequently strengthening social skills. All of these are key aspects in the EYFS curriculum.
Meet Max and Bob.
Cutting up the food for Max and Bob.
We had to say goodbye to our ducklings. They had grown too big for us and needed somewhere where they could swim and run around all day. We were sad to see them go, but they have gone to good homes. 3 have gone to live with Miss Mitchell in her garden with her rabbit and the others have gone to live on Mrs England's daughters farm in Wales. What lucky ducklings.
April 2022
Lots of the children in Starfish Class are getting very excited about their Eid celebrations and told us all about Eid. We also watched Let's Celebrate Eid on CBeebies and this taught us how Muslims prepare for and celebrate Eid and compares it to other celebrations.
The children told us how they decorate their homes, cook special food and have mehndi on their hands in preparation for the day. On the day of Eid, when the new moon has been spotted in the sky, the children told us they put on special clothes, go to the Mosque and have a big party with their family and friends. The children are hoping to get presents too.
Starfish class made Eid cards for their friends and family.
We can't wait to hear all about the Eid celebrations. 'Eid Mubarak'.
.
.
In PE Starfish Class have been practising their throwing and catching skills.
Week 2 of the summer term brought great 'eggcitement' in Starfish Class as 6 white eggs were delivered to our classroom for us to look after.
This started great discussions as to what could be inside... dinosaur, dragon, snake, turtle, penguin, bird, chick? We would just have to wait and see.
We didn't wait long before our first egg hatched and out came a little yellow duckling. We named it Rosie.
.
The children in Starfish Class have loved learning about the ducklings and have learnt lots of new words associated with ducks such as 'hatching', 'nesting', 'bill', 'webbed feet' etc.
The ducklings' visit has inspired the children to write and draw about the ducklings using their phonic knowledge.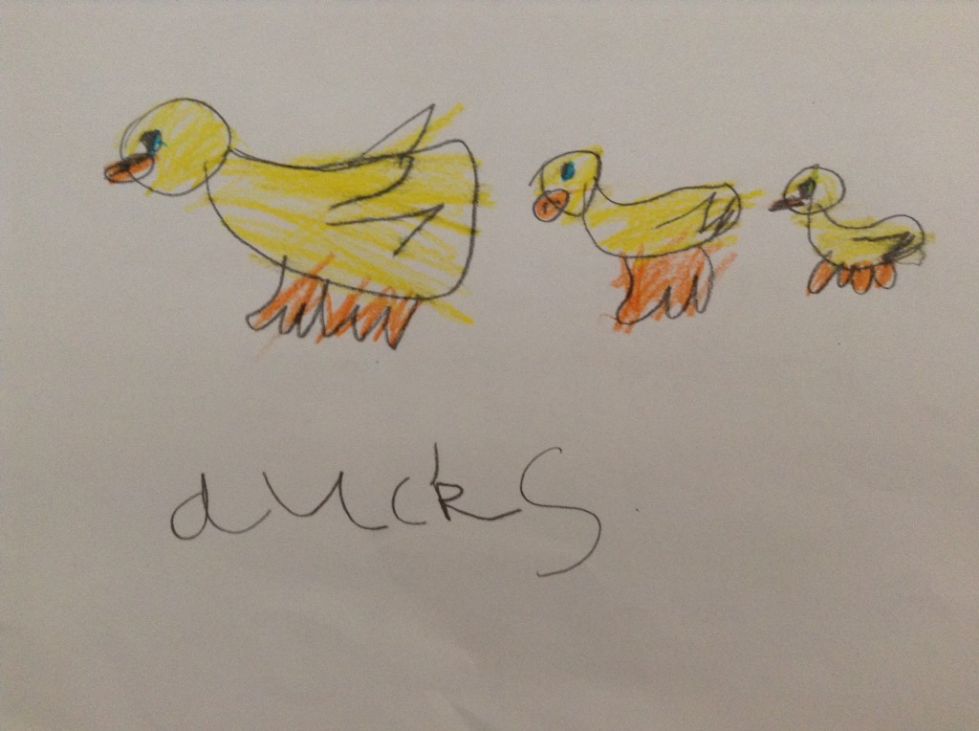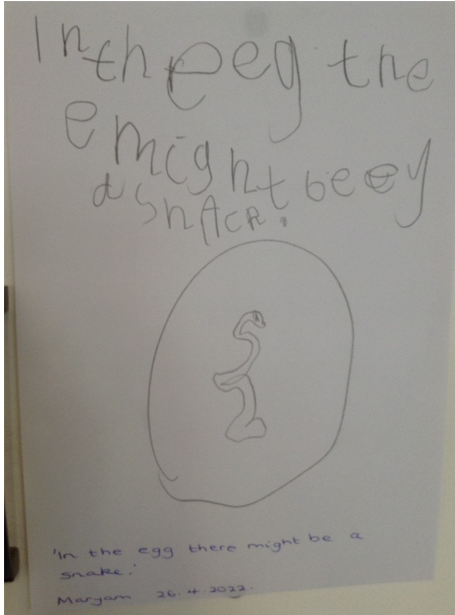 The children love to cuddle the ducklings and have learnt how to handle the ducklings with great care. We have discussed the needs of the ducklings and what living things require for life.
Mrs Pettengell brought in 3 of her tortoises to see us and the ducklings. We compared the tortoises to the yellow ducklings. We decided the ducklings were warm, soft and fluffy and made lots of noise and the tortoises were cold and hard to touch and were very quiet. We also found out that both the tortoises and the ducklings 'poo' a lot.
What a lovely start to the Summer term with a trip to Elm Farm. Starfish Class had a fantastic time meeting and feeding the farm animals. The children are getting superb at naming the different farm animals including the names of the baby animals. We fed meal worms to the chickens who were very greedy and to the geese who were very noisy! All the farm animals were enjoying the lovely spring sunshine, especially the pigs who spent the whole morning asleep in the mud.
All the children were impeccably behaved, and we were so proud of them. Thank you to Mrs Parker, Mrs Butler and Miss Roberts for coming with us.
.
.
.
March 2022
The last week of the Spring Term at Maybury was 'wellbeing week.' Starfish have taken part in many interesting activities with the rest of the school as well as some special learning activities of their own.
First, we had a secret mission with Commando Joe, to feed the hungry bear. It was tricky, but we practised being resilient - trying and trying and not giving up. We got much better at throwing the food to the hungry bear.
Then we had a visit from Alan from First Class Falconry who brought in his owls. We learnt that you can get lots of different owls and some are small and others are large and powerful. We learnt that owls are meat eaters, and they use their eyes and claws to hunt their prey. We even got to watch an owl fly around the hall. Afterwards, the children were motivated to draw owls and write about them.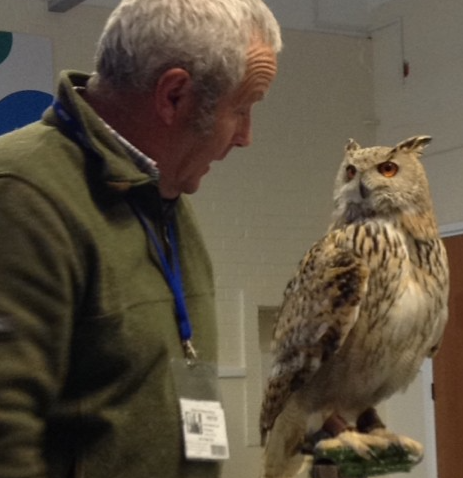 As well as wellbeing week we have also been learning about the Christian festival of Easter. We have been on egg hunts and reading the Easter and Spring words inside each egg using our phonics, we made chocolate Easter nests and tasted hot cross buns - yummy!
.
Starfish Class have enjoyed learning about the Christian celebration of 'Mothering Sunday'. The children made Mother's Day cards and decorated pots and planted flowers to give to their Mummies as a gift.
The children have written their Mummies messages saying thank you and why they love their Mummies so much. The children were very excited to take their cards and flowers home
Starfish are loving the warmer weather. We went on a Spring walk looking for signs of Spring and used the ipads to take photos. We have learnt new words associated with Spring such as 'buds', 'blossom' and 'hatch'.
Here are some of the photos we took...
Starfish were lucky enough to join in with a rock music workshop with 'Ready Steady Music' School today. The children played the guitar, keyboard and drums as well as having the opportunity to practise their singing skills. They learnt and sang the song 'We Will Rock You.'
.
In maths, we have been learning about doubles and what 'doubles' means. We explored activities within our play to investigate doubles and used the STEM sentences to help us explain our learning. '2 and 2 is 4, double 2 is 4.'
.
We also enjoyed investigating different ways of making the number 7. We are able to quickly represent 7 on our fingers as 5 and 2 more.
In our play we explored how many ways we could make 7 using grapes and oranges. We used the STEM sentences, '7 is made up of ... and ...' We found out that 7 is made up of 5 and 2, 6 and 1 and 4 and 3.
.
.
We explored 7 in other ways too, using the same STEM sentence '7 is made up of .... and ....'
We explored with blocks and when arranging plates in the house.
We are even beginning to record our answers down and talk about what we found.
Starfish are fascinated by mixing colours and are starting to mix their own colours when painting their pictures. They love to share how they mixed their colours. Today the children also noticed you can mix colours with the different coloured translucent shapes.
.
Starfish have enjoyed learning about the different roles' community people play in Woking. They have learnt how and when to make a 999 call and practised making calls within their play especially when we were learning about the police.
.
Starfish are demonstrating their ability to use their phonics independently when they were reading about 'Officer Bear' in the book corner and writing labels for the objects the police use in their work.
.
The children particularly enjoyed finding out about the role of a vet. They learnt that vets are like doctors but help animals and pets get better, not people. We decided that the tools vets use are similar to doctors, for example a stethoscope for listening to hearts and a syringe for giving medicine.
Here we are making all the pets at Maybury School better!
Starfish had lots of fun dressing up as different book characters. We played a game where we had to give clues to our character and our friends guessed who we were.
All this week we have been learning what an 'author' is. We have read stories by our favourite author, Julia Donaldson and had a go at being authors ourselves, writing our own stories.
On Thursday, Year 3 (Manta Rays) read us stories and on Friday we had a visit from an author, Emily who also read stories to us.
The staff even dressed up to from the classic story of Snow White and the Seven Dwarves.
February 2022
Starfish have been reading the story of The Gingerbread Man and have been enjoying retelling the story using the story characters and the story language.
We were also lucky enough to bake our own Gingerbread Men. We hope they don't run away!
Starfish have enjoyed learning about The Lunar New Year, which is celebrated in many countries and cultures. We decided to focus on China and the Chinese New Year. We read the story 'Lanterns and Firecrackers'.
In the story we learnt how a family prepared for the celebrations by cleaning the house, writing Chinese New Year cards and hanging paper lanterns. To celebrate they ate delicious food, wore their new clothes and let off firecrackers and watched amazing dragon dances. We learnt that the colour 'red' brings good luck.
The children in Starfish class have been using their phonics to help them write cards. They made noodles using the playdough and tried to pick the noodles up using the chopsticks.
.
In the house, the children prepared for the New Year celebrations by having a spring-clean and cooking some special food.
On the painting easel the children have explored writing their numbers in Chinese.
Starfish class also got to try eating noddles using chopsticks. It was quite tricky, but we didn't give up, and we managed to eat all the noodles up. Yummy!
Starfish were very lucky to have 'Dave Tricks' come and visit us at school and help us learn how to keep safe by the road in a really fun way. He showed us some amazing magic tricks linked to road safety using the magic spell words, 'STOP, LOOK, LISTEN, THINK.'
Dave Tricks also told us how at nighttime, when it's dark, it is a good idea to wear something brightly coloured, so cars can see you. 'BE BRIGHT BE SEEN.'
We had lots of fun learning about keeping safe on the road.
.
Starfish have been learning about 2D shapes. They have been naming them and have started to describe their mathematical properties. Below are pictures of the children exploring shape in their environment.
.
Feeling and guessing the shapes. Making pictures with the shapes.
Making shapes with the lolly sticks.
Starfish have enjoyed reading words and matching them to pictures. They have practised reading words with our new digraphs we have learnt - ai ee igh and oa.
.
The children really enjoyed making 'oo' words using the cheerios.
Starfish have really enjoyed exploring what happens when you mix different coloured paint together and have continued exploring colouring mixing at the easel daily. We read the book 'Mix it Up!' to consolidate their learning.
.
Starfish class have been exploring how to keep their teeth healthy. We have learnt that to keep our teeth healthy we need to brush our teeth twice a day for 2 minutes and visit the dentist regularly.
We found out facts about our teeth. We need teeth to eat, talk, and smile. We have 20 milk teeth at the moment but these milk teeth will be replaced with our adult teeth.
We learnt that our teeth do not like sugar. We sorted food into those that were good for our teeth and those that were bad for our teeth.
The children played being dentists and practised brushing teeth.
We wrote posters reminding everyone of the importance of keeping our teeth healthy using our phonic knowledge.
January 2022
Happy New Year and welcome back to school.
Starfish Class were very excited in their PE lesson this week. We got out the wall bars and practised climbing and balancing across different equipment. We also learnt how to jump off equipment safely by bending our knees and landing on our feet. We are all really looking forward to next Friday when we will get the wall bars out again.

Starfish have been reading the story of Goldilocks and The Three Bears. They have enjoyed retelling the story using different voices for the bears.
We discussed whether Goldilocks made the right choice going into the Bear's House and how she could make things better. The children thought she should make the Bears some more porridge, so we followed a recipe using our phonics to help us read new words and cooked some porridge for Goldilocks to take to the bears. We had a taste too, it was 'just right' so we ate it all up!
The children in Starfish also helped Goldilocks to write some sorry letters to Baby Bear for breaking his chair. This was a perfect opportunity to practise using our phonics to write.
We have been learning and experiencing the season of 'winter'. Starfish Class have particularly enjoyed spotting signs of winter and taking photos using ipods and ipads. We were really impressed with the children's photography skills.
In music, we learnt a new song about winter which we enjoyed singing and moving rhythmically to. We learnt that hedgehogs and dormice hibernate in winter and some birds migrate to a warmer country.
We also talked through some misconceptions that the sun shines only in summer when it is hot, and it always snows in winter.
You can listen to our song about winter HERE
At the end of January we went on a trip to The Lightbox where we listened to a story about 'The Princess and the Frog'. We then made a puppet of one of the characters from the story using lots of different media. We really enjoyed the story and joined in with the repetitive story language.
When we got back to school we were able to play with our puppets and make up some stories of our own.
December 2021
The last Wednesday of every half-term is always Wellbeing Wednesday. Today we had a special visitor to see us. It was Santa with a big sack of presents for us.
Thank you, Santa.
Starfish enjoyed a walk into Woking Town to visit Christchurch and find out all about Christmas. The children looked for Christmas symbols in the church and acted out the Nativity story.
. .
Online Learning at home
Phonics Learning
https://www.bbc.co.uk/bitesize/topics/zcqqtfr - Bitesize, lots of games to play
https://www.youtube.com/channel/UCP_FbjYUP_UtldV2K_-niWw - Phonic Lessons
https://www.phonicsplay.co.uk/resources - phonic games
Username: march20
Password: home
Maths
https://classroom.thenational.academy/subjects-by-year/reception/subjects/maths - Maths Lessons
https://www.bbc.co.uk/iplayer/episodes/b08bzfnh/numberblocks - Numberblocks
https://www.topmarks.co.uk/learning-to-count/place-value-basketball - Counting on games
https://www.topmarks.co.uk/learning-to-count/helicopter-rescue - Helicopter Rescues
Reading
https://www.oxfordowl.co.uk/for-home/find-a-book/library-page/
username: starfish@maybury.surrey.sch.uk
password: Starfish1234
https://www.activelearnprimary.co.uk/login?e=-610&c=0 - Bug Club
Log in details are in your child's Reading diary